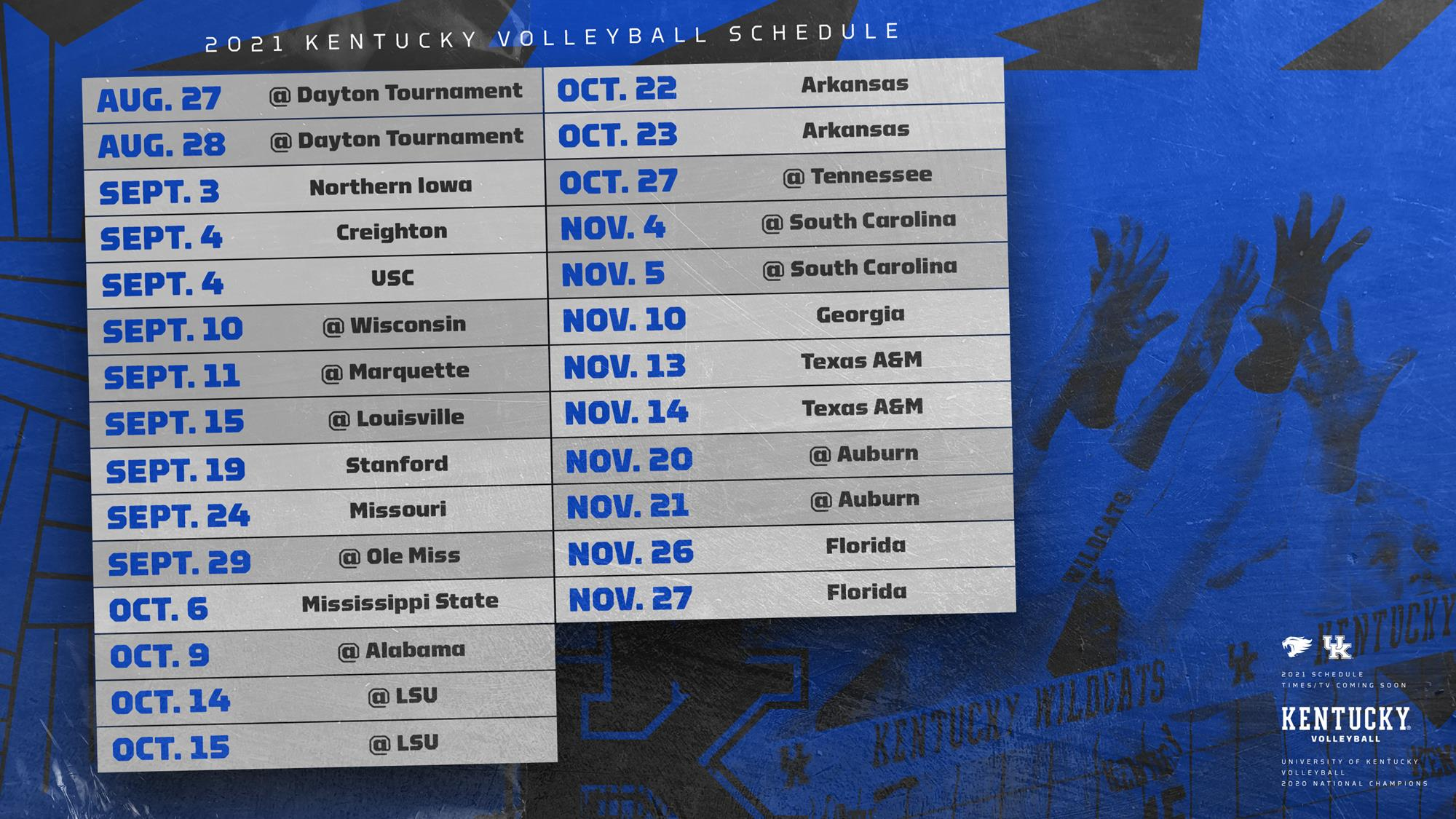 Kentucky Volleyball Releases 2021 Schedule, Ticket Information
LEXINGTON, Ky. – The Kentucky Volleyball team released its 2021 schedule Thursday afternoon, headlined by 13 matches played in Lexington at Memorial Coliseum, and a new Southeastern Conference scheduling model that is a hybrid of single matches and the series format, used during the 2020-21 season.
 
UK will open its season on August 27 and 28 in Dayton, Ohio, participating in the University of Dayton's Tournament with opponents and times to be announced.
 
Kentucky starts its home season by hosting the Bluegrass Battle inside Memorial Coliseum, featuring matches against Northern Iowa (Sept. 3), Creighton (Sept. 4) and Southern California (Sept. 4).
 
The Badger state comes calling for the Wildcats Sept. 10 and 11 as UK will face off against fellow 2020 Final Four participant Wisconsin on Sept. 10 in Madison. The following day, UK will play at Marquette in Milwaukee to finish off the weekend.
 
The annual "Battle of the Bluegrass" between Kentucky and Louisville falls on Sept. 15 this season as the Wildcats and Cards will tangle in Louisville to conclude UK's non-conference schedule.
 
The regular season Conference schedule consists of 18 matches in which each member institution will play each other at least once. The order of opponents for each team are determined by a random computer draw. Two-match series may be played Wednesday/Thursday, Thursday/Friday, Friday/Saturday or Saturday/Sunday.
 
Kentucky opens SEC play Friday, Sept. 24 against the Missouri Tigers in a single match. Each of the first four matches UK plays will be single matches with Kentucky facing Mizzou, Ole Miss (Sept. 29), Mississippi State (Oct. 6) and Alabama (Oct. 9).
 
The Wildcats first series comes in Baton Rouge against LSU Oct. 14 and 15 inside the Pete Maravich Assembly Center. UK will play Arkansas the following weekend in a series at Memorial Coliseum running Oct. 22-23.
 
UK closes the regular season Nov. 26 and 27 with a two-match series against the Florida Gators in Memorial Coliseum.
 
PURCHASING AND RENEWING SEASON AND SINGLE-MATCH TICKETS
Season Tickets are now available for purchase to all 13 home matches on UKathletics.com/vbtix.
 
Season tickets begin at just $85 per seat for the entire season for reserved chairback seating. Tickets in the general admission chairback and bench seating areas will cost $60. Floor seating options and Backrow memberships are also available. New for 2021, 4+ general admission seats will be $50 each.
 
Season ticket renewals are currently available online through My UK Account. The renewal deadline is set for July 23, 2021.  Seat upgrade requests and requests for additional season tickets may be made during the renewal process online or by contacting the UK Ticket Office at (800) 928-2287 (Option 4) during the renewal period.
 
All tickets for the Kentucky Volleyball season will be mobile. Additional information on mobile tickets can be found online at UKathletics.com/mobiletickets.
 
Single-match tickets will be available in August through UKathletics.com.
 
MATCH TIMES
Additionally, ESPN and its partners at the SEC Network will be picking matches to fit into television windows in the coming weeks. Times for all matches will be finalized and announced once ESPN and its partners have had a chance to set the television schedule.
 
2021 Kentucky Volleyball Schedule
Aug. 27 & 28 – at Dayton Tournament (Dayton, Ohio)
Sept. 3 & 4 – Bluegrass Battle (Lexington Ky.)
Sept. 10 & 11 – at Wisconsin and at Marquette (Madison and Milwaukee, Wisc.)
Sept. 15 – at Louisville (Louisville, Ky.)
Sept. 19 – Stanford (Lexington Ky.)
Sept. 24 – Missouri (Lexington, Ky.)
Sept. 29 – at Ole Miss (Oxford, Miss.)
Oct. 6 – Mississippi State (Lexington, Ky.)
Oct. 9 – at Alabama (Tuscaloosa, Ala.)
Oct. 14 & 15 – at LSU (Baton Rouge, La.)
Oct. 22 & 23 – Arkansas (Lexington, Ky.)
Oct. 27 – at Tennessee (Knoxville, Tenn.)
Nov. 4 & 5 – at South Carolina (Columbia, S.C.)
Nov. 10 – Georgia (Lexington, Ky.)
Nov. 13 & 14 – Texas A&M (College Station, Texas)
Nov. 20 & 21 – at Auburn (Auburn, Ala.)
Nov. 26 & 27 – Florida (Lexington, Ky.)
 
Follow along with the Wildcats on Twitter, Facebook and Instagram, and on the web at UKathletics.com.