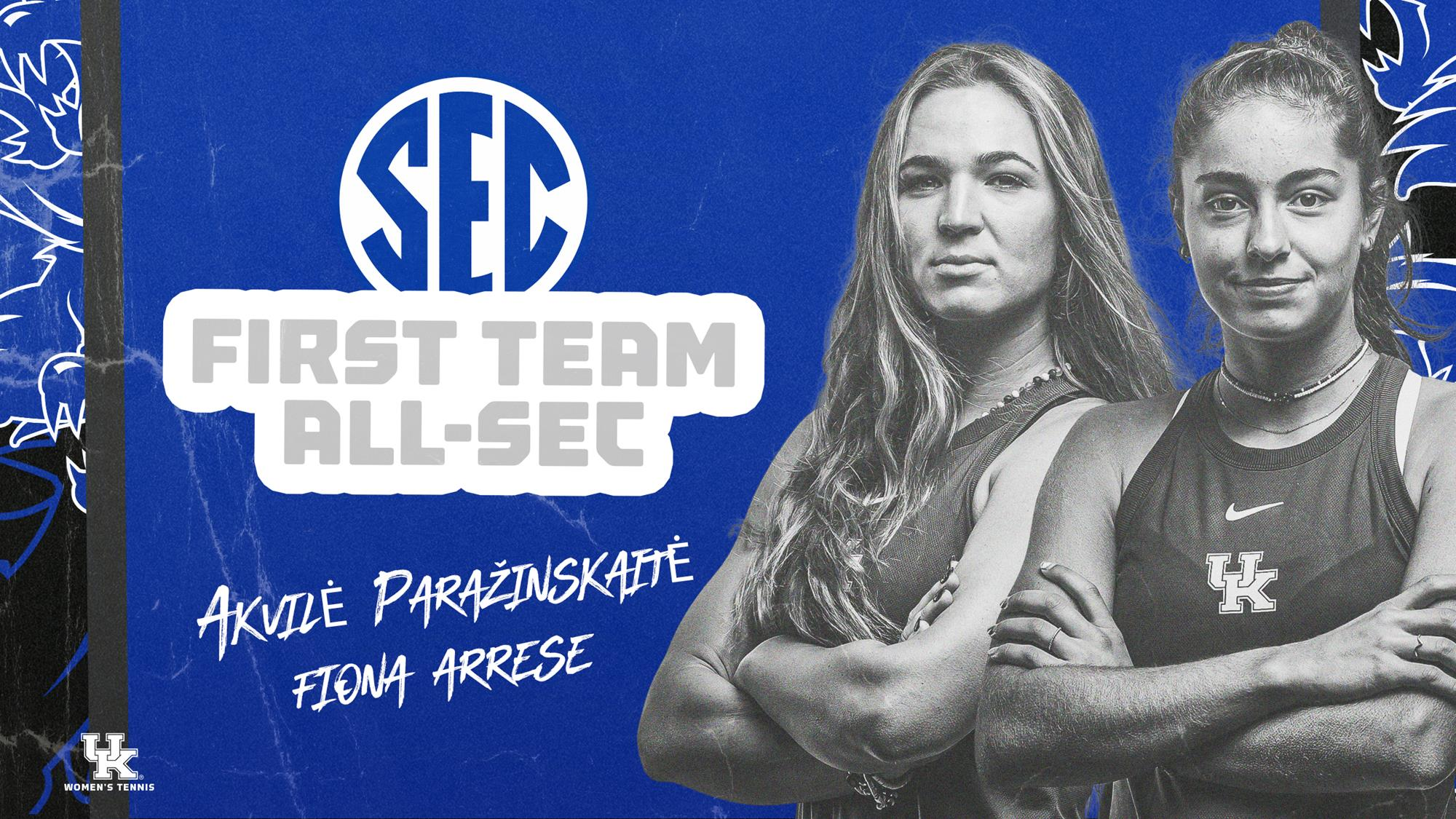 April 29, 2021 - 02:55 PM
Akvile Paražinskaite and Fiona Arrese Named First-Team All-SEC
BIRMINGHAM, Ala. – Kentucky women's tennis players Akvile Paražinskaite and Fiona Arrese were named to the first team of the All-Southeastern Conference Tennis Team as announced by the league office on Thursday. Arrese was also a member of the All-Freshman Team. With Paražinskaite and Arrese's selection it marks the first time since 1987 that UK has had two players tabbed to the first team by the league.
 
The league's coaches voted on the teams and ties were not broken.
 
The honors are the first of their careers. Arrese is the first UK freshman to earn All-SEC Freshman Team distinction since 2016 and is just the sixth freshman all-time from Kentucky to be honored.
 
Paražinskaite and Arrese comprise the nation's top-ranked doubles tandem. The duo has amassed a 20-2 overall record on the season, including a 17-2 mark in dual competition. Kentucky's top-rated squad was 11-1 in SEC play and has helped UK win 19 of 24 doubles points thus far. The pair was also 6-2 against nationally ranked competition this spring.
In singles action, Paražinskaite leads the way for the Wildcats. The graduate student from Vilnius, Lithuania, has occupied the No. 1 slot for UK all season. Paražinskaite is 16-6 on the year in dual matches with a 5-5 record against ranked foes.
 
Notable victories include an upset of South Carolina's No. 39 Nia Horvit by a 2-6, 6-2, 6-1 margin. She swept Tennessee's No. 56 Eleonora Molinaro 6-2, 6-4 in the upset of the 19th-ranked Volunteers.  Paražinskaite also defeated Vanderbilt's Christina Rosca 6-2, 7-5 when Rosca was rated No. 20 in the country. She also has logged wins over No. 62 Selin Ovunc (6-2, 6-4) of Ole Miss and No. 41 Taylor Bridges (4-6, 6-2, 6-2) of LSU.
 
Paražinskaite has ascended to No. 29 in the country with an overall record of 19-10 which includes fall action.
 
Arrese is the third UK player to earn All-SEC and All-Freshman distinction in her first season. She joins Megan Broderick (2008) and Nadia Ravit (2013) as the others to achieve the feat.
 
The first-year player from Barcelona, Spain, has put together a 10-4 mark in singles play during dual competition. Arrese has played anywhere from the No. 6 spot all the way to No. 3.
 
She earned a win on court five in Kentucky's win over South Carolina with a 6-4, 7-5 decision. Arrese also had a win on court six in UK's victory over Texas A&M in which she helped change the momentum of the match in UK's favor with a 6-1, 7-5 sweep.
 
Arrese began her career by winning eight straight to open dual competition this spring.
 
The NCAA Tournament field will be unveiled on May 3 at 6 p.m. via NCAA.com. The Wildcats are ranked in the top 30 of the latest polls and will be considered for an at-large bid.
 
For the latest on the Kentucky women's tennis program, follow @UKWomensTennis on Twitter and on Instagram, on Facebook and on the web at UKathletics.com.