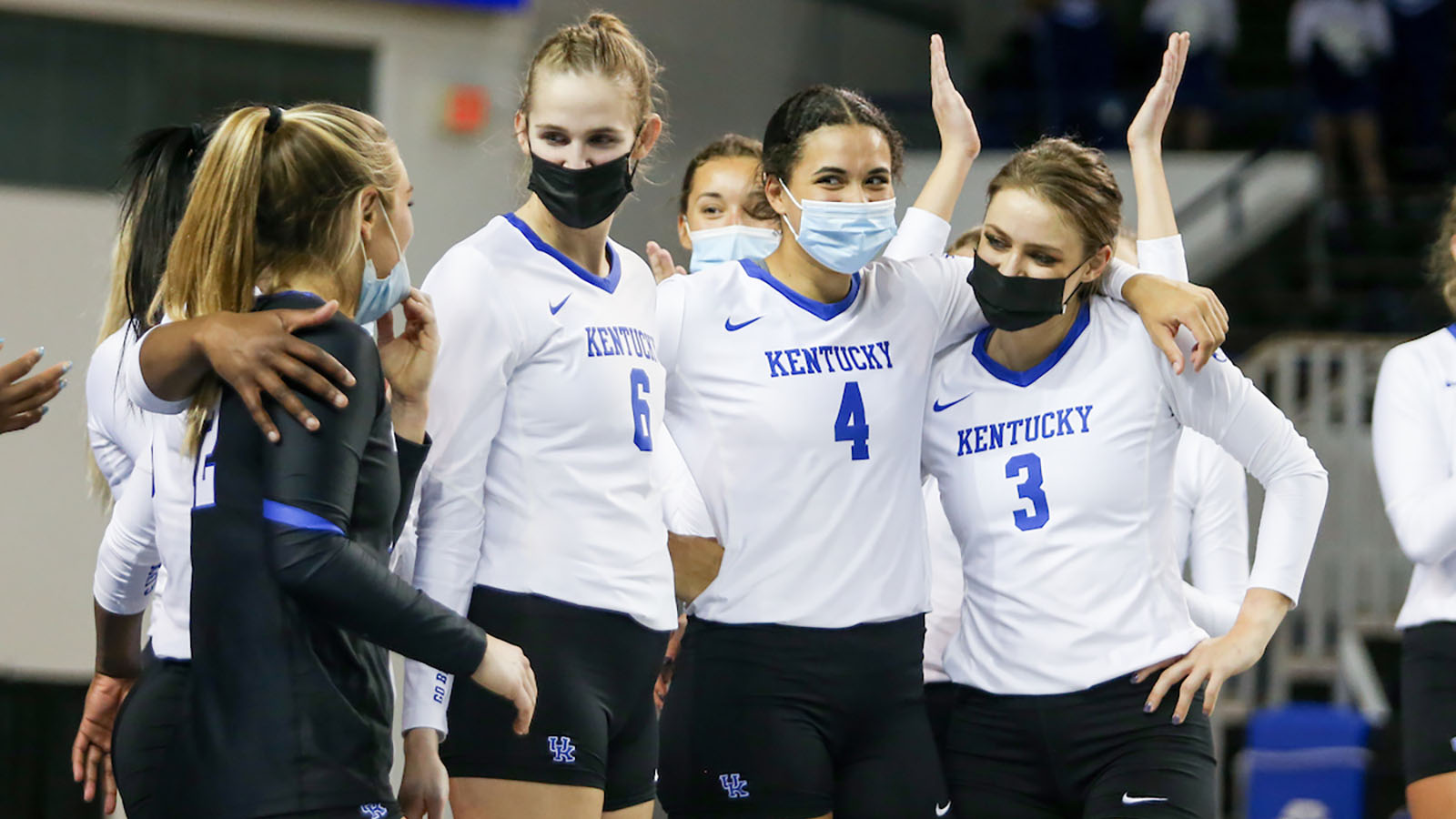 April 25, 2021 - 01:26 AM
Kentucky Volleyball Seniors Reach National Championship Goal
When Gabby Curry and Madison Lilley arrived at their first Kentucky volleyball media day in 2017, both spoke about how they came to Lexington to win a national championship. While that may have seemed like a bit of a stretch at that point, they meant what they said.
On Saturday night at the CHI Health Center in Omaha, those dreams were fulfilled as Kentucky topped Texas in four sets to claim UK's first volleyball national championship.
Now seniors, Curry and Lilley, along with classmate Avery Skinner, played a huge role in the victory. Lilley directed the offense all night long, posting 53 assists while adding a career-high tying 19 digs. She added a solo block and two block assists.
When Texas hit at Lilley and she made the dig, it provided Curry with a number of opportunities to set UK's hitters. In fact, Curry had a career-high 13 assists to go with 14 digs, which is usually her bread and butter.
Avery Skinner had a slow start to the match but picked it up after that. She finished with 14 kills and five errors on 42 swings (.214). She also came up big on defense with six digs, two solo blocks and two block assists in the match.
Lilley remembers making the statement about winning the national championship when she was a freshman and has absolutely no regrets about it, especially now.
"Gabby and I combined, we don't take no for an answer," Lilley said. "We take things very seriously. If we're talking about winning a national championship, we're going to do that. I realize that people might have thought it was cute when we came in as freshman saying that and, haha, these freshmen, they don't get it. But, we get it. We understand it. We push. We push each other every single day in practice. The competitive nature that we have in practice every single day has prepared us for moments like this."
They were certainly ready for Saturday night. Texas head coach Jerritt Elliott was especially impressed with Lilley.
"Madison is a phenomenal setter and kept them in system and kept them going," Elliott said. "She's one of the best setters I've seen ever in college. There's a reason she's (national) player of the year. Kentucky was just that good. They were that efficient from the side out game and didn't give us opportunities. There's a reason they're the best offensive team in the country."
UK head coach Craig Skinner was also impressed with Lilley's performance on Saturday night.
"It's got to be at the top," Skinner said of Lilley's all-time list of great performances. "We had 70 kills in four sets. You have 17 kills per set and hit .350 against the number whatever-ranked team in the country in Texas, and how physical they are, that's an elite, big-time performance."
Lilley thought that Curry's performance was critical in the victory.
"I will say I think Gabby had double digit assists tonight," Lilley said. "Gabby stayed after practice after serve/pass today and was working on her second ball setting and that describes Gabby perfectly. Her work ethic is unlike anything I've ever seen. For her to put up good second balls and for us to be efficient when I dig is everything and I dug a decent amount of balls tonight so having Gabby putting up good second balls is crucial."
Skinner also praised Curry.
"Nothing phases Gabby Curry," Skinner said. "The digs that she made in the fourth set, the passes – she has a lot of respect from a lot of people in the volleyball world across the country and she's earned that."
Junior Alli Stumler, who had a huge match with 26 kills, knows that it was this group of seniors that led Kentucky to this moment.
"They're unbelievable. On the court, they're obviously the ones who got us here," Stumler said. "They come in every single day and know the task at hand and know that our end goal is a national championship. The first one in school history, SEC history and they knew that this group could do it. They didn't shy away from that. For them to be so selfless, to focus on the 15 of us rather than their one self and their future goals is unbelievable. They lead so well. All four of them are unbelievable to play with and even better off the court. I'm a better human and volleyball player because of those four seniors."
Looking back to her prediction from four years ago, Lilley knew that she could lead the team to the point where they are right now.
"If you want to call it manifestation, you can call it that. If you want to call it drive and not taking no for an answer, that's what I like to call it," Lilley said. "Just the grind, the hours, the work ethic. The vision and the motivation to get where we are right now is not something that should be overlooked. This is not by chance. This is not easy matchups. This is not anything other than hard work, dedication, blood, sweat, tears, hours in the gym. This is hard work. To be the 11th school to do this and to get people to jump on the Kentucky volleyball bandwagon, that's hard work."
All of the hard work allowed the talk by Curry and Lilley four years ago to come to fruition on an April evening in Omaha.