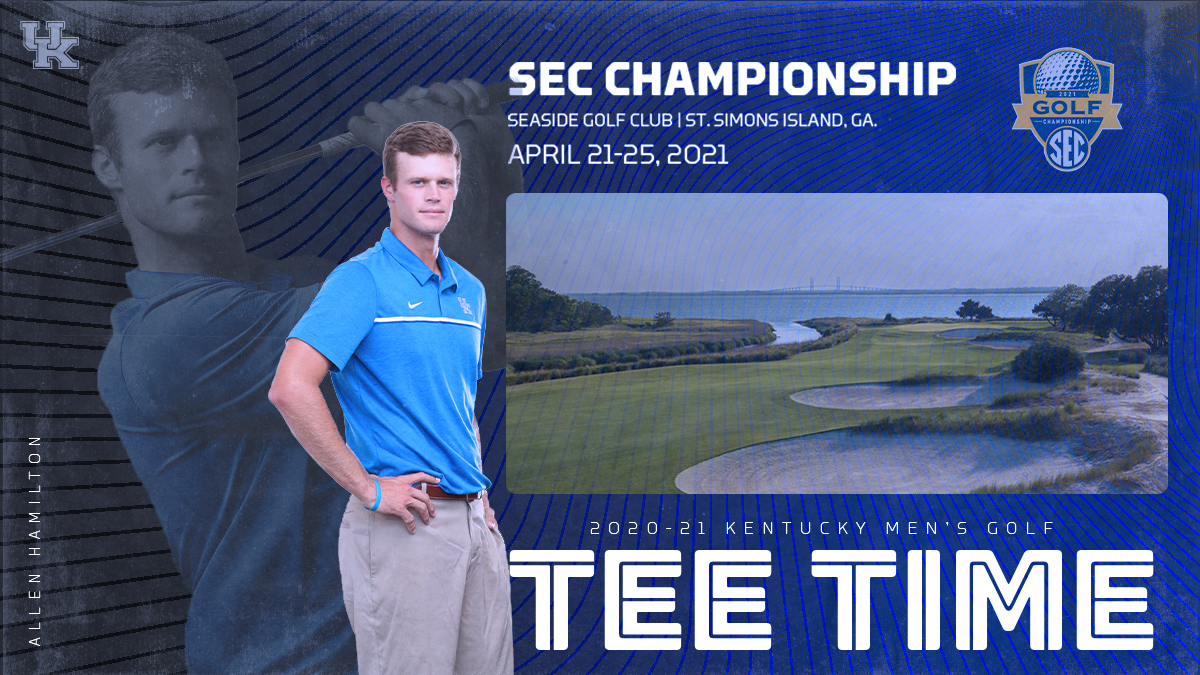 April 20, 2021 - 10:18 AM
Kentucky Set for SEC Men's Golf Championship
LEXINGTON, Ky. – Playing amongst arguably the nation's best conference, the Kentucky men's golf team will open action at the Southeastern Conference Championship on Wednesday in a quest for a league crown. The SEC Championship will be played for the 20th time at St. Simon's Island on the Seaside Course which is rated as one of the top-50 courses in the country.
 
"We have had a great week of preparation for the best and most competitive conference championship in all of Division I men's golf," UK head coach Brian Craig said. "We will be focused and give our absolute best effort as we compete to earn our program another ring. The bottom line is this, it is time for our team to come together and play like we are capable. The guys and I cannot wait to get started."
 
Graduate students Reid Bedell and Jacob Cook, along with senior Allen Hamilton, sophomores Alex Goff and Cooper Parks and freshman Hugo Archer will represent the Wildcats in St. Simon's Island this week.
 
All six Wildcats will be making their SEC Championship debuts after last season's was canceled due to the COVID-19 pandemic.
 
UK will tee off on Wednesday alongside Missouri beginning at 9:10 a.m. ET off of the No. 1 tee box.
  
This year's format will once again feature a 54-hole stroke play, with an individual tournament crown being awarded on Friday. The top eight teams will stick around for match play beginning on Saturday. Two finalists will be determined for a head-to-head match-play showdown for the conference's champion on Sunday.
 
Kentucky enters this week with a No. 68 national ranking and has some work to do to solidify a spot in the NCAA Tournament. There's no better opportunity to cement yourself in the national picture than to perform well among the SEC's best.
 
All 14 league teams are ranked in the top 70 of the most recent Golfstat rankings. Thirteen of the nation's top 50 players will take part in the league tournament this week as well.
 
In 2019, Kentucky faced a similar situation and made a run to the semifinals of match play. Led by three top-10 finishes from Lukas Euler, Cullan Brown and Max Mehles, UK appeared in match play for the first time in program history since the format was adopted. Kentucky won the 2005 SEC Championship under Craig bolstered by the play of SEC Player of the Year J.B. Holmes.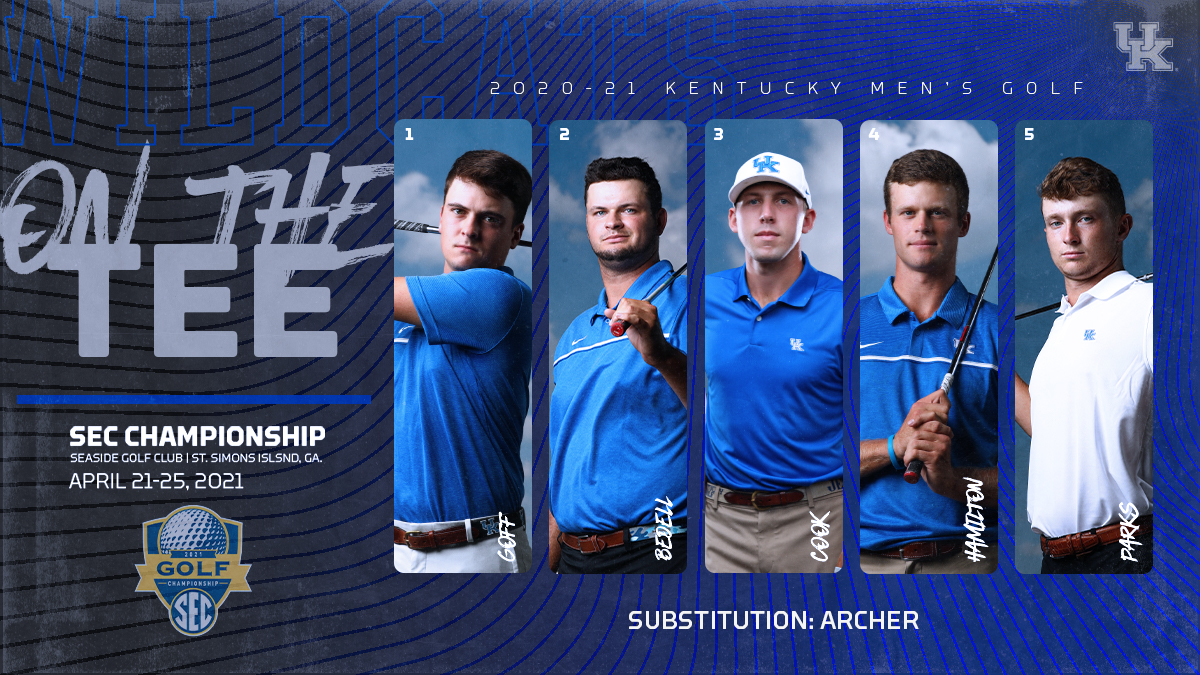 The Lineup
Goff: Goff has enjoyed a sensation sophomore season but will make his first start at the SEC Championship this week. He leads the team with a 72.32 stroke average, three top-20 finishes, a pair of top-10 finishes and a win at The Blessings Intercollegiate among a field comprised entirely of SEC squads. The Kings Mountain, North Carolina, native has made 15 starts in his young career and played 39 total rounds. Goff has registered a career-low round (64) and a career-low score (201) during the 2020-21 season. The 7-under-par 64 was during the second round of the Legends Collegiate Invitational in which he concluded the week in a tie for third. He also produced a 12-under 201 during that tournament. For his career, Goff has 16 par-or-better rounds with nine coming during his sophomore season.
 
Bedell: Bedell has logged a 73.20 stroke average and a top-10 finish in his lone season with the Wildcats. He will make his first appearance at the SEC Championship but has logged more than 42 starts and over 100 rounds played in his collegiate career. Bedell matched a career low with a 6-under 66 during the second round of the Kiawah Invitational en route to a top-10 finish in the event earlier this spring. He has 93 counted rounds towards the team score during his career, including 13.5 in 15 possible rounds as a Wildcat. The Fair Haven, New Jersey, native has generated 35 par-or-better rounds during his career and has six such rounds in 2020-21.
 
Cook: Cook is making the ninth start of the season for the Wildcats. He is the only UK player to start in every event this season. The Frankfort, Kentucky, native is firing a career-best 73.38 stroke average. His 4-under-par 68 during the second round of the Kiawah Invitational earlier this spring was a career low. He also logged a 4-under 212 for a career-low tournament score en route to a career-best finish of a tie for 16th in the event. Cook has eight par-or-better rounds on the season and has played in more than 60 rounds in his career. This will mark his first start at the SEC Championship.
 
Hamilton: Hamilton will make the 16th start of his career this week in his first appearance in the SEC Championship. The Louisville, Kentucky, native is registering a 75.00 scoring average with a tie for seventh at the Schenkel Invitational to highlight his senior season. Hamilton has played in more than 65 rounds in his collegiate career and fired a career-low 67 (-5) during the opening round of the Kiawah Invitational earlier this spring.
Parks: Parks rounds out the starting lineup as he makes his 11th career start and first at the SEC Championship. The Campbellsville, Kentucky, native owns a 75.33 scoring average through 21 rounds played during his sophomore campaign. Parks has notched eight par-or-better rounds throughout his career and has generated 24 rounds counted towards the team's score. He fired a career-low 68 during the opening round of the Kiawah Invitational and also logged a career-low tournament score of 215 in that event.
Archer: Archer has enjoyed a good stretch of tournaments over UK's last three events played and will serve as UK's substitution player. In four of his last five rounds played, Archer has notched a 72 or lower. He is logging a 75.25 scoring average through 12 rounds of action during his true-freshman campaign. The Rennes, France, native is coming off career bests in every category at the Collegiate Invitational at the Birmingham Country Club. He had a career-low round (71), tournament score (223) and finish (T43).
 
The Tournament Setup
 
Teams: No. 10 Georgia, No. 11 Texas A&M, No. 14 Auburn, No. 15 Vanderbilt, No. 17 Florida, No. 19 Tennessee, No. 22 Arkansas, No. 23 LSU, No. 37 Alabama, No. 40 Ole Miss, No. 44 Mississippi State, No. 48 South Carolina, No. 49 Missouri, No. 68 Kentucky  
 
Course Details: This marks the 20th year for the SEC Championship to be contested on the Sea Island Golf Club's Seaside Course. The SEC has conducted its annual championship on St. Simons Island since 2001. Since 1927, the Sea Island Golf Club has enjoyed a legacy as one of America's premier golf clubs. 
 
Rated No. 1 in the U.S. among the "World's 50 Best Golf Hotels" by Golf Digest Index, Sea Island Golf Club offers three exceptional 18-hole championship courses. The Seaside Course, home to the PGA TOUR's McGladrey Classic, is a links course graced by majestic ocean vistas in the tradition of St. Andrews.
 
Originally designed in 1929 by famed architects Harry S. Colt and Charles Alison, the Seaside Course was updated in 1999 by Tom Fazio – earning it a prominent place on Golf Digest's list of "Top 100 Courses in the United States." 
 
Format: Three-day, 54-hole event stroke play. Count top four scores each day. Match play for top eight teams beginning on Saturday. Final two play head-to-head in match play on Sunday.
 
Live Look: Live stats are available via golfstat.com.
For the latest on the Kentucky men's golf team, follow us on Twitter, Facebook, Instagram and on the web at UKathletics.com.