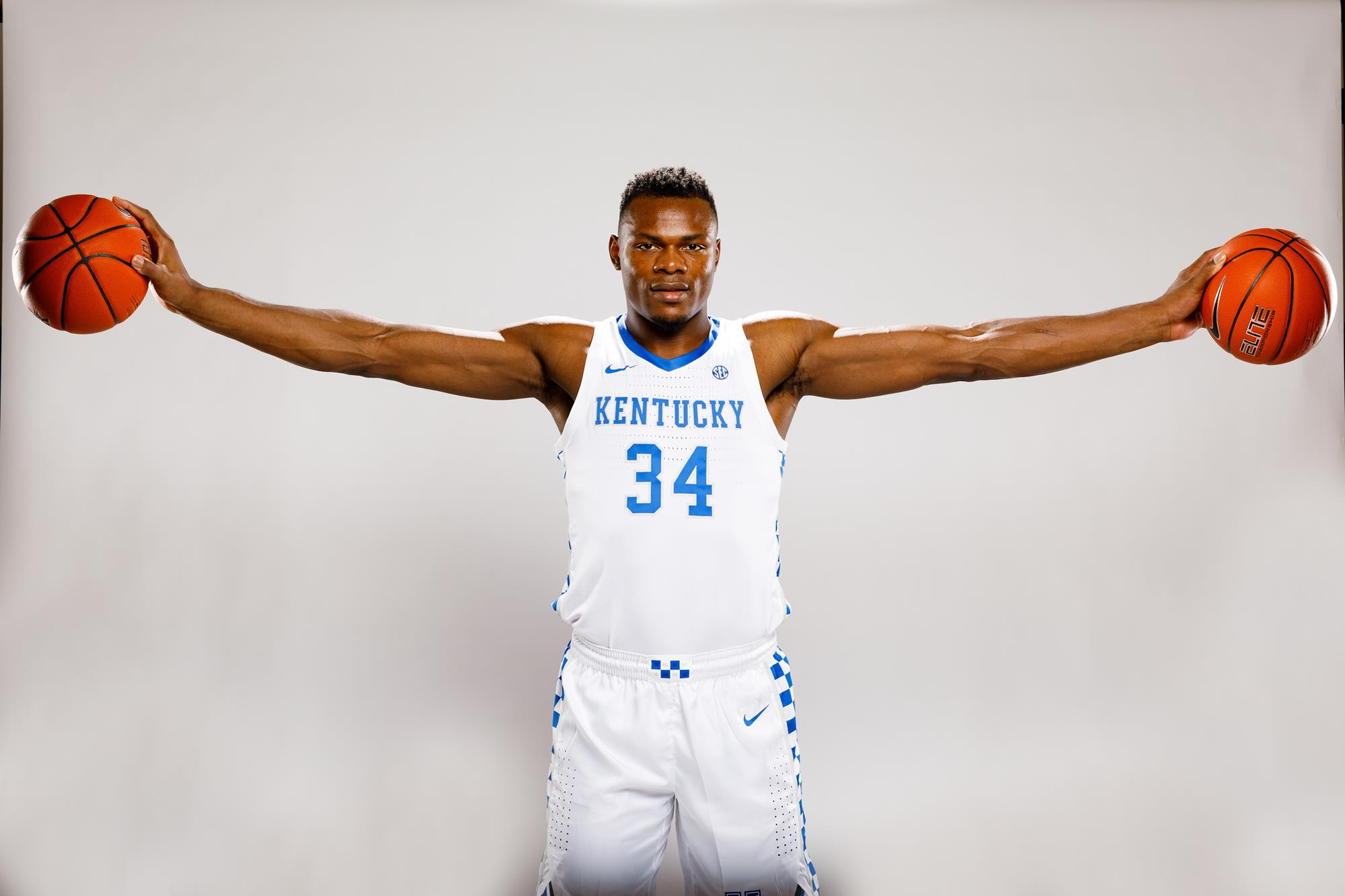 April 14, 2021 - 04:30 PM
Oscar Tshiebwe Ready to Suit Up for 'Dream School'
Kentucky basketball forward Oscar Tshiebwe started his college basketball career at West Virginia. But after playing one and a half seasons in Morgantown, Tshiebwe decided to transfer. And when looking for a new destination, the 6-9, 260-pound Tshiebwe found Kentucky. It turns out that UK was his first choice all along.
"I wanted to be one-and-done and go straight (to the NBA) from high school," Tshiebwe said. "I chose West Virginia over Kentucky and went to West Virginia, but Kentucky was my school, my favorite school, my dream school since my freshman year in high school. I ended up choosing West Virginia but look what God did. He sent me to the place I always prayed for to be. So, I'm so happy to be here, and I know I wanted to be one-and-done since my freshman year, but the way God does things differently than how we do things, we just have to find his way."
Tshiebwe has no ill feelings toward West Virginia. He just needed a change of scenery.
"Sometimes you choose a place and you get there and it's not working," he said. "It's not like you don't like the people, don't like the place. "It's just you don't feel like you've got to keep going over there."
Tshiebwe brings solid credentials to the UK program. As a freshman at WVU, he was a unanimous selection to the Big 12 All-Freshman team. He was also second-team All-Big 12 after averaging 11.2 points and 9.3 rebounds in 31 starts. As a sophomore, Tshiebwe averaged 8.5 points and 7.8 rebounds per contest before transferring to Lexington. He had 14 points and nine rebounds against top-ranked Gonzaga.
Last season, Tshiebwe was able to practice with his new Kentucky teammates, something that he thinks will benefit him, and the team, during the 2021-22 season.
"It was a great experience for me. It was great," he said "Like at practice was absolutely different from where I came from. Practice last year, there was a lot of stuff for me to work on to be ready for this team next year. So, that was great for me to see those things. So, now I'm working on the things to be ready for next year's team."
Tshiebwe is clearly a talented player, but he knows there are parts of his game that still need work.
"I've got to get better on my jump shot, post moves like always," Tshiebwe said. "I had a conversation with Coach Cal and he said, 'Don't forget the things that brought you here. The things you do better, don't forget those. You have to continue to get better on the things that you can do best and keep learning the new stuff.' That's what I'm learning. I told them they can teach me the game of basketball. That's because I'm new in this game. I've got a lot to learn. That's why I'm listening to them all of the time."
Tshiebwe is finally ready to start playing for the school of his dreams and he's looking forward to making the most of his opportunity.