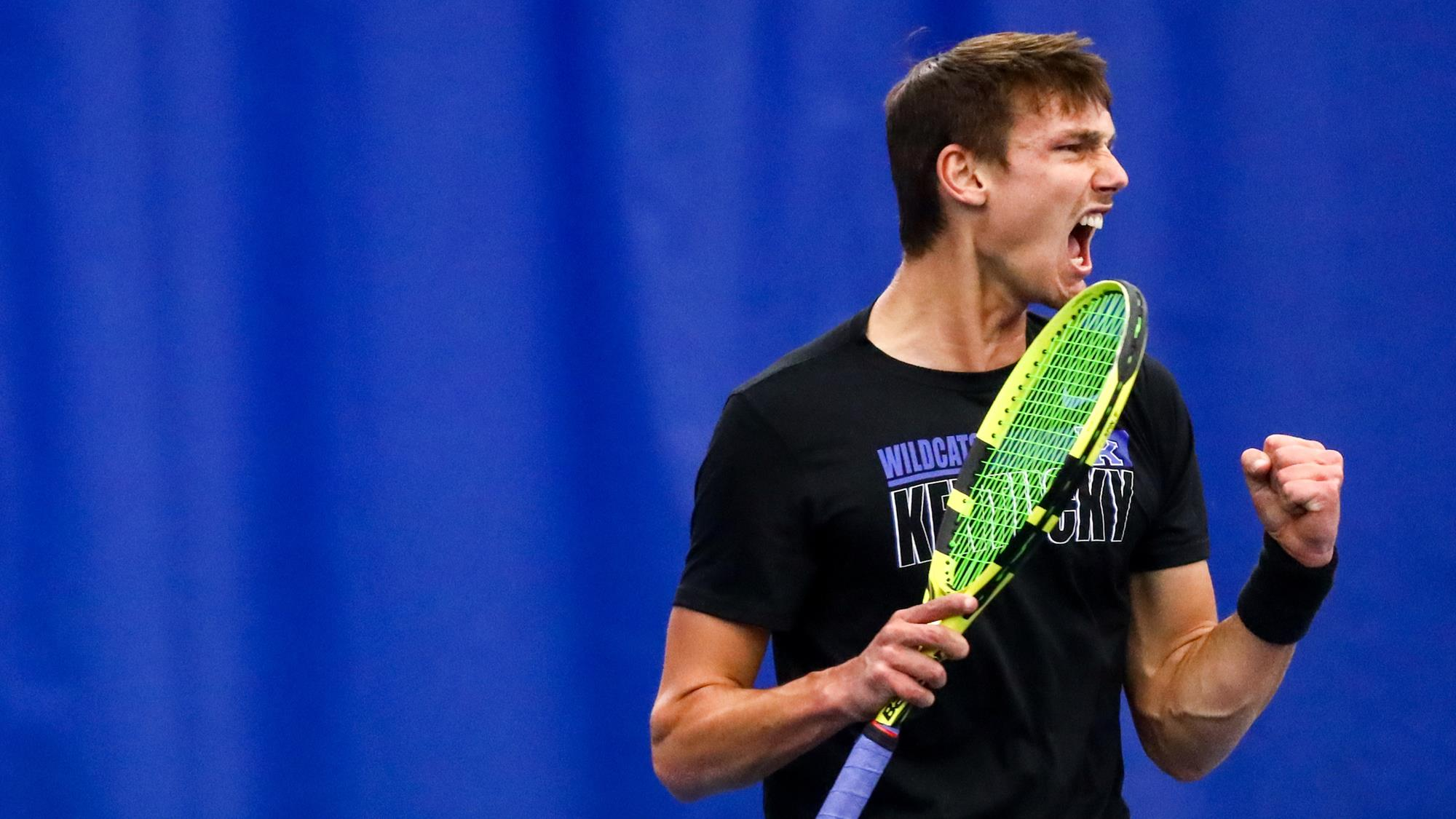 Cats to Host Two Top-20 Foes in Regular Season Finale
LEXINGTON, Ky. – No. 17 Kentucky (15-6, 5-5 Southeastern Conference) is set to conclude the spring 2021 regular season with a pair of top-20 showdowns at Hilary J. Boone Tennis Complex this weekend.
 
First, the Wildcats will host No. 12 Ole Miss (9-8, 6-4 SEC) on Friday at 5 p.m. ET in a match that was originally scheduled to begin an hour later. Then, Kentucky will welcome No. 16 Mississippi State (14-7, 4-6 SEC) on Sunday at 1 p.m.
 
The Cats return to Lexington looking to complete a perfect 15-0 sweep at home after dropping its last three bouts on the road. Kentucky most recently fell 5-2 at SEC regular season champion Florida, the nation's top-ranked unit, despite No. 20 César Bourgois and Gabriel Diallo earning a top-20 doubles win and No. 60 Millen Hurrion claiming his first top-10 singles win against the Gators.
 
In between the loss at Florida and 4-3 setbacks at then-No. 3 Tennessee and No. 13 Georgia, Kentucky defeated No. 10 South Carolina 4-2 at home on April 2. No. 7 Liam Draxl improved to 2-0 against the nation's top-ranked singles players, beating No. 1 Daniel Rodrigues 7-6 (10-8), 6-4.
 
In its last outing, Ole Miss snapped a four-match win streak with a 4-3 loss to No. 35 Alabama. The Rebels defeated that same Crimson Tide team 4-1 on Jan. 23 in Raleigh, North Carolina.
 
Sunday will serve as Kentucky's annual senior day, honoring the lone fifth-year elder statesman and team co-captain Bourgois. The Paris native has appeared in the national doubles rankings each of the past four seasons, making three appearances on the SEC Academic Honor Roll and back-to-back appearances on the SEC Community Service Team so far.
 
Bourgois earned his first doubles win in the NCAA Tournament in 2018 and captured his first singles victory in 2019. He also qualified for the 2018 NCAA Doubles Championship alongside former teammate Gus Benson.
 
After falling at Ole Miss and Alabama, Mississippi State enters the weekend as the winner of two straight. The Bulldogs will visit unranked Vanderbilt on Friday.
 
For the latest on the Kentucky men's tennis team, follow @UKMensTennis on Twitter and Facebook, @kentuckymenstennis on Instagram, and on the web at UKAthletics.com.