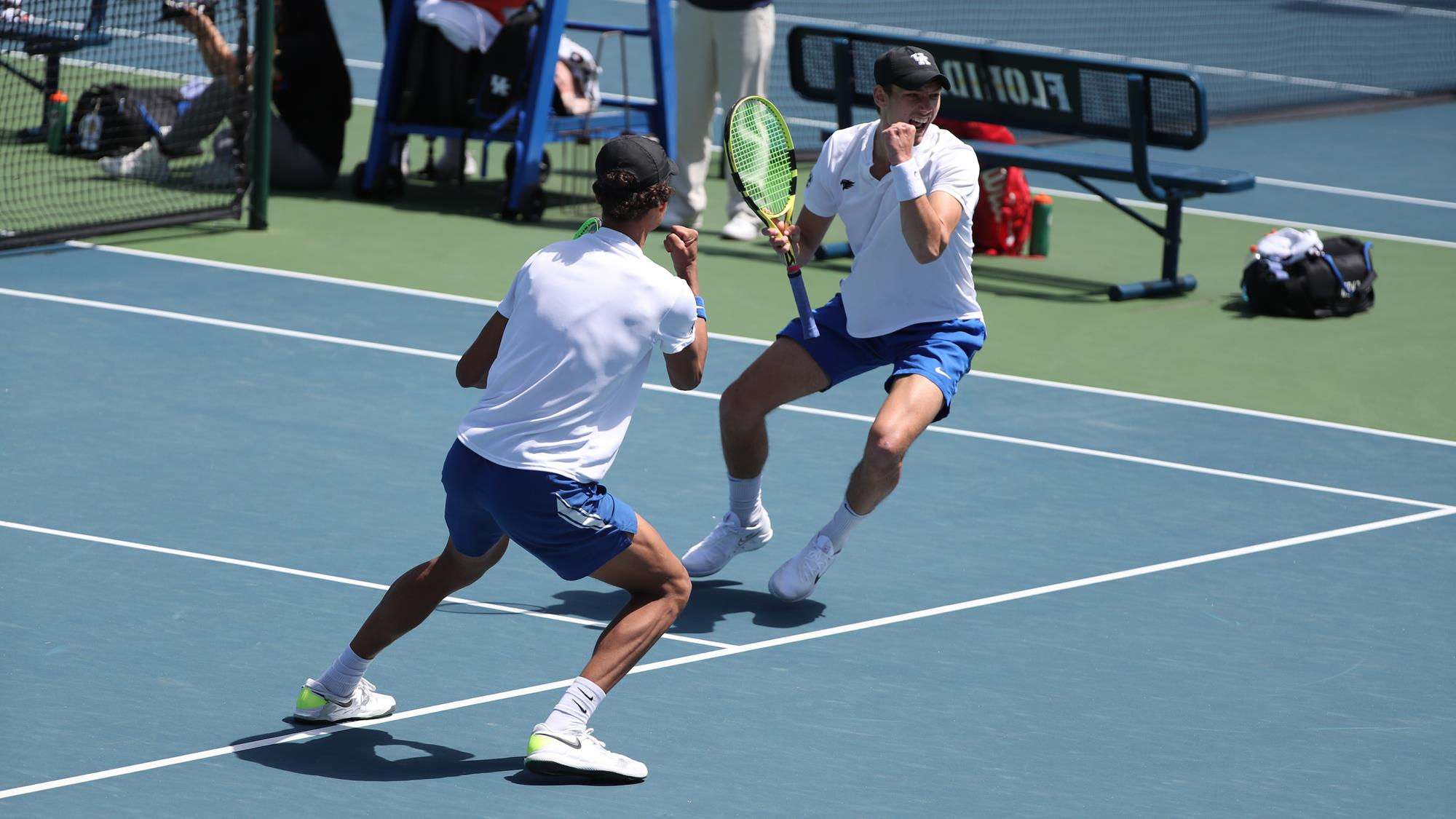 No. 22 Kentucky Comes Up Short at No. 1 Florida
GAINESVILLE, Fla. – In the last Southeastern Conference regular season road trip of the season, No. 22 Kentucky (15-6, 5-5 SEC) fell 5-2 at No. 1 Florida (17-1. 11-0 SEC) on Easter Sunday at Alfred A. Ring Tennis Complex. 
Despite the team loss, senior Millen Hurrion earned a top-10 singles win and César Bourgois and Gabriel Diallo captured a top-20 win on the doubles court. 
The 20th-ranked pair of Bourgois and Diallo found themselves in a hole to open their doubles match, losing the first four games to give Florida's 16th-ranked Johannes Ingildsen and Will Grant before ripping off five straight games to claim a 5-4 lead on the first doubles court. The Wildcats relinquished one more game before earning a 7-5 victory in the second completed matchup. 
In a back-and-forth contest on court two, Hurrion and Liam Draxl pushed Kentucky over the top with a 7-6 (9-7) thriller to put the Wildcats up 1-0 on the scoreboard. 
Coming off his second win against the top-ranked singles player in the country last Friday, the seventh-ranked Draxl lost just his second contest of the season at the hands of No. 3 Duarte Vale by a score of 6-2, 6-2. The sophomore's singles record falls to 17-2 on the top court. 
With additional losses on courts four and five and Kentucky trailing 3-1 Hurrion stopped the bleeding with his second ranked win in three days and first over a top-10 opponent with a 6-3, 6-3 triumph over the No. 8 Andy Andrade. 
However, Florida would go on to seal the match by winning the remaining singles battles on courts six and two. 
Kentucky is next set to return home, where it will round out the rest of its regular season conference slate against No. 9 Ole Miss on Friday at 6 p.m. ET and No. 15 Mississippi State the following Sunday at 1 p.m. 
#1 Florida 5, #22 Kentucky 2 
Singles 
1.     #3 Duarte Vale (UF) def. #7 Liam Draxl (UK) 6-2, 6-2 
2.     #17 Sam Riffice (UF) def. #31 Gabriel Diallo (UK) 5-7, 6-3, 6-4 
3.     #60 Millen Hurrion (UK) def. #8 Andy Andrade (UF) 6-3, 6-3 
4.     #34 Blaise Bicknell (UF) def. #97 Joshua Lapadat (UK) 6-3, 6-0 
5.     Ben Shelton (UF) def. Yasha Zemel (UK) 6-1, 6-4 
6.     #94 Josh Goodger (UF) def. Alexandre LeBlanc (UK) 0-6, 6-3, 6-3 
Doubles 
1.     #20 César Bourgois/Gabriel Diallo (UK) def. #16 Will Grant/Johannes Ingildsen (UF) 7-5 
2.     Millen Hurrion/Liam Draxl (UK) def. Josh Goodger/Duarte Vale (UF) 7-6 (9-7) 
3.     Andy Andrade/Ben Shelton (UF) def. Alexandre Leblanc/Joshua Lapadat (UK) 7-5 
Order of finish: Doubles (1,3,2); Singles (1,4,5,3,6,2)