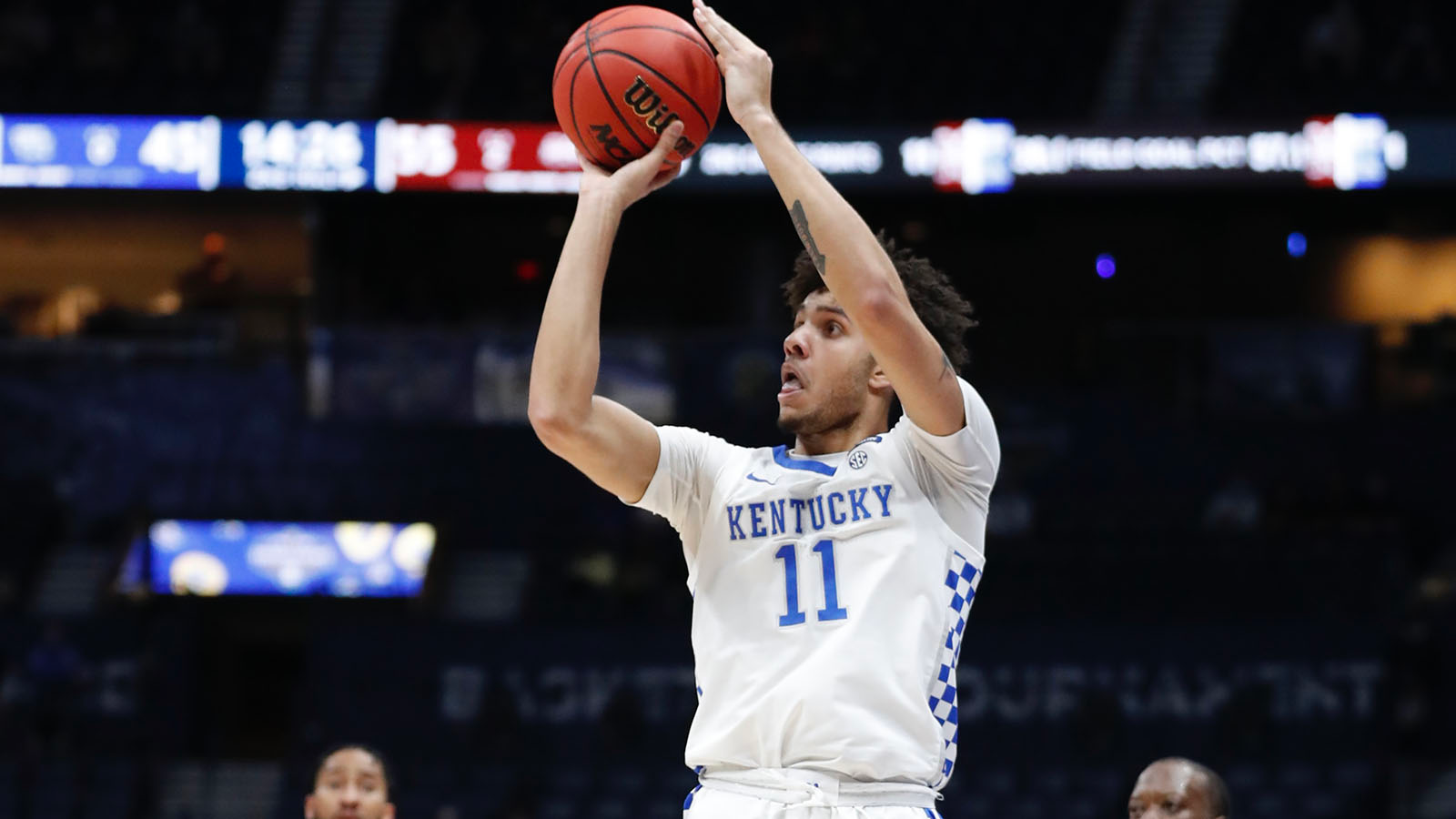 March 11, 2021 - 02:24 PM
Kentucky Comeback Falls Short Against Mississippi State
NASHVILLE, Tenn. – Kentucky saw its season end in heartbreaking fashion on Thursday in a 74-73 loss to Mississippi State in the second round of the SEC Tournament.
 
The Cats trailed 44-30 at the half but rallied in the second 20 minutes, eventually leading by five with 4:30 to play. But MSU outscored UK 8-2 down the stretch, including a pair of Iverson Molinar free throws with 7.1 seconds remaining, to beat UK head coach John Calipari for the first time.
 
After Molinar's free throws, Davion Mintz dribbled it down the court and found the hot-shooting Dontaie Allen on the wing, but the shot bounced off the rim.
 
"I mean, you can't really ask for a better shot, especially from someone like me that has confidence in myself," Allen said. "I had it lined up straight. It just hit the back end. … I'll live with that. It was a good shot."
 
Kentucky (9-16) was able to rally behind the hot shooting of Allen, who had a big game against Mississippi State for the second time this season. After breaking loose for 23 points in UK's 78-73 win in Starkville on Jan. 2, Allen matched that number again on Thursday, tying his career high by hitting 6 of 13 from behind the arc in the game and scoring 20 of his 23 points in the second half. 
 
Calipari continued to go to Allen in the second half, and for good reason.
 
"Dontaie had it going," Calipari said. "The kids loved it, I loved it. We were running stuff for him. He was making shots."
 
Mississippi State made just 3 of 14 from 3-point range until Molinar sank 3s on two straight possessions to retake the lead at 72-71 after leading by as many as 15 earlier in half. He had a 3 roll off on their next possession and Olivier Sarr gave Kentucky a 73-72 lead at 1:18.
 
Mississippi State (15-13) advances to face top-seeded and No. 6 ranked Alabama on Friday. The Bulldogs lost both of the regular-season meetings, by eight and five points.
 
Kentucky (9-16) will not play in the NCAA Tournament, along with Duke, marking the first time both programs missed it in the same year since 1976. Kentucky ends the season with its first losing record since going 13-19 in 1988-89. 
 
"You know what's sad? We were a couple wins away from being a team, even with a bad record, two or three wins, and you're right there with all the numbers that they're saying all these teams in the NCAA Tournament," Calipari said. "You know what, at the end of the day, you got to win games and you got to be tough and you got to play winning basketball, not just basketball. …We were never able to get fully engaged in that."
 
The end marks just the second losing season of Calipari's 29-year college coaching career – his very first team at UMass went 10-18 – and the first time Kentucky is not one of the final eight teams in the SEC Tournament in the history of the event.
 
"All these kids have been through, and they never stopped," Calipari said. "They gave us an effort every night in practice, every game. We were lacking and flawed in different ways as a team, but they fought. I would say disappointed in the record but not disappointed in these kids. Not disappointed in them."
 
Despite a frustrating season, Kentucky had hoped its familiar stomping ground might save its season with four wins in four days. The Wildcats entered the tournament with more SEC Tournament titles (31) than the rest of the league combined (28) and were 24-4 entering the tournament under Calipari, who has advanced to the championship game of conference tournaments 19 times in his career.
 
But it seemed like all of the season's issues were packed into one game, the most glaring of which was the inability to close out games. After storming all the way back, Kentucky took a five-point lead with 4:30 to play but scored just two points the rest of the game.
 
"My teams historically played like if they lost, they were going to the electric chair. This team did not," Calipari said. "Times we did. But maybe physically we weren't capable of that. But you know what, here is what I would say: For them to play how they started that game, then to play the second half the way they played, says something about them. They never quit on anything. They didn't quit one time this year."
 
Mississippi State dominated the inside in the first half, outscoring Kentucky 36-12 in the paint and outrebounding them 29-15. Six-foot-11 senior Abdul Ado scored 12 first-half points, and forward Tolu Smith had nine points and seven rebounds. Ado made all six of his shots as the Bulldogs shot 57.6% while holding Kentucky to 32.4%.
 
But Allen, a freshman, led Kentucky's second-half comeback with 20 of his 23 points and five of his six 3-pointers.
 
Allen sank his sixth 3-pointer with 6:22 remaining to give Kentucky its first lead of the game at 65-64, capping a 12-2 run. And a minute later, Mintz made his fourth, following an offensive rebound, to make it 71-66.
 
Kentucky made seven of its first 11 3-pointers of the second half.
 
Smith finished with 13 points and 10 rebounds, and Ado added 12 points and nine rebounds for Mississippi State. D.J. Stewart had nine points, seven rebounds and 10 assists.
 
Mintz had 16 points and eight assists and Sarr added 14 points for Kentucky. Terrence Clarke, a top-10 national recruit in the 2020 class, played in his first game sine Dec. 26 due to an injury and scored two points in 10 minutes.