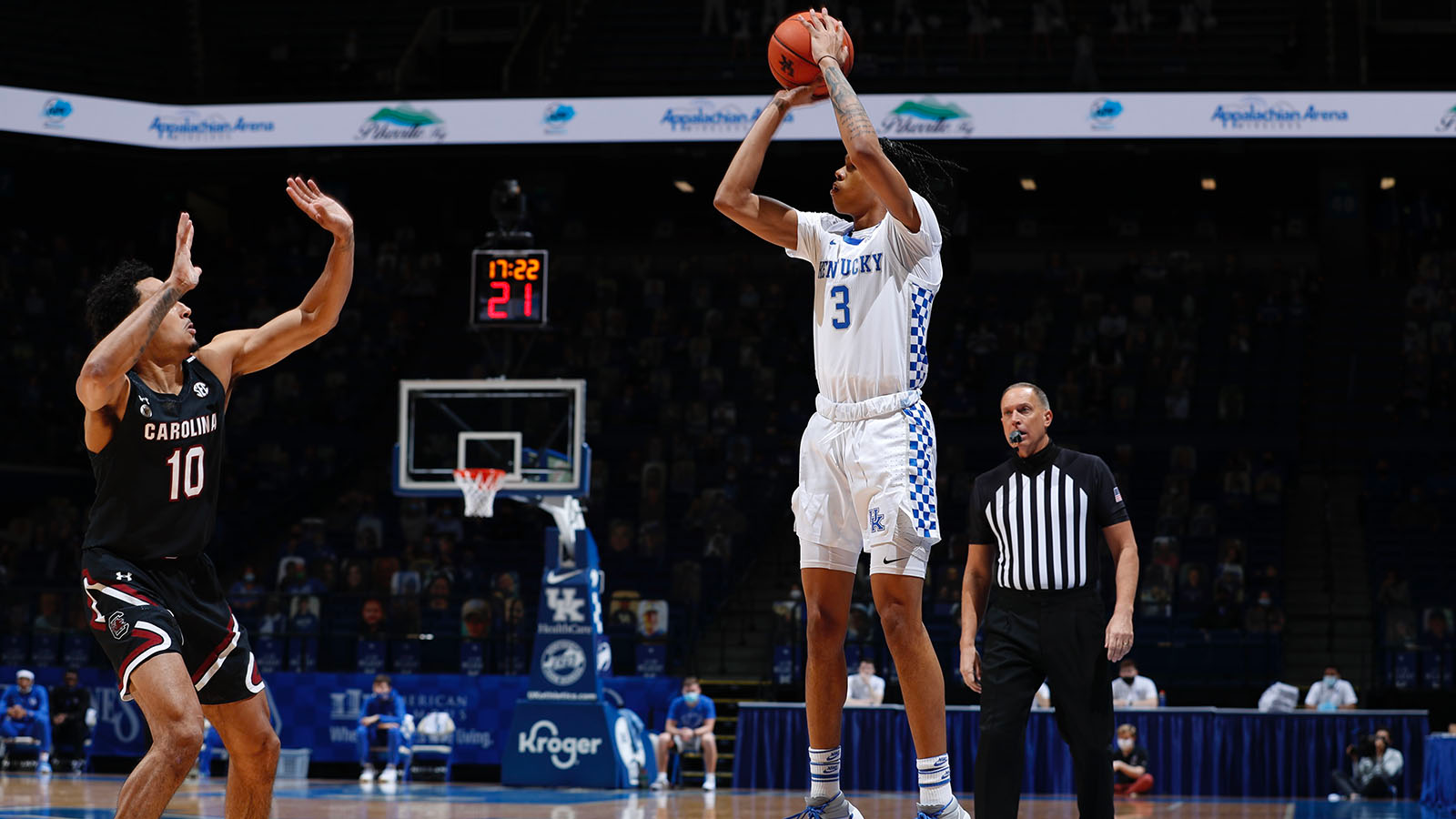 Kentucky Cruises Past South Carolina in Home Finale
LEXINGTON, Ky. – With how this season has gone and with the way he was shooting the ball, everyone in Rupp Arena knew Davion Mintz was taking the next shot after making 3-pointers on his previous two trips and four in the half.
 
Not even John Calipari's hesitation – "Easy now, easy, easy," he said from the sideline – was going to make Mintz think twice about the second-half heat check in the win vs. South Carolina.
 
"As soon as you saw me smacking my hands so hard for the ball, I knew (I was shooting it) regardless," Mintz said. "I'm like, no, I got to take this one."
 
Shades of Tayhaun Prince's 3-point barrage vs. North Carolina in 2001, Mintz pulled up from well beyond the arc and just in front of his head coach and nailed the 3, his fifth in three and a half minutes that fueled a much-needed runaway victory for Kentucky as it ended the regular season Saturday at Rupp Arena.
 
Mintz's 3-point flurry was part of a 17-5 run that led the Wildcats to a 92-64 victory over South Carolina, UK's second-biggest win of the season and its largest against an SEC foe since a 28-point win over the Gamecock in February 2019.
 
"The energy and everything that I felt in the arena, it was a like a vibration around me," Mintz said. "I knew it was up as soon as I started clapping for it."
 
Calipari spun around to the scorer's table and smiled. Mintz's teammates came flying off the bench as South Carolina called a timeout. And Mintz popped the "Kentucky" on his jersey for the 3,075 fans in Rupp Arena, what felt like a nod of thanks for continued support in a difficult season and a representation of what could have been in more normal times with a moment like that.
 
For the Wildcats, who finished the regular season at 9-15 and 8-9 in the Southeastern Conference, their first losing season in the league since 1988-89, it was nice to have a feel-good moment and cruise to a stress-free victory.
 
Calipari even got to unload his bench for the first time since the season opener.
 
"To get to see them on the court, it was a good experience for them and for us," said Isaiah Jackson, who continued his torrid stretch with his sixth straight game in double figures and his second double-double of the season. "We finally got to take a break the last three minutes and just enjoy the game. And I feel like that's a good momentum builder going into next week. … We're just going to go out there and try to have fun and keep on doing what we're doing."
 
Jackson scored 13 points and grabbed 10 rebounds, Mintz scored 20 with a career-high six 3-pointers, and Brandon Boston Jr. set career highs with 21 points and six 3-poitners. Mintz and Boston became just the second pair of UK teammates to each make at least six 3-pointers in the same game. Travis Ford made seven and Jamal Mashburn sunk six vs. Indiana on Jan. 3, 1993.
 
Keyshawn Bryant scored 16 points and Jalyn McCreary had 14 for the Gamecocks (6-14, 4-12 SEC), who haven't won at Rupp Arena since 2009. Leading scorer AJ Lawson (18.1 points per game) scored six points on 2-of-10 shooting. Third-leading scorer Jermaine Cousinard missed the game with a rib injury suffered in practice.
 
The Wildcats, winners of four of their last six games, will try to ride the momentum into the SEC Tournament, an event they must win to get into the NCAA Tournament.
 
UK has had great success historically and under Calipari in the event. With 31 SEC Tournament crowns, more than the rest of the league combined, and six under Calipari, including eight title game appearances in 10 opportunities, no one is going to count Kentucky out of making a run in Nashville, Tennessee.
 
But Kentucky also hasn't won four in a row this season or four consecutively to win the league tournament since 1952.
 
The eighth-seeded Wildcats, who will face Mississippi State in the second round on Thursday at noon ET, believe they have a chance, even if they are only taking it one game at a time. If UK beats Mississippi State, it would face the regular-season champion, Alabama, on Friday. The Crimson Tide won both of the regular-season meetings.
 
"It's never too late," Mintz said. "I've got faith. God is real and things happen for a reason. If we have a chance to go out there and play for 40 minutes, it's never too late. We'll see next week."
 
Mintz has given Kentucky late-season hope. Averaging 16.8 points with 20 3-pointers over the last five games, the transfer from Creighton has made multiple 3-pointers in 10 of the last 11 games. He has also taken on an increased role at point guard over the last two games and dished out seven assists vs. South Carolina to give him 15 over the last two outings.
 
Kentucky, which led by as many as 33 points, shot 49.3% from the floor and limited South Carolina to 38.2%. UK has held nine of its last 14 opponents to 40% or less shooting.
 
This game was previously scheduled to be the SEC opener for both teams on Dec. 29 but was postponed because of COVID-19 issues at South Carolina.
"It's never too late. I've got faith." – @deemintz1

See you in Nashville, #BBN! pic.twitter.com/bhh3gQ0ijE

— UK Sports Network (@UKSportsNetwork) March 6, 2021