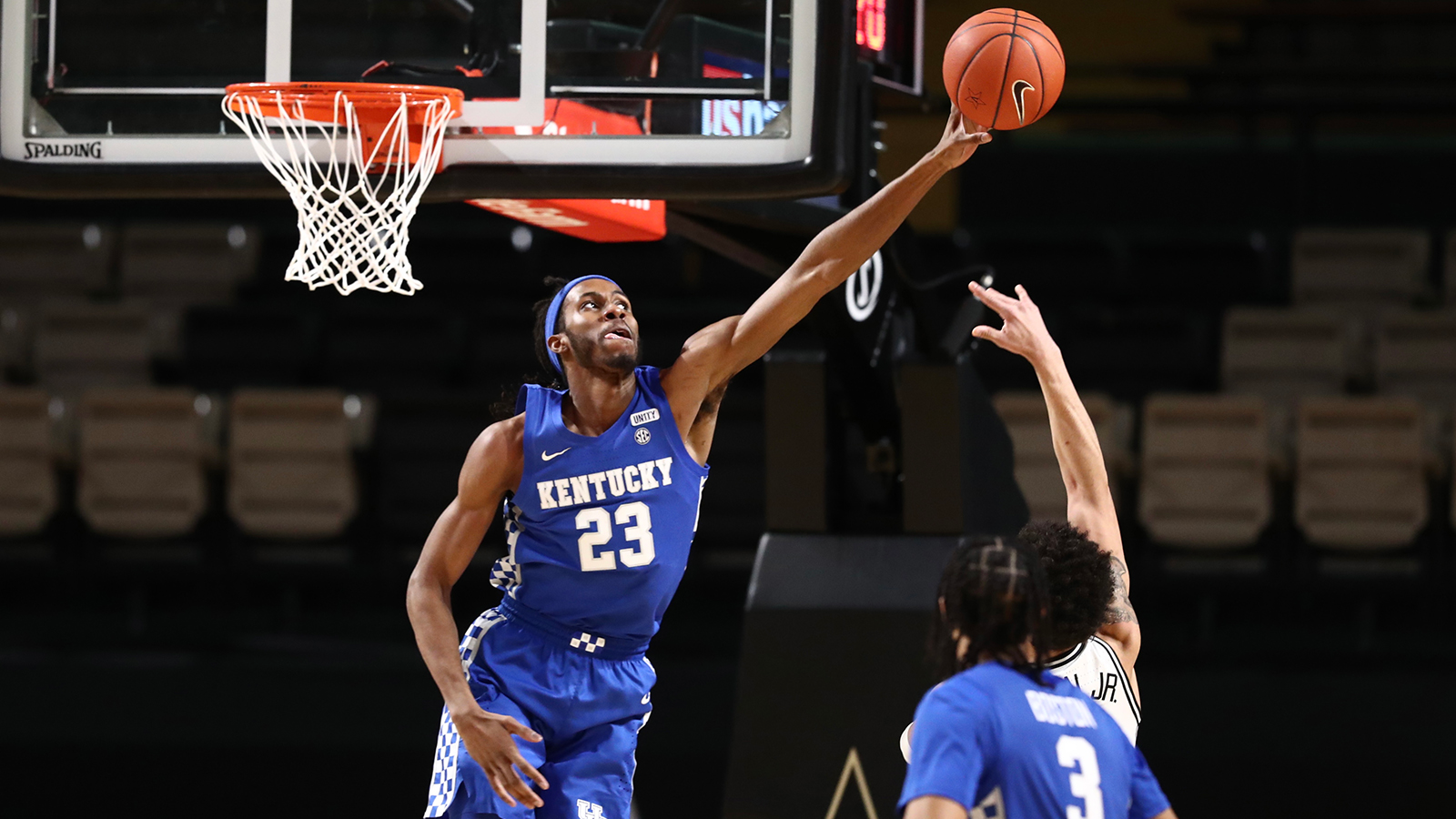 February 17, 2021 - 09:22 PM
Kentucky Holds Off Vanderbilt in Nashville
NASHVILLE, Tenn. – Kentucky head coach John Calipari is watching his young team grow before his very eyes. Another example of that growth came on Wednesday night in Nashville, Tennessee.
Kentucky built a 17-point lead in the first half, only to see Vanderbilt rally all the way back and tie the game early in the second half. But instead of letting the Commodores go ahead and take the lead, the Cats fought back and eventually won 82-78 at Memorial Gymnasium. 
"Winning and playing like we did in the first half, where we should have been up 15, 16 and then they make a run and we don't fold, we don't fold," Calipari said. "We just keep fighting and we push it back to seven. That is big for this team. Big."
Calipari knew that Vanderbilt would make a run at his team. He just hoped the Cats would respond.
"Yeah, look, everybody's going to make a run," Calipari said. "What I told them, they're going to make a run, then you've got to make a run back at them. That's the game of basketball. And then, you're trying to make the last run of the game, or at least hold on, which is what we did."
Davion Mintz had 18 points, Jacob Toppin scored 12 of his career-high 16 points in the second half on Wednesday. Isaiah Jackson had 15 points and nine rebounds, Brandon Boston Jr. added 12 points and three steals and Olivier Sarr had 10 points and four blocks for Kentucky (7-13, 6-7 SEC).
Toppin, who made some key plays down the stretch for the Cats, knows that the team has learned how to make plays late in games this season.
"We're still learning as a team," Toppin said. "I think we're getting better playing down the stretch. We still make a few mistakes that we need to fix. But with experience, we're going to fix them. And I believe in this team. I believe this team is going in the right direction. And we've just got to keep pushing."
Calipari knows that, on a given night, any player could be the one who steps up for this team. On this night, it was Toppin.
"Yeah, I was so happy (for Toppin)," Calipari said. "What I said to the team after – a real team, a team – really doesn't know who is going to have that big game. And whoever it is, everybody is ecstatic for. And they were ecstatic for him in that locker room. And that's what I'm saying, we're becoming a team. Instead of doing what I want to do, what does the team need me to do."
Calipari believes that this team is coming together at the right time.
"They're building their own confidence together," Calipari said. "They're finally becoming a team. And we're learning to be a better team."
Scotty Pippen Jr. scored six points and Dylan Disu added five in an 11-5 spurt that pulled Vanderbilt (6-11, 2-9) within a point with 26 seconds left but Toppin, Boston and Devin Askew combined to go 8 of 8 from the free-throw line from there.
Disu had career highs of 29 points and 16 rebounds for the Commodores and Pippen finished with 21 points.
Kentucky scored the first 10 points of the game and never trailed. Boston hit a 3-pointer and then took a steal coast-to-coast for a dunk 17 seconds later to spark a 15-3 run that made it 25-8 midway through the first half.
Issac McBride hit a 3-pointer to trim the Commodores' deficit to 12 at halftime and Vanderbilt scored 16 of the first 20 points of the second half to tie it at 46-all but Mintz answered with a 3-pointer and Kentucky led the rest of the way.
The Wildcats have won back-to-back games for just the second time this season. They won three in a row in early January. They have also scored 80 points or more in three straight games — thanks to a combined 33 3-pointers over the last three — after scoring 80 or more just once in the prior 17 games. 
 
.@KeionB_12 did this ?? pic.twitter.com/qyqZ0piMvZ

— Kentucky Basketball (@KentuckyMBB) February 18, 2021