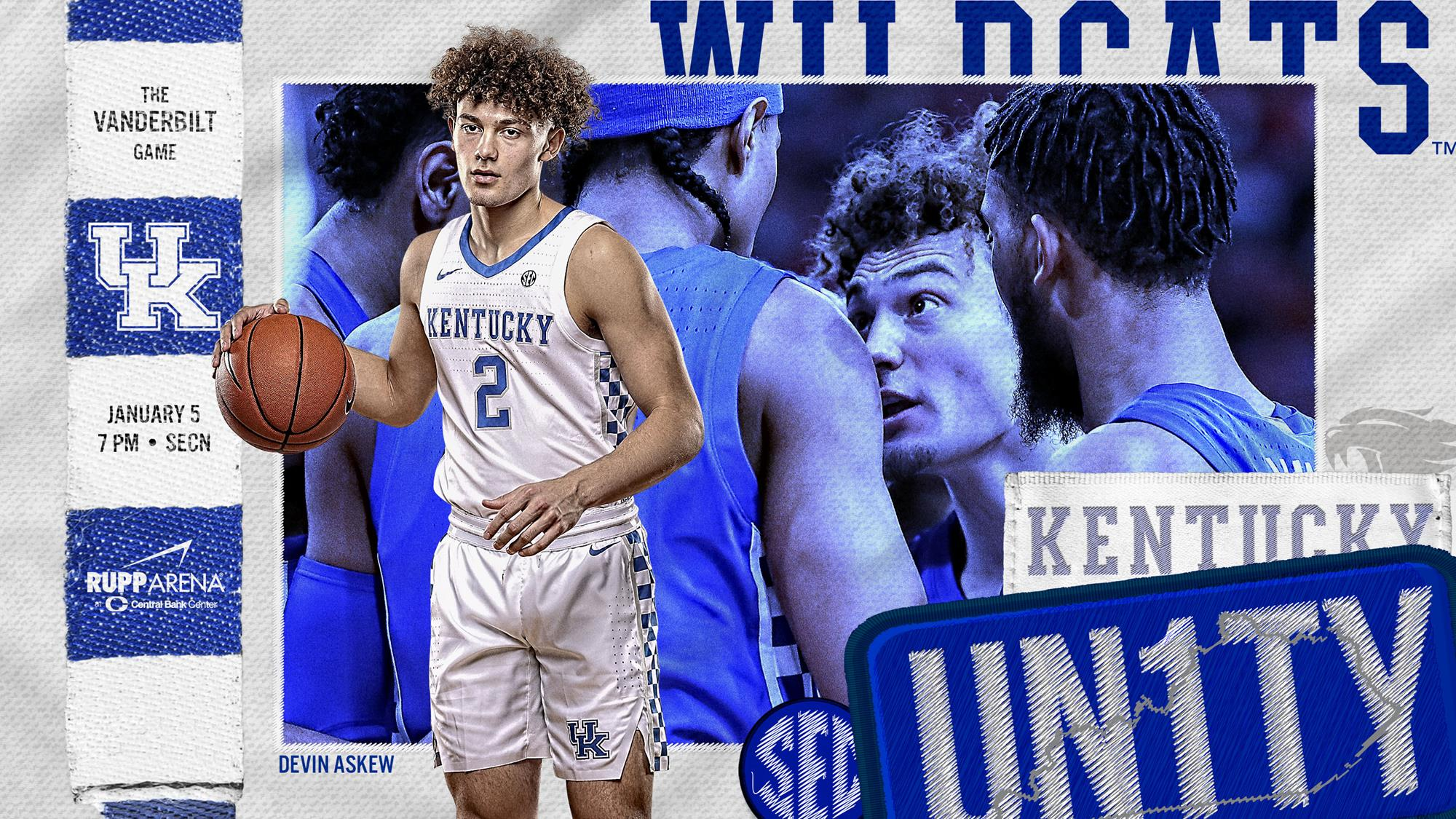 January 4, 2021 - 01:37 PM
Askew, Cats Ready for SEC Home Opener Tuesday
After Saturday's win at Mississippi State, the buzz surrounding the Kentucky basketball team was all about Dontaie Allen. And why not. Allen had just scored a career-high 23 points, leading the Cats to a 78-73, double-overtime win at Humphrey Coliseum, breaking a six-game losing streak in the process.
Lost in the Allen hoopla was some outstanding point guard play that Kentucky got from freshman Devin Askew, who directed the offense and helped the Cats to tie a season high with 18 assists in Saturday's victory.
Askew set a new career high with seven assists, tied a career high with four rebounds and was one point short of his career high with 11 points in Saturday's game.
UK assistant coach Bruiser Flint has been impressed with Askew's progression.
"(UK head coach John Calipari)'s just been asking him to run the team, be a better floor general, and I think he's done that," Flint said. "It's just taken him some time. This is my first year and I know the expectations for some of these freshmen, but in all my career, it takes freshmen some time sometimes to get it done. We just had a tough schedule and we've been hurt a bit by it, but you see the improvement of all the guys, and Devin is one of them."
 
Kentucky vs. Vanderbilt

Tue., Jan. 5 – 7 p.m. ET
Rupp Arena
Lexington, Ky.
Game Notes: UK | VU
UK Athletics App

Coverage

TV: SEC Network
Radio: UK Sports Network
Watch
Listen
Live Stats

UK
Stats
VU
2-6
Record
4-3
1-0
Conference Record
0-1
66.5
PPG
73.0
67.4
Opp PPG
67.9
.415
FG%
.432
.406
Opp FG%
.400
40.3
RPG
37.3
.291
3PT FG%
.333
.280
Opp 3PT FG%
.307
11.6
APG
13.9
6.4
SPG
6.7
5.6
BPG
2.7

Askew has seen his game improve as the season has moved forward.
"I feel like just running the offense, I've been more calm," Askew said. "Making shots and shooting jumpers and all of that stuff that's just part of the game. Like, you take those opportunities when you're open. But one of the things that I needed to work on was just being calm and running the team, getting us into the offense. That's where I think I've improved at."
Askew came into the season as the projected started at point guard for the Cats, and he held that position early in the season. However, after the UK offense sputtered, Askew was asked to take a step back as Calipari and his staff evaluated other options at that position. Askew was not mad or upset at the coaching staff for making the decision they made.
"I kind of looked at it as like I needed it," Askew said. "Like, Cal, he did that to take pressure off of me and I'm in for whatever the team needs and that's what we needed at the time. So, I went with it and I was confident in it. I had no problem stepping back and it worked out."
Kentucky hosts Vanderbilt on Tuesday night at Rupp Arena. Askew thinks the win at Mississippi State has given the Cats a better vibe.
"It boosts our confidence," Askew said. "We finally got the taste of a win. We just want to keep going. Our confidence is high right now. And in our perspective, we're 1-0 right now. The season just started, so we're 1-0 so we're happy. We're undefeated."
Flint thinks Vanderbilt can pose some problems for the Cats.
"(Scotty) Pippen is a very good guard. They have some tough matchups for us," Flint said. "They have a lot of perimeter big guys who get out on the floor and they run a lot of things for them to come off screens, which big guys aren't used to doing. So, it's going to be a tough game for us."
The Cats are hoping that their new confidence, sparked by Allen and Askew, can help keep the momentum heading in the right direction.
Allen's Heroics Lead UK to Double-Overtime Win in Starkville
STARKVILLE, Miss. — Like so many Kentucky boys and girls growing up in the state of Kentucky, Dontaie Allen dreamed of a chance to play for Kentucky basketball. On Saturday in what felt like a must-win game for the Kentucky men's basketball team, Allen not only got his opportunity, he performed beyond his wildest dreams.
Allen starred in Kentucky's 78-73 double-overtime win at Mississippi State with 23 points and seven 3-pointers to end UK's longest losing streak in nearly 100 years.
"It feels crazy," the Falmouth, Kentucky, native said. "If there are kids listening, it comes down to work. If you put in the work, you can do some great things. Just put in the work, put your mind, body and soul into it."
Allen's game came after weeks of Big Blue Nation pleading for Allen to get a bigger opportunity. After redshirting last season coming off a knee injury, Allen had played just 20 minutes to start his career and logged only one minute over the last three games, including two games without ever checking in.
With freshman guard Terrence Clarke sidelined with a right ankle injury and the Wildcats (2-6, 1-0 Southeastern Conference) in desperate need of an offensive punch, Allen not only got his chance, he played 32 minutes and hit nearly every big shot to fuel the comeback and ultimately close out the Bulldogs (6-4, 1-1 SEC) at Humphrey Coliseum in Starkville, Mississippi.
"That's what you're supposed to do when you get a chance," said UK head coach John Calipari, who was ejected midway through the second half that seemed to spark the comeback. "I'm so happy for him. I said before the game, to the staff, 'I hope he goes big because we need to win.' We needed a win."
And win Kentucky did for the first time since its season opener vs. Morehead State, all the way back on Nov. 25. The victory ended a six-game losing streak, tied for the second-longest in school history.
Given the season implications — Kentucky's NCAA Tournament hopes in peril and the opportunity for a fresh start to begin league play — Allen's performance was one Kentucky fans will remember for a long time. Moments after Calipari was sent to the locker room with back-to-back technical fouls, the homegrown kid from Pendleton County High School sparked a 10-0 run. Down 55-46 with nine minutes to play, Allen started the run with a 3-pointer and then gave the Wildcats their first lead of the second half with a 3-pointer to end the rally.
Just when it looked like Mississippi State might foil the comeback attempt with an Iverson Molinar 3-pointer to take a 59-56 lead with 2:32 left, Allen answered with an the equalizer from long range.
Olivier Sarr, who broke out of a two-game slump with the second double-double of his UK career (14 points and 12 rebounds), hit a game-tying layup with 44 seconds left. Sarr had a desperation look to win the game in regulation after an offensive rebound but came up short.
The two would make sure to end it in the extra periods.
After Allen nearly won it in overtime with another 3, Sarr provided the final go-ahead shot — one of his career-high two 3-pointers — from the top of the key with 4:15 left in double overtime to take a 71-68 lead. MSU cut it to one, but Allen provided the final nails in the coffin with an improbable leaner that banked in from 2 before his final 3 to put the Wildcats in front 76-70.
Calipari, who admitted to intentionally trying to draw the first technical foul, snuck into the corner of the locker room after the game to be able to watch his team celebrate the win and their teammate. Coaching in his 1,000th career game as a college head coach (only Adolph Rupp and Roy Williams have won more games in their first 1,000 games) he paced in the locker room and watched the nail-biting final minutes on his phone as the assistant coaching staff, led by Bruiser Flint, directed the comeback.
"He changes our team," Calipari said of Allen."The reason we couldn't score, and you guys all know it, guys couldn't make shots. It doesn't matter what you run. It bleeds into free-throw shooting. So, him being able to do that, I told the team after, he's earned more minutes. Some guys are going to end up having to play less."
Allen, who finished 7 of 11 from long range, admitted he briefly wondered when he might get his shot to play, but he said the outcry from fans never changed his approach or added any pressure to perform.
"I don't think it was pressure only because I put in the work," Allen said. "I didn't know when my opportunity was going to come. Obviously, it could have come today, next week or next month. Nobody knows, so I was just keeping my head down and just working hard. I am thankful for the opportunity I had tonight."
Allen and Sarr provided the biggest shots, but they had help in the comeback.
Devin Askew continued his resurgence with 11 points and a game-high seven assists, Isaiah Jackson blocked four shots and came up with three steals, and Lance Ware provided a career-high 35 minutes and pulled down a game-high 13 rebounds with a career-high four assists.
"These kids deserve something good to happen," Calipari said, "and it did."
• The Wildcats have beaten the Bulldogs in every game of the Calipari era, the only team yet to register a victory with Calipari at the helm
• Allen is one of just six freshmen in school history to hit seven or more 3-pointers in a game
• Brandon Boston Jr. kept his season-long double-figure scoring streak alive
• UK is now 10-2 in SEC openers under Calipari and 9-3 in SEC road openers
• The Wildcats tied their season high with 18 assists, previously set vs. Morehead State
• Kentucky has now won three straight overtime games after winning both last season
• UK sunk a season-high 11 3-pointers
• Kentucky won despite just three free throws, tied for the fewest of the Calipari era
Allen Wins SEC Freshman of the Week
Kentucky has dominated the weekly Southeastern Conference awards under John Calipari. UK has won more SEC honors (109) than any school during the Calipari era, including 84 SEC Freshman of the Week honors and 25 SEC Player of the Week awards.
Following a breakthrough performance at Mississippi State on Saturday, Kentucky redshirt freshman guard Dontaie Allen became the first Kentucky player to earn Southeastern Conference Freshman of the Week honors this season.
After logging just a minute over the previous three games, including two in which he did not even check in, the Falmouth, Kentucky, native sparked a nine-point second-half comeback in double overtime at Mississippi State with a career-high 23 points.
He played 32 minutes and made 8 of 13 shots and 7 of 11 from 3, plus added four rebounds and a blocked shot. All of those numbers were career bests.
Allen is the sixth freshman in program history to make seven or more 3-pointers in a game (done seven times overall) and the first player to drain at least seven since Immanuel Quickley had eight against Texas A&M on Feb. 25, 2020.
Kentucky has dominated the weekly SEC awards under John Calipari. UK has won more weekly SEC honors (109) than any other school during the Calipari era, including 84 SEC Freshman of the Week honors and 25 SEC Player of the Week awards.
Allen is the first Wildcat to win either award this season.
Home Sweet Home
Kentucky's home game on Tuesday vs. Vanderbilt will be the Wildcats' first game in the friendly confines of Rupp Arena at Central Bank Center since Dec. 12 vs. Notre Dame. That's 24 days since the last home game.
Although it's felt like the Wildcats have been on the road for an eternity, it isn't even the longest away-from-home streak of the John Calipari era. Just two seasons ago, in 2018-19, the Wildcats also had a 24-day stretch between home games. In 2016-17, there were 27 days between home games.
This season's break was not by design. UK was scheduled to host Detroit Mercy in mid-December and South Carolina in late December but both games were postponed due to COVID-19 protocols. More on that below.
The return to Rupp will mark just the fourth home game of the 2020-21 season. So far, UK has played four at home, three at neutral sites and one on the road.
Kentucky is currently on a two-game losing streak at Rupp Arena for the first time in the Calipari era. UK has never lost three in a row in Rupp in the venue's 45-season history.