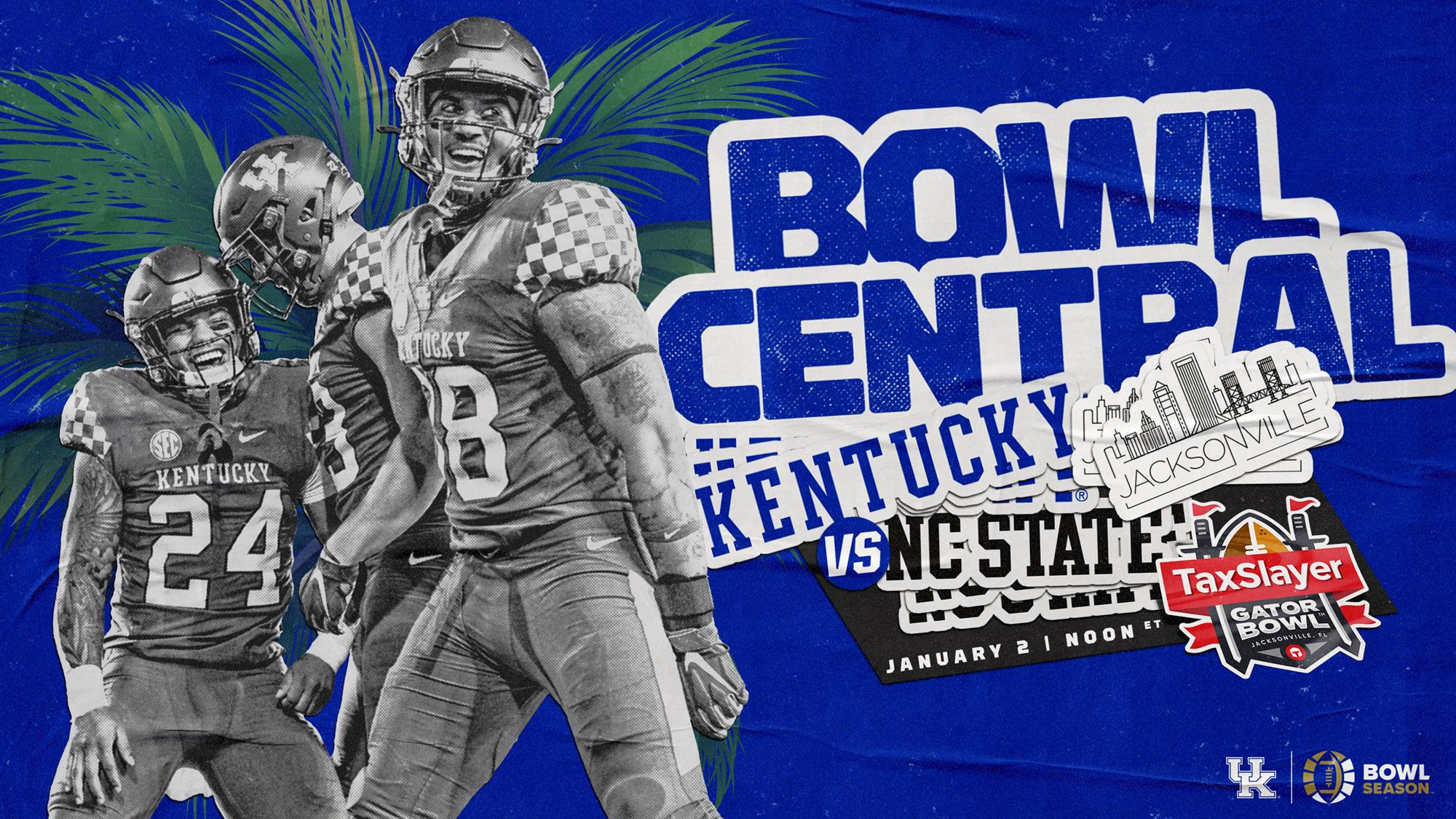 Kentucky is headed bowling for the fifth consecutive season, tying the school record, as it returns to the TaxSlayer Gator Bowl to face NC State on January 2 in Jacksonville. Game time is noon EST and it will be televised on ESPN.
 
Coach Mark Stoops is the first head man to lead UK to five consecutive bowl appearances. As a program, UK is tying its school record for consecutive bowl games, with four under Coach Rich Brooks from 2006-09, with one by Coach Joker Phillips following the 2010 season.
UK will make its second appearance in the TaxSlayer Gator Bowl during the current run of five consecutive bowl appearances. The Wildcats began their five-year bowl run in Jacksonville on Dec. 31, 2016, a 33-18 loss to Georgia Tech. The Cats have had much better success recently, winning each of their past two bowl games: defeating Penn State, 27-24, on Jan. 1, 2019, in the VRBO Citrus Bowl and Virginia Tech, 37-30, in last season's thrilling Belk Bowl.
 
The Cats finished strong in an unprecedented 2020 season, clobbering South Carolina 41-18 on Senior Day to close a 10-game SEC schedule.
 
Kentucky vs. N.C. State
Sat., Jan. 2 – 12:00 p.m. ET
TIAA Bank Field
Jacksonville, Fla.
Game Notes: UK | NCSU
Digital Gameday Program
Gameday App
Coverage

TV: SEC Network
Radio: UK Sports Network
Watch
Listen
Live Stats

UK
Team Stats
NCSU
4-6
Record
8-3
4-6
Conference Record
7-3
21.7
Scoring/game
31.1
311.8
Total offense/game
391.5
187.4
Rushing yards/game
129.1
124.4
Passing yards/game
262.4
19.3
Kickoff returns (avg)
23.7
12.4
Punt returns (avg)
11.7
46.2
Punting (avg)
43.9
30:45
Time of possession/game
28:57
38.0%
Third down conversion
44.3%
46.7%
Fourth down conversion
60.0%
26.4
Points allowed/game
39.7
387.0
Total yards allowed/game
418.2
166.7
Rush yards allowed/game
163.5
220.3
Pass yards allowed/game
254.6

Cat Scratches: Cats Hope to End Trying Season with Bowl Victory
As the college football bowl season progresses, there have been teams opting out and others that have been forced cancel their appearances due to COVID-19 restrictions.
Kentucky does not fall into either of those categories. In fact, head coach Mark Stoops has his entire team ready to go.
"We're 100 percent clear at this point," Stoops said. "We have everybody back now, 100 percent."
Stoops met with his team immediately after the season and the Cats voted on whether to play in a bowl game or not. Stoops was happy with how the vote turned out.
"I was pleased. For the program, for the coaches, it's easy to want to do those things," Stoops said. "But I would not do that at the expense of our players' mental health. I was not going to influence them to do that. (The season) was a challenge and they were spent. So, I was pleased with the result of the vote. They know I'm going to try to take care of them. I'm glad we're going and I think it's the right decision."
Stoops thinks his team's mindset is good as they go into game week and prepare to face N.C. State on Saturday in the TaxSlayer Gator Bowl…Read More
Kentucky in Bowl Games
• The Wildcats own a 10-9 all-time record in bowl games
• The last bowl appearance came in the Belk Bowl on Dec. 31, 2019. The Cats defeated Virginia Tech, 37-30, in thrilling fashion while scoring the go-ahead touchdown with 15 seconds remaining and capped the game with a fumble return for a score on the final play
• The Cats ended their 10-win 2018 season in the VRBO Citrus Bowl in Orlando on Jan. 1, 2019. The Cats defeated Penn State, 27-24
• UK also went to five consecutive bowls from 2006-2010 under former coaches Rich Brooks and Joker Phillips. Current head coach Mark Stoops is the only head coach to lead UK to five consecutive bowl appearances on his own
• This is UK's second appearance in the TaxSlayer Gator Bowl during the five-year bowl run. The Cats lost to Georgia Tech, 33-18, on Dec. 31, 2016
Series vs. N.C. State
• The series is tied 1-1
• The teams first met in 1909 and then not again until 1970
• In the original meeting UK lost 15-6 to what was then known as North Carolina A&M in Raleigh
• On Halloween 1970, the Cats won 27-2 in Lexington
Kentucky-N.C. State Connections
• Kentucky has one players from the state of North Carolina: WR Kaleb Cheek (Asheboro)
• NC State does not have a player on its roster from Kentucky
• UK offensive lineman Jake Pope was teammates with NC State linebacker Devon Betty at St. Thomas Aquinas High School in Florida
• UK coach Mark Stoops and associate head coach/recruiting coordinator Vince Marrow went to Cardinal Mooney High School in Youngstown, Ohio with NC State offensive coordinator Tim Beck
• Marrow also coached with Beck at Nebraska in 2011-12, as well as NC State assistant John Garrison, who teamed with Marrow to coach tight ends at Nebraska those two seasons
• UK inside linebackers coach Jon Sumrall worked with NC State assistant Freddie Aughtry-Lindsay at Ole Miss in 2018
• NC State running backs coach Kurt Roper was the quarterbacks coach at UK in 2005
A UK Win Would…
• Be UK's third consecutive bowl win
• Improve UK's all-time bowl record to 11-9
• Improve coach Mark Stoops to 3-2 in bowl games
• A third bowl victory would tie Stoops with Paul "Bear" Bryant and Rich Brooks for most bowl victories by a UK head coach
• Make UK 5-3 all-time vs ACC teams in bowl games
• Give Kentucky its 11th straight non-conference win
• Make the Cats 17-3 in their past 20 non-conference games