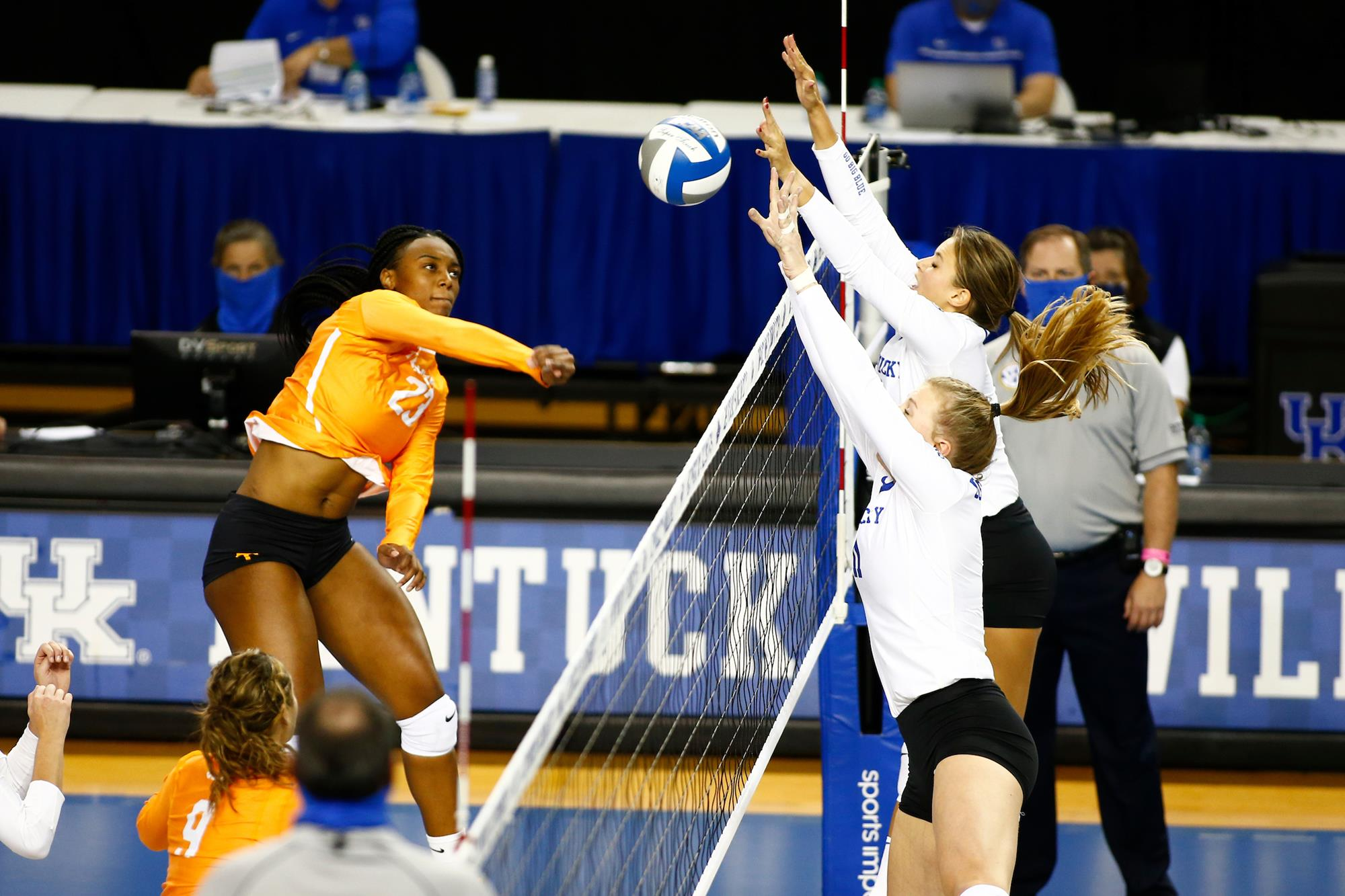 December 11, 2020 - 11:00 AM
2020 Volleyball Fall Recap - Part II
The year 2020 has seen changes in just about everything. We now use the words "social distancing" in our everyday lexicon. We wear masks to protect ourselves from COVID-19. Our arenas are filled with cutouts of fans, celebrities, mascots and coaches. But, there were some things that stayed the same. One of those things was the Kentucky Volleyball team impressing on the court.
 
UK completed a perfect 8-0 fall season last month, wrapping up the eight-match conference-only slate of matches as the only undefeated team in the rigorous Southeastern Conference. All eight of its matches will count towards the 2020-21 SEC Volleyball Championship, where the Wildcats will be taking a two-match lead into the spring season.
 
A spring schedule will be released shortly, and the Wildcats know the eight opponents they'll be facing. But let's take a look back at what was a different, but memorable, fall slate. This is part two, focusing on defense.
——————————————————————————————–
 
It's often said that pitching and defense wins teams a World Series. Well, if that equation also rings true in volleyball, then let's take pitching as setting, and defense as the Wildcats' impressive blockers and back row.
 
There was not a team with higher defensive expectations heading into 2020 in the SEC than Kentucky. The Wildcats returned two-time SEC Libero of the Year, Gabby Curry, in addition to adding in new pieces like Riah Walker and the blocking power of Kendyl Paris and Azhani Tealer. Well, they all delivered.
 
Curry was her usual self in the fall, notching a team-high 3.33 digs per set with 90 through the eight matches, and she also tallied in 1.26 assists per set as well, as she logged 34 assists. Curry earned Defensive Player of the Week honors once in the fall, when she played terrific vs. Auburn as the libero for yet another weekend.
 
Also in the back row was the emergence of freshman Riah Walker, who impressed the BBN with her 2.12 digs per set and six service aces. The freshman from Florida got right into the action, playing in 17 of the team's 27 sets and making an immediate impact in every match.
 
Lauren Tharp solidified one of the best back rows in the nation under the leadership of assistant coach Carly Cramer, as the junior from Louisville, Kentucky added in 1.63 digs per set, and had seven service aces, with most coming at critical times of sets that were close.  Tharp was one of four players to appear in all 27 sets this fall for UK, joining Alli Stumler, Gabby Curry and Madison Lilley as she proved her steadiness and versatility all fall.
 
At the net, it was Azhani Tealer's move to middle blocker who stole the headlines. Under the tutelage of assoc. head coach Anders Nelson, Tealer led the Wildcats with 1.23 blocks per set and had four solo stuffs which led all UK players. Her 28 block assists set the pace for Kentucky, which was 11 more than any other Wildcat in the four series.
 
Senior Kendyl Paris had a strong fall with 0.67 blocks per set at the net alongside Sophie Fischer, who had seven blocks.
 
Kentucky as a team was better and better in the blocking department as the fall moved along, ending the slate with over 2.3 blocks per set and holding teams to just .147 hitting against. UK allowed less than one ace per set defensively and also forced opposing teams into 158 attacking errors.
 
It's easy to see why Kentucky won all eight matches in 2020 during the fall. But all of the Wildcats know this was just a beginning, and the dream of lifting trophies will take even more in the spring.