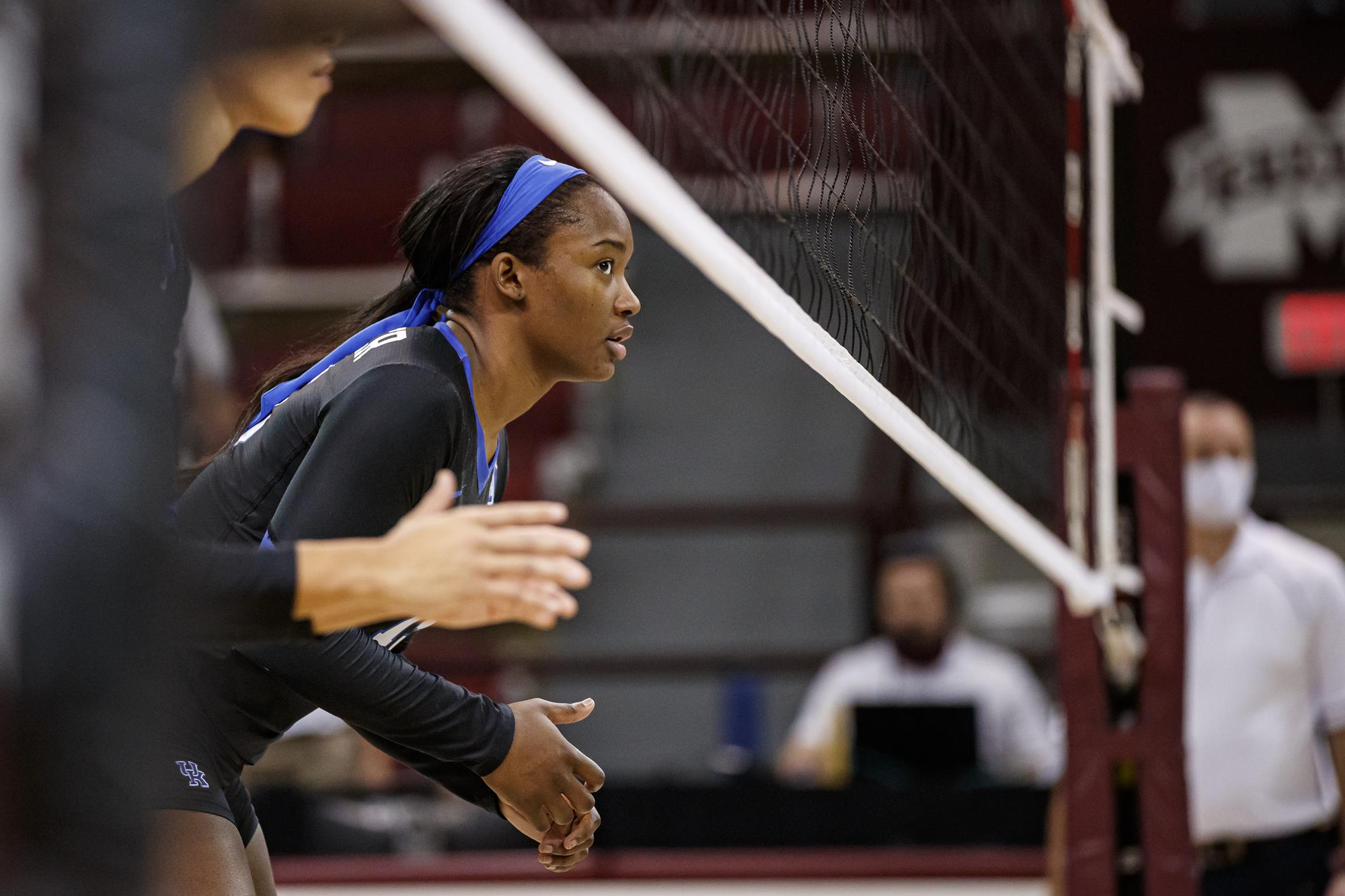 December 10, 2020 - 11:07 AM
2020 Volleyball Fall Recap - Part I
The year 2020 has seen changes in just about everything. We now use the words "social distancing" in our everyday lexicon. We wear masks to protect ourselves from COVID-19. Our arenas are filled with cutouts of fans, celebrities, mascots and coaches. But, there were some things that stayed the same. One of those things was the Kentucky Volleyball team impressing on the court.
 
UK completed a perfect 8-0 fall season last month, wrapping up the eight-match conference-only slate of matches as the only undefeated team in the rigorous Southeastern Conference. All eight of its matches will count towards the 2020-21 SEC Volleyball Championship, where the Wildcats will be taking a two-match lead into the spring season.
 
A spring schedule will be released shortly, and the Wildcats know the eight opponents they'll be facing. But let's take a look back at what was a different, but memorable, fall slate – starting with the offensive firepower that UK brought to the table.
 
The Wildcats were strong on offense all fall, wrapping up the slate as the No. 1 offense in the SEC by far, statistically leading the SEC in kills, hitting percentage and assists – the three main categories that define an offense. UK hit over .345 in the eight matches, averaged 15 kills per set and 14.00 assists per set.
 
As much as there was a sense of newness without Leah Edmond killing balls for the Wildcats, there was something refreshing about returners Alli Stumler and Avery Skinner leading the way for UK in 2020. Stumler had a terrific fall in 2020, averaging 4.44 kills per set and hitting .317. It was her all-around play that made the difference, as Stumler also had a team-high nine service aces, 2.56 digs per set and scored 135 points.
 
Avery Skinner was the Avery Skinner that Big Blue Nation came to love her freshman year. After a pair of down years by her high standards, Skinner returned to the beast that she was in 2017, logging 4.19 kills per set in the five matches she played in (ankle injury) and had 4.19 kills per set. Her hard work in quarantine during the spring and summer paid heavy dividends, as she was named the SEC's Offensive Player of the Week twice in the fall stanza of matches.
 
BBN got to add another Skinner to it's list of names to know, as Avery's sister, Madi Skinner, joined the Wildcats after a highly-touted career as a high school and club player. The No. 2 recruit in the country, Madi burst onto the scene with 2.85 kills per set in the fall and became one of Kentucky's most lethal outside weapons.
 
Going back to the top, it was a different year in 2020 – and that theory rang true for Azhani Tealer, who was navigating a position change in the offseason to middle blocker. She, like everything in her life, took it with a smile and in-stride, as she hit .504 to lead the conference, averaged 2.69 kills per set, and her unreal athleticism combined with 5'10" framework paved the way for a team-high 1.23 blocks per set. Tealer, one of the most popular players in the locker room, embodied the program mantra of stepping up when your name is called, as she showed what a team player she is.
 
It was senior Madison Lilley's job to make it all work in 2020, and goodness, did she ever. Winning SEC Setter of the Week and SEC Player of the Week awards multiple times, Lilley averaged a staggering 12.19 assists per set, while gobbling up 329 assists in total. Lilley also showed what a complete player she is and why she's a returning All-American, as she averaged over 2.5 digs per set and logged 20 blocks at the net in just eight matches.
 
Newcomers Elise Goetzinger (1.72 kills/set), Reagan Rutherford (1.86 kills/set) and Sophie Fischer (1.60 kills/set) also made significant impacts in matches as UK swept Tennessee, Missouri, Auburn and Mississippi State to climb to the top of the SEC standings.
 
Part II of the 2020 Fall Recap will focus on the defense, and will be released on Friday, December 11.