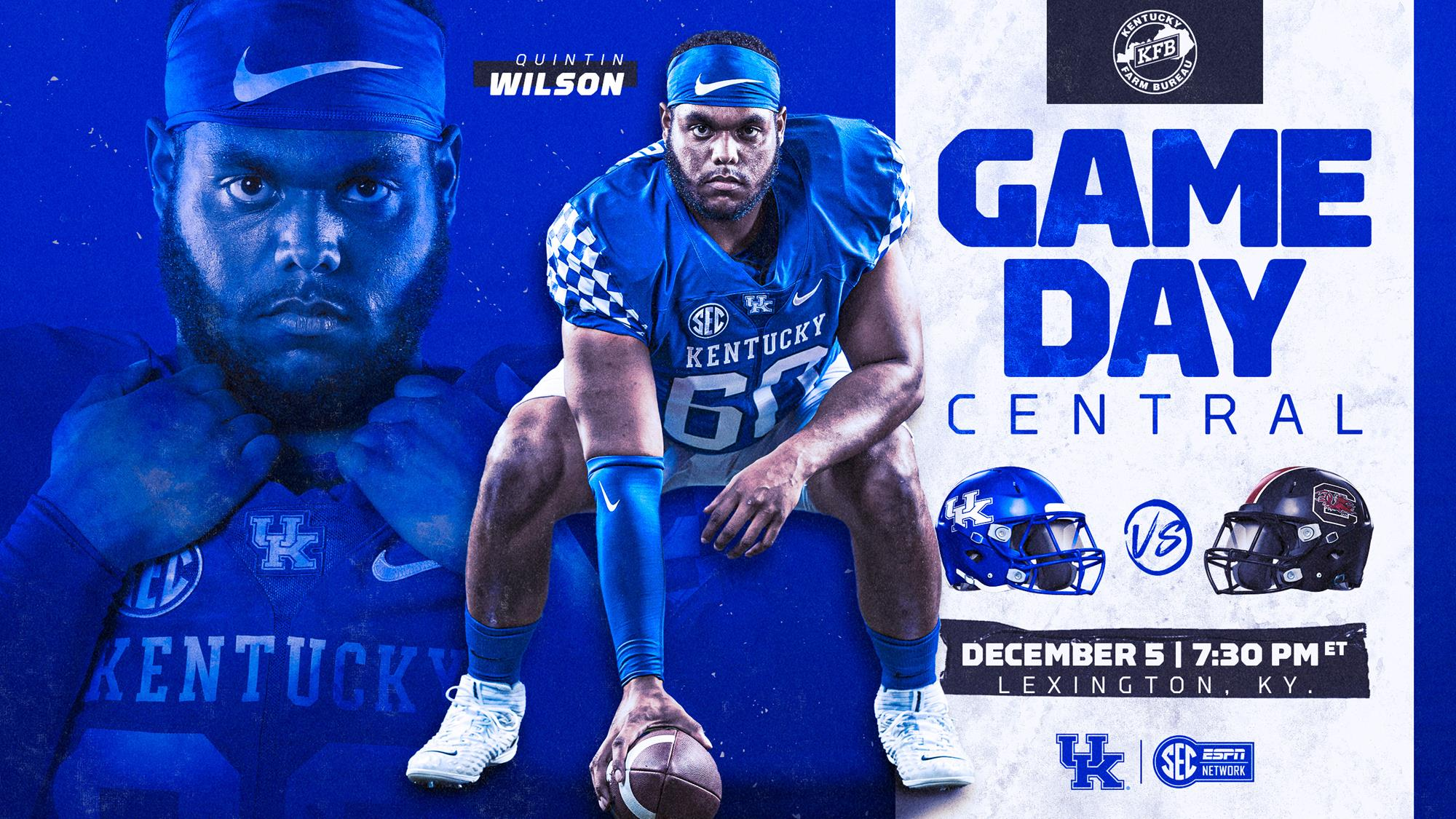 Kentucky closes the most unusual of regular seasons this Saturday when it plays host to South Carolina on Senior Day at Kroger Field. Game time is 7:30 p.m. EST and it will be televised on the SEC Network.
The Wildcats will honor 19 players before the game, a group that has played a significant role in Citrus Bowl and Belk Bowl victories, the first 10-win season and winning SEC record since 1977, ending a 31-year losing streak to Florida, the first win at Tennessee since 1984, five wins over ranked opponents and back-to-back blowouts of rival Louisville.
The game also offers an opportunity for the Cats to end a third consecutive regular season with a win and create momentum at the end of a season that has tested their resolve both on and off the field. It could also see running back A.J. Rose Jr. enter the school's all-time career rushing top 10 if he rushes for at least 48 yards.
South Carolina has had its own trials this season and are coached on an interim basis by Mike Bobo, who had previously been the head coach at Colorado State. Kentucky has won five of the past six meetings between the SEC East rivals. 
 
Kentucky vs. South Carolina
Sat., Dec. 5 – 7:30 p.m. ET
Kroger Field
Lexington, Ky.
Game Notes: UK | SC
Digital Gameday Program
Gameday App
Coverage

TV: SEC Network
Radio: UK Sports Network
Watch
Listen
Live Stats

UK
Team Stats
SC
3-6
Record
2-7
3-6
Conference Record
2-7
19.6
Scoring/game
24.1
291.8
Total offense/game
349.7
175.9
Rushing yards/game
153.6
115.9
Passing yards/game
196.1
20.1
Kickoff returns (avg)
16.5
12.4
Punt returns (avg)
3.9
46.3
Punting (avg)
43.3
30:22
Time of possession/game
29:44
38.3%
Third down conversion
37.4%
41.7%
Fourth down conversion
71.4%
27.3
Points allowed/game
35.4
385.1
Total yards allowed/game
447.0
152.2
Rush yards allowed/game
184.8
232.9
Pass yards allowed/game
262.2

Cat Scratches: Kentucky Hopes to Send Seniors Out in Style
Kentucky's football senior class will play its final home game on Saturday when the Cats host South Carolina at Kroger Field. The 2020 seniors have played a huge role in building the program to a high level during their time in Lexington.
Counting this and the previous three, Kentucky has won 28 games in a four-year span. The Cats have been to three bowl games, winning the Citrus Bowl following the 2018 season and winning the Belk Bowl last year. That 2018 team also won 10 games and had one of the best seasons in Kentucky football history.
UK head coach Mark Stoops knows how vital this group has been to the program.
"I appreciate our seniors. This is their last game for them to play at home," Stoops said. "Hopefully, we'll send them off the right way. They've been very instrumental in us winning a lot of football games over the past several years. I want to say how much I respect and appreciate our seniors."…Read More
Series vs. South Carolina
• South Carolina leads the all-time series 18-12-1.
• The Gamecocks own a 9-7 edge in Lexington but Kentucky has won each of the past three games at Kroger Field.
• Overall, UK has won five of the past six meetings in the series.
• The series has been defined by extended winning streaks, one from each team. South Carolina won 10 straight from 2000-09 before UK's run from 2014-18.
• The Cats have eclipsed 200 rushing yards three times in the past six meetings. 
• The teams first met in 1937, a 27-7 UK win, and then not again until 1978. They have met annually since 1992 when the Gamecocks joined the SEC.
• UK coach Mark Stoops in 5-2 vs. the Gamecocks.
• Biggest UK win: 20 (27-7 in 1937; 30-10 in 1999)
• Biggest South Carolina win: 51 (54-3 in 2011)
• Games decided by eight points or less: Tied 8-8-1
Kentucky-South Carolina Connections
• Kentucky has four players from the state of South Carolina: PK Chance Poore (Anderson), RB Travis Tisdale (Andrews), DB Andru Phillips (Mauldin) and DB Jalen Geiger (Columbia).
• South Carolina does not have a player on its roster from Kentucky.
• Geiger was teammates with South Carolina P/K Alex Herrera and DS Hunter Rogers at Spring Valley High School.
A UK Win Would…
• Be UK's sixth in the past seven games in the series.
• Be the fourth consecutive win for UK in Lexington vs. South Carolina.
• Be the third straight season the Cats have won their regular season finale.
• Improve UK's record vs. SEC East foes Missouri, South Carolina and Vanderbilt to 17-7 under coach Mark Stoops.