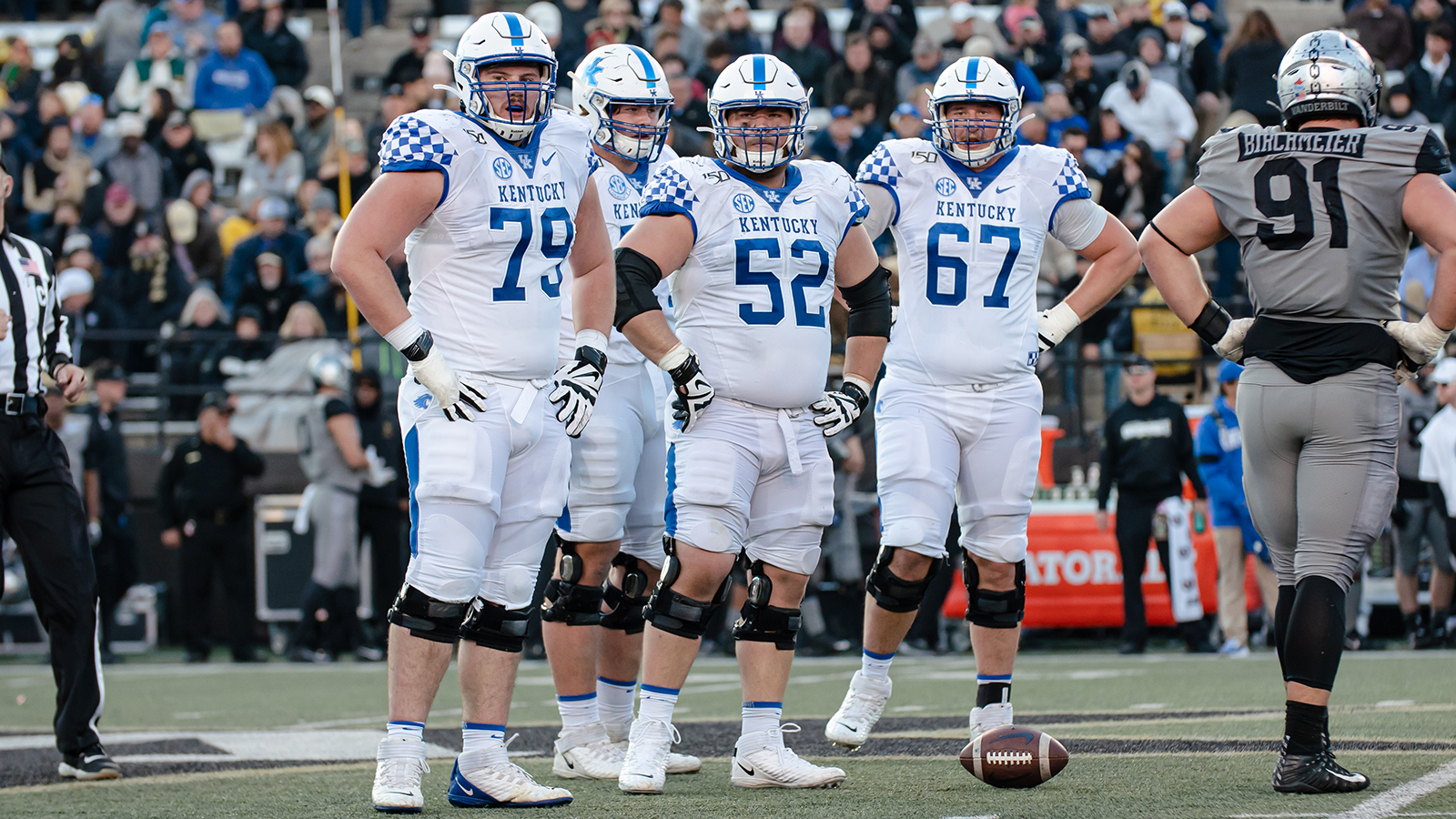 Kentucky's football senior class will play its final home game on Saturday when the Cats host South Carolina at Kroger Field. The 2020 seniors have played a huge role in building the program to a high level during their time in Lexington.
Counting this and the previous three, Kentucky has won 28 games in a four-year span. The Cats have been to three bowl games, winning the Citrus Bowl following the 2018 season and winning the Belk Bowl last year. That 2018 team also won 10 games and had one of the best seasons in Kentucky football history.
UK head coach Mark Stoops knows how vital this group has been to the program.
"I appreciate our seniors. This is their last game for them to play at home," Stoops said. "Hopefully, we'll send them off the right way. They've been very instrumental in us winning a lot of football games over the past several years. I want to say how much I respect and appreciate our seniors."
The core of the Big Blue Wall is a group of this year's seniors. That includes Luke Fortner, Drake Jackson, Darian Kinnard and Landon Young. Stoops had very high praise for that group.
"Luke, Drake, Landon and Darian, those three guys and Darian have been rock solid for many years and have meant an awful lot to the program," Stoops said. "You cannot ask for better young men than the four. Incredible people, great leaders, work extremely hard on that field every day and have come to play every day for a long time. Very appreciative of them."
Stoops also had high praise for senior quarterback Terry Wilson, who has been behind center for many big wins during his three years in Lexington. Stoops was asked how Wilson should be remembered.
"I think it should be that he did everything he could for this program," Stoops said. "He's a young man that helped us win 10 games (in 2018) and there's no taking that away from him. Terry is a guy who laid it all out on the line for his team each week. He came back from a very serious injury and he gave it everything he has."
With the implications of the COVID-19 pandemic, this year's seniors would potentially be allowed to come back and play another season. That's not something Stoops has addressed with the group to this point.
"The seniors, we will have some discussions next week, I'm waiting until the season is over," Stoops said. "We'll address all of that next week. I've had brief conversations with some of them."
As for Saturday's game against South Carolina, Stoops wants to see his team play a full, 60-minute game.
"(We) didn't play a good second half (at Florida), that needs to be addressed," Stoops said. "We've got to work extremely hard this week to make sure we play a complete game and finish and play two halves of quality football."
The Gamecocks come into Saturday's game with a 2-7 record. South Carolina, which fired Will Muschamp earlier in the season and is now under the direction of Mike Bobo, has lost five straight games, including a 45-16 loss to Georgia on Saturday.
Stoops is hoping that his team can finish the regular season in fine fashion.
"You definitely want to end the right way, it is important to go out with a win," Stoops said. "It's a big game for many reasons."
And one of the biggest reasons is to give the 2020 senior class a win in their final game at Kroger Field.