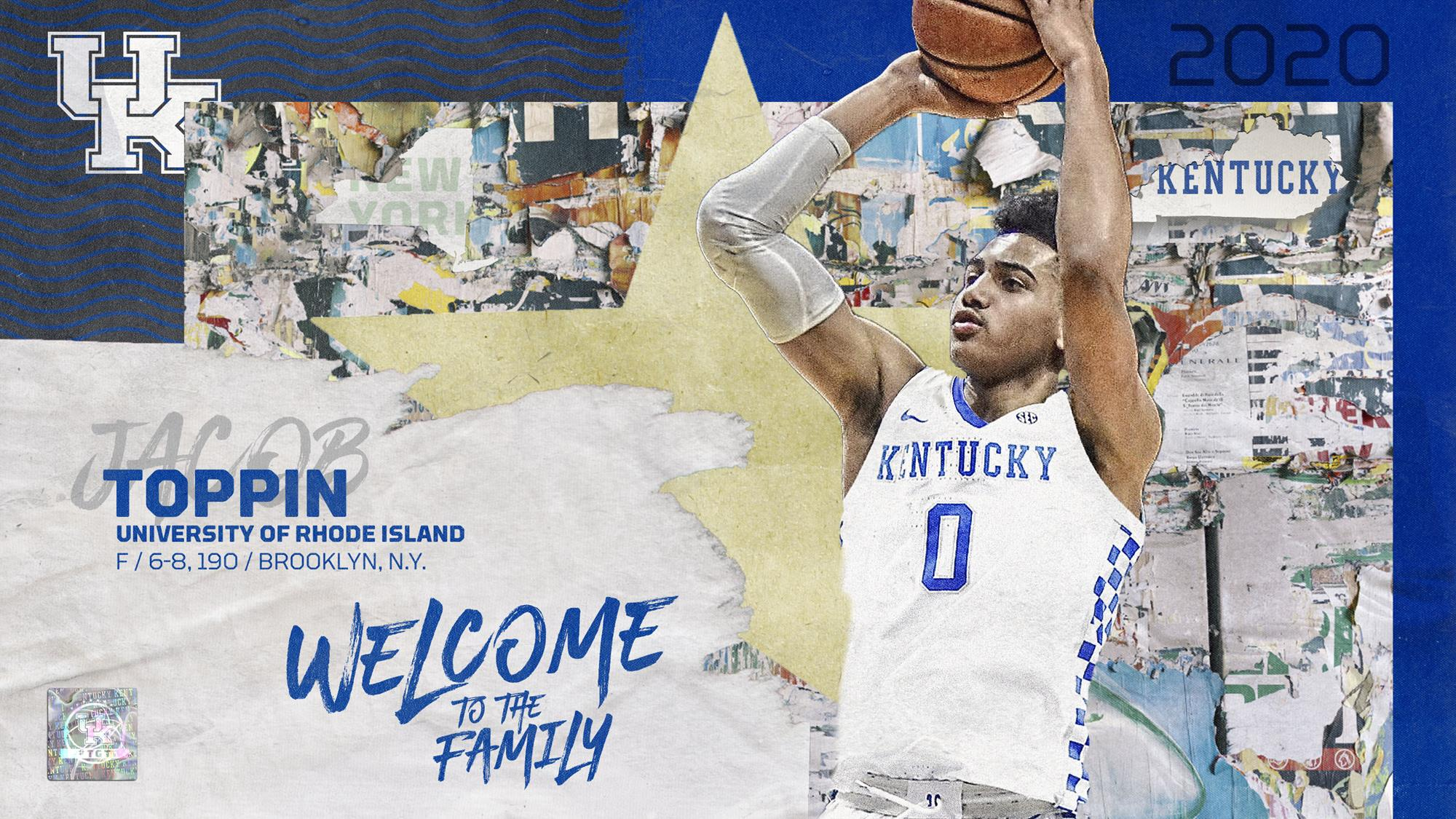 April 20, 2020 - 01:31 PM
Rhode Island Transfer Toppin Signs with UK Men's Basketball
LEXINGTON, Ky. – The Kentucky men's basketball team continued reloading its roster with Rhode Island transfer Jacob Toppin. After announcing his verbal commitment Thursday, Toppin signed official paperwork with the university this weekend.
 
The 6-foot-8 freshman forward appeared in 30 games with three starts in his first and only season at Rhode Island and averaged 5.1 points and 3.9 rebounds per game.
 
Under current NCAA transfer rules, Toppin will have three seasons of eligibility remaining with the Wildcats starting in the 2021-22 season. He is expected to enroll at UK and begin practicing with the team in the fall.
 
"I chose Kentucky because I wanted an environment that would challenge me to chase greatness on the court," Toppin said. "I love the fact that Coach Cal asked about my interests and goals as a player and told me that they would help me chase them. I love that the players that go there are about the team and winning, which is in line with what I'm about.
 
"I have heard so much about the Big Blue Nation and I'm excited to play for and be a part of that atmosphere. I am blessed and excited to begin my journey at Kentucky."
 
Toppin is the brother of Dayton's Obi Toppin, the consensus national player of the year in 2019-20. Like his brother Obi, who averaged 20.0 points, 7.5 rebounds and 2.2 assists per game as a redshirt sophomore this season, Jacob possesses a high upside with good size and great athleticism.
 
Originally from Brooklyn, New York, the three-star prospect out of Woodstock Academy in Woodstock, Connecticut, became an immediate contributor for a Rhode Island team that went 21-9 on the season and finished 13-5 in the Atlantic 10.
 
"I'm really excited about the addition of Jacob," UK head coach John Calipari said. "Not only is he a great athlete, he's a tremendous kid. He has some experience, but he's only scratched the surface of how good he can be. My hope is our culture brings out the best in him.
 
"Jacob wanted this challenge and wanted to be here. He understands what this culture is and what it isn't. He's talented, athletic and can shoot, plus he's a terrific student and young man. He's going to be an important part of this program. I can't wait to coach him."
 
Toppin marks the second transfer for the Wildcats during the spring signing period. Last week, UK officially added Davion Mintz, a graduate transfer from Creighton who will provide immediate depth and versatility to Kentucky's backcourt in 2020-21.
 
Although, under current NCAA transfer rules, Toppin will be unable to help with the immediate void of Kentucky's major roster overhaul from this past season – an exodus that includes the losses of seven of UK's top eight scorers from 2019-20 with five underclassmen declaring for the NBA Draft – he will add depth and experience in practice.
 
Toppin scored in double figures five times in his freshman season, highlighted by 12 points and eight rebounds vs. Richmond, a potential at-large NCAA Tournament team this past season, and 12 points in 11 minutes vs. Saint Joseph's.  He also performed well vs. his future Southeastern Conference foes Alabama and LSU, scoring 11 points and 10, respectively, in nonconference play.
 
The 190-pound forward showed an ability to stretch the floor with 13 3-pointers, including three vs. Alabama. He shot 42.6% from the floor overall.
 
Although UK has added graduate transfers in each of the last three seasons, Toppin will mark Kentucky's first traditional transfer since Ryan Harrow, who transferred from NC State in 2011-12 and suited up for Kentucky in 2012-13.
 
Nine newcomers have officially signed with UK since the fall signing period, including seven freshmen that make up the nation's consensus No. 1 ranked recruiting class.
 
The 2020-21 Wildcats will be tasked with replacing 94% of their scoring and 84.4% of their rebounding from this past season.
 
For the latest on the Kentucky men's basketball team, follow @KentuckyMBB on Twitter, Facebook and Instagram, and on the web at UKathletics.com.
Welcome to the family, @Jtoppin21!#LaFamilia pic.twitter.com/7vR3lNLJQz

— Kentucky Basketball (@KentuckyMBB) April 20, 2020