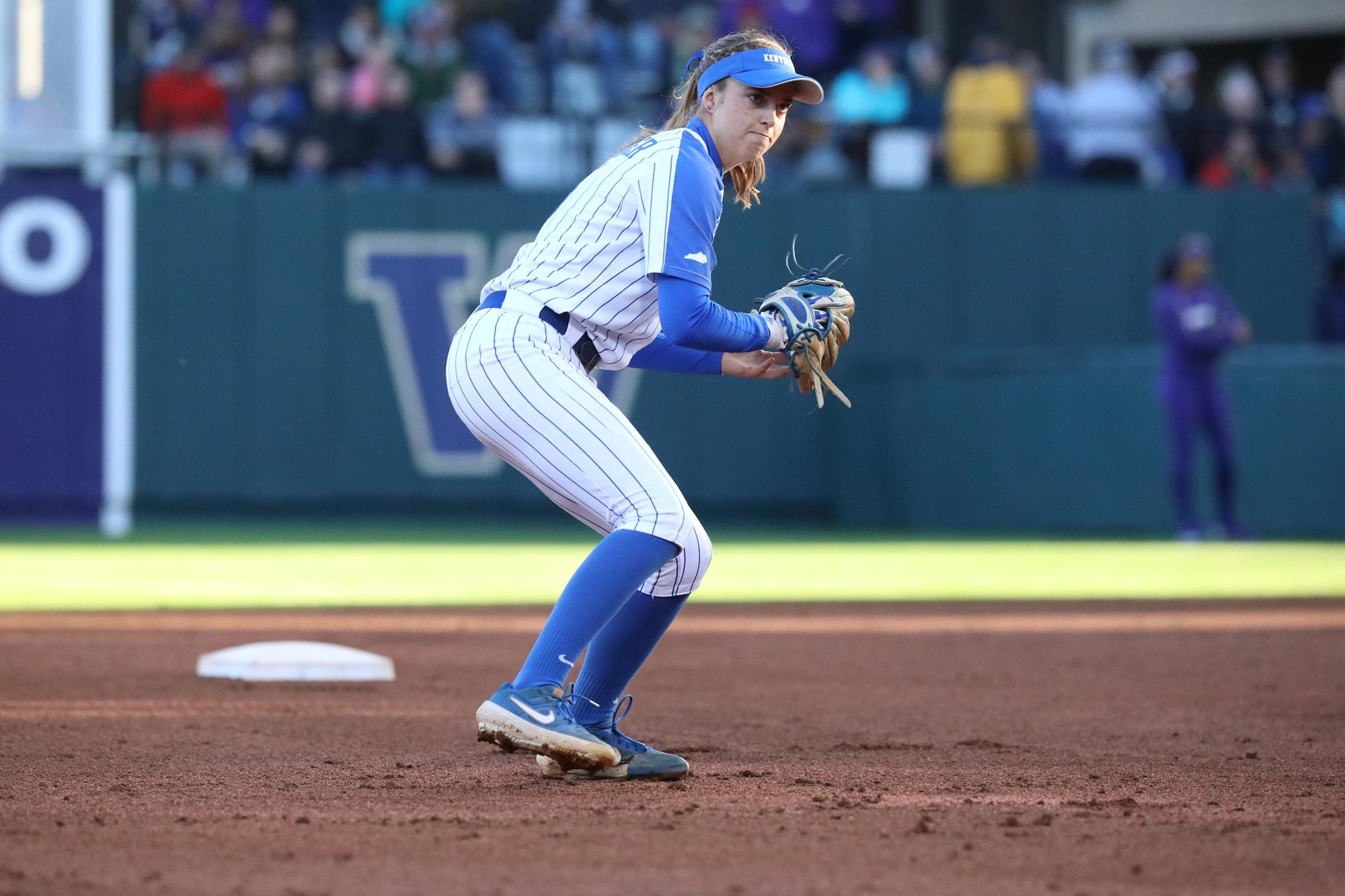 LEXINGTON, Ky. – Kentucky played an uncharacteristically poor game on Sunday night, accounting for six runners left on base in scoring position, an error and only one extra-base hit as the Texas A&M Aggies evened up this weekend's three-game Southeastern Conference opening series with a 6-3 win Sunday.
 
Game three of the series will be on Monday night at 7 p.m. ET and televised live on the SEC Network and the ESPN app. Monday is also "Mic'd Up Monday", as Kentucky head coach Rachel Lawson will be mic'd for sound all night with clips airing throughout the game.
 
The Wildcats got an RBI triple in the second inning from Kayla Kowalik, her nation-leading eighth of the season to score pinch runner Jai Babbs and a two-run home run from Gabi Deters, her second of the season. That however was all the offense that UK could put together as Kayla Poynter got the win in the circle for A&M, tossing a complete game with only allowing five hits and one earned run.
 
Grace Baalman suffered the loss for Kentucky, going 2.2 innings, allowing three earned runs, walking four and striking out two.
 
Key Stat
2. Gabi Deters hit a two-run home run in the bottom of the sixth inning, her second of the season.
 
Key Play
The key play in the game was Gabi Deters' diving stop at third base in the top of the sixth inning and darting a rifle across the diamond to Mallory Peyton for the second out of the inning on UK's finest defensive moment of the night.
 
Key Player
The key player for UK was Tatum Spangler, who pitched a perfect 1-2-3 seventh inning, and got a rally going late for UK by drawing an eight-pitch walk to lead off the seventh inning.
 
Run Recap
Texas A&M scored two runs in the top of the first inning for the second game in a row on four hits. TAMU 2, UK 1
 
In the bottom of the second, Kayla Kowalik tripled into the right-center gap to score Jaci Babbs for UK's first run to cut into the lead. TAMU 2, UK 1
 
Texas A&M hit three solo home runs in the top of the fourth (2) and sixth innings. TAMU 6, UK 1
 
Gabi Deters hit a two-run, two-out home run to dead center in the bottom of the sixth to give UK a shot in the seventh. It was her second longball of the year. FINAL – Texas A&M 6, Kentucky 3
 
For the latest on UK Softball, follow the Wildcats on Twitter and Instagram at @UKSoftball.