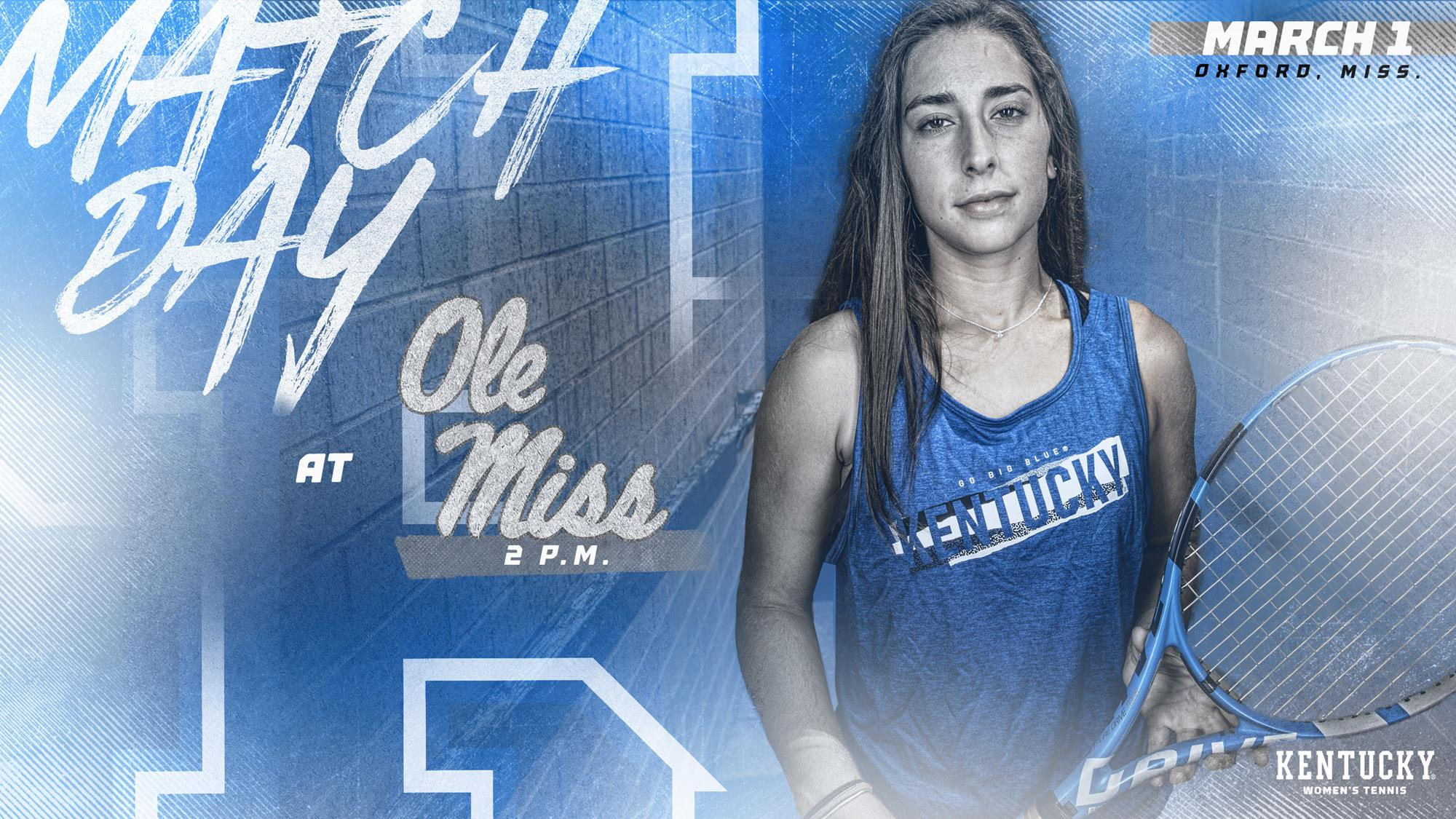 February 29, 2020 - 03:40 PM
Kentucky Women's Tennis Travels to No. 24 Ole Miss Sunday
OXFORD, Miss. – The University of Kentucky women's tennis team will travel to Oxford, Mississippi, to compete in its second conference matchup of the season, facing Ole Miss on Sunday, March 1 at 2 p.m. ET. The Wildcats hold an 8-4 overall record, including a 1-0 mark in the Southeastern Conference after upsetting Texas A&M in the conference home opener Friday night.
 
Kentucky is 43-23 (.652) in singles matches this season and 17-11 (.607) in doubles matches this season, after winning three singles matches and two doubles matches Friday to mount an upset over Texas A&M at home. UK defended its doubles success trend, now owning an 8-0 record in dual matches when it earns the doubles point.
 
The Wildcats will enter the same doubles and singles lineup on Sunday afternoon as they showcased in conference opener against Texas A&M, in hopes they'll reach the same success. Akvile Paražinskaite will report to the No. 1 singles court, a spot she has held all season.
 
UK's two nationally ranked players will follow behind Paražinskaite, as No. 118 Lesedi Jacobs will take the second court and No. 97 Carlota Molina will take the third court. Rounding out the singles lineup, Carla Girbau will be the fourth singles player, Diana Tkachenko will be the fifth singles player and Anastasia Tkachenko will be the sixth singles player.
 
The doubles lineup will feature Paražinskaite and Girbau on the first court, D. Tkachenko and Molina on the second court and A. Tkachenko and Jacobs on the third court.
 
The Wildcats narrowly lead the all-time series between the two teams, 24-22.
 
Ole Miss has had a notable season so far, putting together an 8-3 record, including a ranked win against then-No. 14 UCF in mid-February, and a 6-1 mark at home. The Rebels lost their conference opener at Arkansas on last Friday, dropping to the Razorbacks, 4-3.
 
Live scoring will be available here.
 
For the latest on the Kentucky women's tennis program, follow @UKWomensTennis on Twitter and on Instagram, on Facebook and on the web at UKathletics.com.