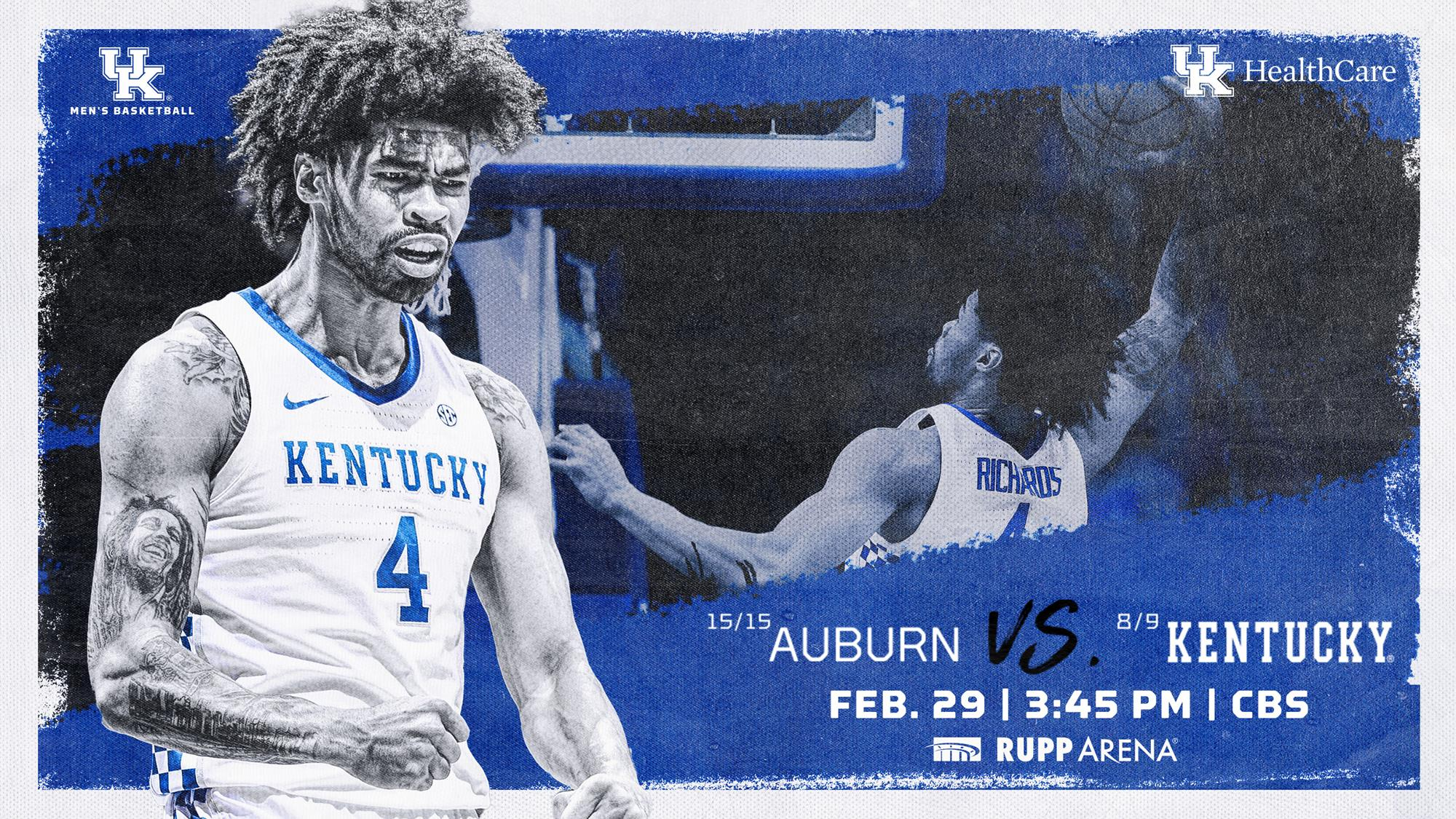 February 28, 2020 - 03:48 PM
Kentucky Ready for Rematch with Auburn
Things have aligned perfectly for a game that already figured to be one of the signature Saturdays this season at Rupp Arena.
 
Kentucky, with a win in a matchup of two top-15 teams, will clinch the Southeastern Conference championship. Not only that, the opportunity comes against the last team to beat the Wildcats and also the one that ended UK's season in the Elite Eight last March.
 
UK-Auburn will be the subject of ample buzz.
 
"Just stay locked in, take it as any other game," Ashton Hagans said. "Just go out there, compete. It's going to be a tough game. We just gotta go out there and fight, play with each other and just try to win."
 
The well-defined nature of the stakes of No. 9/8 Kentucky (23-5, 13-2 Southeastern Conference) vs. No. 15/15 Auburn (23-4, 11-4 SEC) at 3:45 p.m. on Saturday might be new to the Cats, but big games are certainly not. Neither, they know, will this be the last one they play this season.
 
Nonetheless, winning the 49th regular-season conference championship in school history – though it would be the first in three seasons – would not be an accomplishment to ignore.
 
Kentucky vs. Auburn

Sat., Feb. 29 – 3:45 p.m. ET
Rupp Arena
Lexington, Ky.
Game Notes: UK | AU
UK Athletics App

Coverage

TV: CBS
Radio: UK Sports Network
Watch
Listen
Live Stats

UK
Stats
AU
23-5
Record
24-4
13-2
Conference Record
11-4
74.6
PPG
78.3
65.4
Opp PPG
70.3
.463
FG%
.433
.387
Opp FG%
.413
37.2
RPG
41.1
.337
3PT FG%
.301
.301
Opp 3PT FG%
.326
13.8
APG
12.8
5.2
SPG
6.5
5.3
BPG
4.9

"It's been brought up, but we just gotta take it a game at a time," Hagans said. "We got the SEC Tournament coming up. Got the NCAA Tournament coming up. Those are big things ahead. We got a big game that we gotta focus on Saturday and we just gotta try to lock in."
 
Ever focused on the Big Dance, John Calipari views this game as he would any other: through the lens of what it means for UK's eventual seed. This being an opportunity for a precious Quadrant 1 victory and a chance to extend UK's winning streak to eight at a time when he wants his team to be peaking, it's significant.
 
"Our whole thing is, how do we get the best seed we can get?" Calipari said. "If that means win games, just keep winning so you have a good seed. That's the whole thing here."
 
As for the whole prove-it angle against an Auburn team that has beaten UK twice in a row, the Cats don't have much time for that.
 
"We don't have too much to prove to (anybody)," Hagans said. "Just gotta go out there, play as a team and just try to get the win and do something good."
 
Of much greater concern to Calipari than retribution is improvement.
 
Auburn, in the last matchup with UK, asserted its will and outmuscled the Cats en route to a 75-66 victory. The Cats faced a 42-28 rebounding deficit in the loss, their largest of the season, and Coach Cal was clear that "(came) down to toughness," particularly in the way UK handled Auburn big man Austin Wiley. Or more accurately, in the way Wiley handled UK.
 
Evening the season series with Auburn will take a reversal of that.
 
"Well, when you watch it, you better play lower than them and they get down," Calipari said. "You better know that they'll wedge you under the goal or they'll, on block outs, they're not afraid to bump and do stuff. Their guard play, they run downhill, we run downhill. We're playing kind of similar in that. Wiley's been playing great. He's rebounding offensively."
 
From preseason media day onward, Calipari has talked about the subject – "Do we have the physical, mental toughness?" he asked openly that day – so Saturday is an importance chance for the Cats to deliver an emphatic answer.
 
"You hear him talk about it all the time, but it's true," Hagans said. "We just gotta go out there, play aggressive, fight and just stick together. They're going to come out there, it's going to be a dogfight and we just gotta bring that energy back."
 
If they do, a celebration – though a muted one, considering they want it to be the first of many – will be in order.
 
"It's a great accomplishment," Johnny Juzang said of the prospect of winning the SEC. "It's not the end goal and there's a lot of games to play after. But it's something we'd definitely something we'd all be happy about and something you've got to celebrate."
Quickley Scores 30 as Kentucky Tops Texas A&M
COLLEGE STATION, Texas – Immanuel Quickley swears he had no idea he'd made a career-best eight 3-pointers on Tuesday night until he looked at the box score after the game.
"I really thought I had four and then I looked at it and said, `I don't remember any of those," he said. Quickley also set a career-high with 30 points thanks to his hot long-range shooting to lead No. 8 Kentucky to its seventh straight win, 69-60, over Texas A&M.
While he didn't seem to be aware of what kind of night he was having, his teammates certainly were.
"Super hot, super hot fire," EJ Montgomery said. "If you touch him, you're going to get burned."
Quickley is the first Kentucky player with consecutive games with at least 25 points since Malik Monk in 2017. The sophomore scored 26 in a win over Florida on Saturday.
Kentucky (23-5, 13-2 Southeastern Conference) was up by 13 and the Aggies hadn't made a field goal in more than eight minutes when Quenton Jackson ended the drought with a dunk with about six minutes to go. That was the start of a 8-2 run by Texas A&M that cut the lead to 57-50 with about four minutes left.
Quickley ended the run with a jump shot and hit another 3-pointer after a free throw from Josh Nebo to make it 62-51 with about 90 seconds left to secure the victory. He was equally effective in the first half, making consecutive 3-pointers that thwarted another Texas A&M spurt.
Quickley had 16 points at halftime. When he reached 30, he became the first Wildcat with 30 points since Shai Gilgeous-Alexander reached the mark vs. Vanderbilt in January of 2018.
Although he drained eight 3-pointer, his biggest shot was a long 2 at the 2:03 mark of the second half. With the Aggies rallying and the shot clock nearing winding down, Quickley stepped between two defenders and banked in a shot from straightaway.
"I was a little hot, I guess," Quickley said with a smile. "Teammates were finding me in good spots. Credit to God. …Teammates were finding me in a lot of open spots, so credit to them. And then the coaches put me in a good situation to have me be successful."
Wendell Mitchell had 18 points for Texas A&M (14-13, 8-7), which had a three-game winning streak snapped.
Of additional note …
• Kentucky held Texas A&M to 60 points. UK is 185-7 (.964) in the Calipari era when keeping the opponent to 63 points or fewer
• UK shot 52.2% from the field (24 of 46). It is the eighth game this season that the Wildcats have made at least half their shots. The Wildcats won all eight of those
• Kentucky made a season-high 11 3-pointers on 22 shots. The Wildcats have made at least 50% from 3 in four of their last six games
• Entering the game leading the SEC at 79.2% at the foul line, Kentucky made 10 of 11 free throws (90.9%)
• UK has made at least 75% at the line in 11 straight games. Eleven free throw attempts tied for the fifth fewest in one game in the Calipari era
• Kentucky won the rebounding 31-23. UK is 18-0 this season when winning the rebounding
• UK led by as many as 14 points. UK is 281-7 (97.6%) in the Calipari era when leading by at least 10 points at any time in the game
• Kentucky improved to 7-2 in true road games
• EJ Montgomery had eight points and a game-high 10 rebounds. It is his second double-figure rebounding game of the season
Cats Can Clinch SEC Title With Win Over Auburn
The stakes are simple for the Kentucky Wildcats on Saturday: Win and they win the league.
With three games to play in the regular season, UK has a two-game lead over Auburn. A victory vs. the Tigers would put the Wildcats three games up on the rest of the field, clinching not only the No. 1 seed in the Southeastern Conference Tournament but solidifying Kentucky's 49th SEC regular-season title (the 1988 championship was vacated). It would be UK's first since 2017 but sixth in 11 seasons under John Calipari.
In a way, it's fitting that Auburn stands in the way. The Tigers handed Kentucky its last loss, a 75-66 win over the Wildcats in Auburn on Feb. 1. Auburn has won four of the last seven matchups between the two teams and two straight, including denying UK a Final Four berth last season.
A victory by Auburn would make for a drama-filled final week. Kentucky hosts Tennessee on Tuesday and then closes out the regular season at red-hot Florida. Suffice it to say, the Wildcat would like nothing more than to lock up the title Saturday.