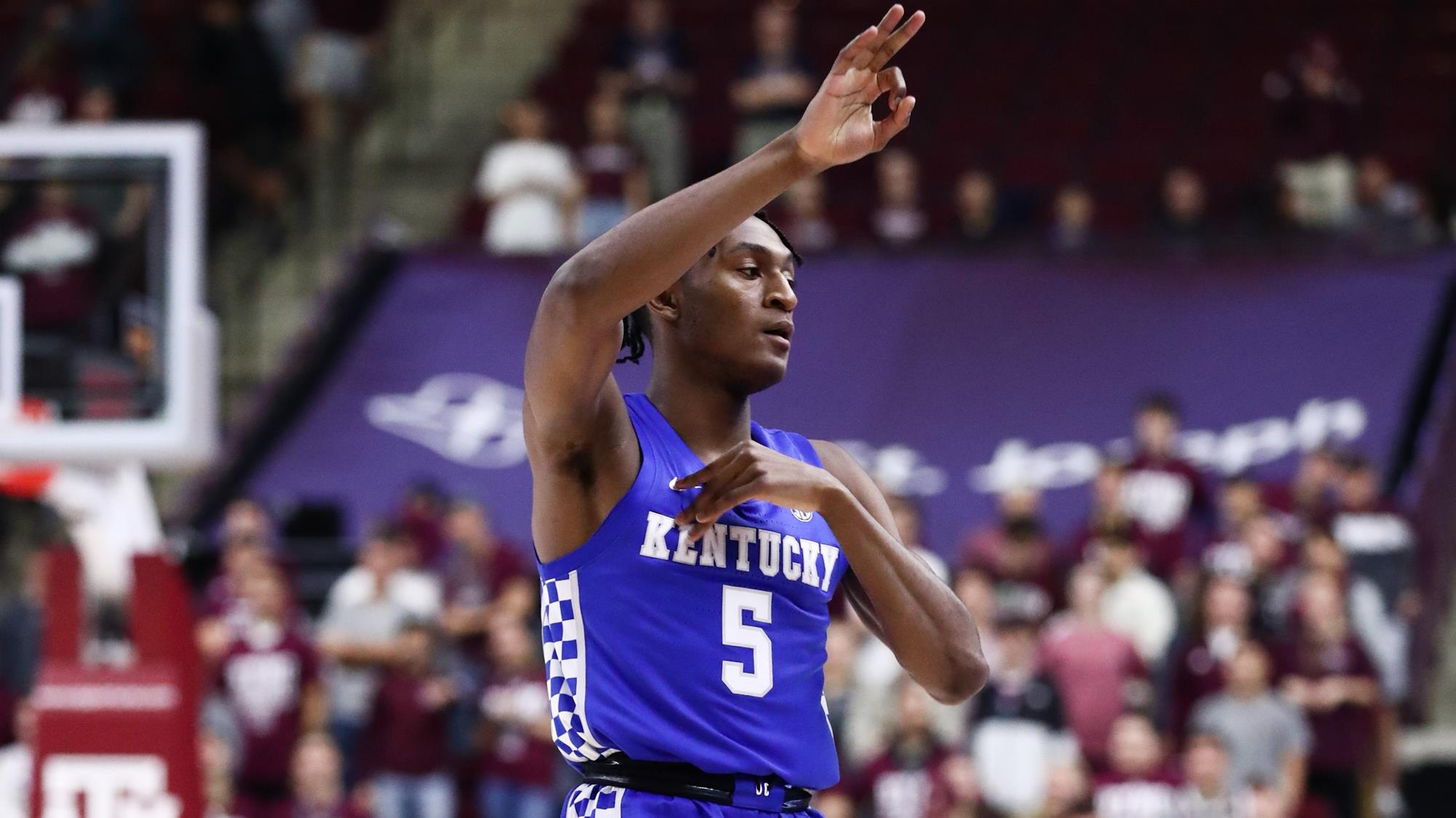 February 25, 2020 - 10:38 PM
Quickley Delivers Another Career High
Nick Richards announced his support for Immanuel Quickley's postseason awards candidacy on Monday. Quickley took over making his own case on Tuesday at Texas A&M.
 
Well, he made his case on the floor anyway.
 
"I was a little hot, I guess," Quickley said.
 
Passing up the opportunity to make a stump speech, Quickley instead opted for the understated approach after he poured in a career-high 30 points to lead No. 8/9 Kentucky (23-5, 13-2 Southeastern Conference) to a 69-60 victory over Texas A&M (14-13, 8-7 SEC), UK's seventh in a row. Quickley buried eight 3-pointers in 12 attempts, tying for the fourth-most makes in school history.
 
"He shot the ball," John Calipari said. "He shot the ball."
 
Given another opportunity to brag, Quickley again passed. In fact, he had no idea the historic nature of his 3-point barrage.
 
"I didn't even know I had eight," Quickley said. "I thought I had like four. I wasn't counting, so I didn't know."
 
Quickley got off to a fast start, hitting three 3-pointers inside the first four minutes of the game. He might not have expected that exactly, but he wasn't surprised he had opportunities. The Aggies, winners of three straight coming into Tuesday, might have been playing their best, but UK's coaches scouted out an opening for Quickley.
 
"Right after our last game, that was the first thing we worked on," Quickley said. "We knew they left corners. We watched a lot of film on it and I put that in my workouts as well. Being ready for that, that was a credit to the scouting report and stuff like that."
 
A&M adjusted as the game wore on, preventing Quickley from even getting a shot up for a nine-minute stretch in the second half. The Aggies made the game competitive in that time and were within seven before Quickley beat the shot clock with a banked-in leaner from the top of the key with two minutes left. Forty-three seconds later, EJ Montgomery hit Quickley with a perfect cross-court pass for a game-sealing 3.
 
"Especially when your team needs it, you always kind of want to come up big," Quickley said. "It's really a credit to all my other teammates. Like I said, they put me in positions to be successful."
 
Quickley has had plenty of success in late, scoring double digits in 17 straight games and posting career highs in back-to-back outings. All that's added up to Quickley's emergence as an SEC Player of the Year frontrunner and his teammates couldn't be happier for a player who has put in the work to deserve that kind of attention.
 
"He's playing so well," said Montgomery, who had a big night of his own with eight points and 10 rebounds. "I'm just proud of him. Thirty-ball. Yeah, that's crazy."
 
Quickley might not be much for celebrating his successes postgame, but his fellow Wildcats are. One needn't look any further than UK's postgame locker room in College Station, Texas, for proof of that.
 
"Here's what's great about this team," Coach Cal said. "When he walked in that locker room, they went nuts. Because he was doing TV after. That's the thing about this group. When Nick has come up big, they go crazy. When EJ has come up big, they go crazy. They are cheering each other's successes, and that's a good sign."
 
Late March is a good time for good signs.