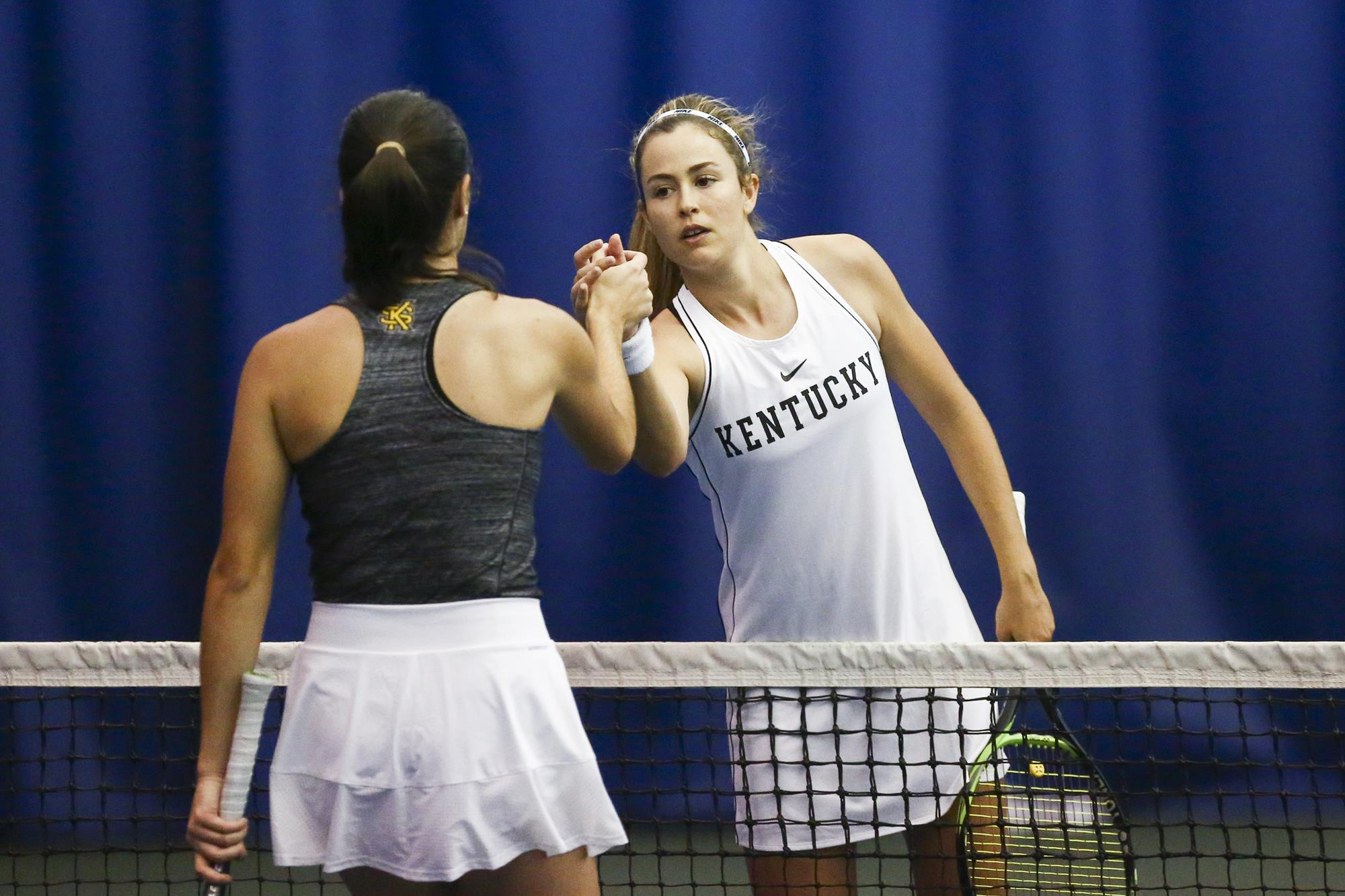 February 22, 2020 - 03:07 PM
Kentucky Women's Tennis Loses to No. 24 Arizona State
COLUMBUS, Ohio – The University of Kentucky women's team lost to No. 24 Arizona State on Saturday afternoon, 4-0, in Columbus, Ohio. The Wildcats move to a 7-4 record this season, including a 3-3 mark on the road.
 
Kentucky lost the doubles point to start the dual match, winning just one of three doubles courts. Two UK upperclassmen earned a win on the third doubles court, as Anastasia Tkachenko and Lesedi Jacobs ousted Sammi Hampton and Lauryn John-Baptise in a 6-4 decision to post the first win of the dual match. However, Arizona State rallied the next two doubles matches to clinch the doubles point and gain momentum for the rest of the contest.
 
Sun Devils' Ilze Hattingh and Tereza Kolarova defeated Akvile Paražinskaite and Carla Girbau on the first court, 6-4. Then, in a tie breaker, Cali Jankowski and Savannah Slaysman ousted UK's Carlota Molina and Diana Tkachenko, 7-6 (5), on the second court to collect the doubles point.
 
Arizona State used its early momentum to fuel its singles matches, overpowering Kentucky in two straight sets on three singles courts. No. 97 Molina of UK dropped the first singles match, falling to Tereza Kolarova on the third court in a 6-1, 6-1 decision. Molina, who was previously the only Wildcat undefeated in singles matches, is now 8-1 this season with two ranked wins and one ranked loss.
 
Kentucky's Jacobs, the 118th-ranked singles player in the nation, dropped the next match. The redshirt junior slumped to No. 120 Hampton, also in a 6-1, 6-1 judgment. The Sun Devil's quickly ended the dual match, clinching the singles competition on the sixth court when John-Baptiste defeated A. Tkachenko, 6-2, 6-3.
 
Next on the Schedule
The Kentucky women's tennis team opens its conference schedule on Feb. 28 at 4 p.m., hosting Texas A&M inside the Hilary J. Boone Tennis Center. Admission is free and fans are encouraged to attend.
 
For the latest on the Kentucky women's tennis program, follow @UKWomensTennis on Twitter and on Instagram, on Facebook and on the web at UKathletics.com.