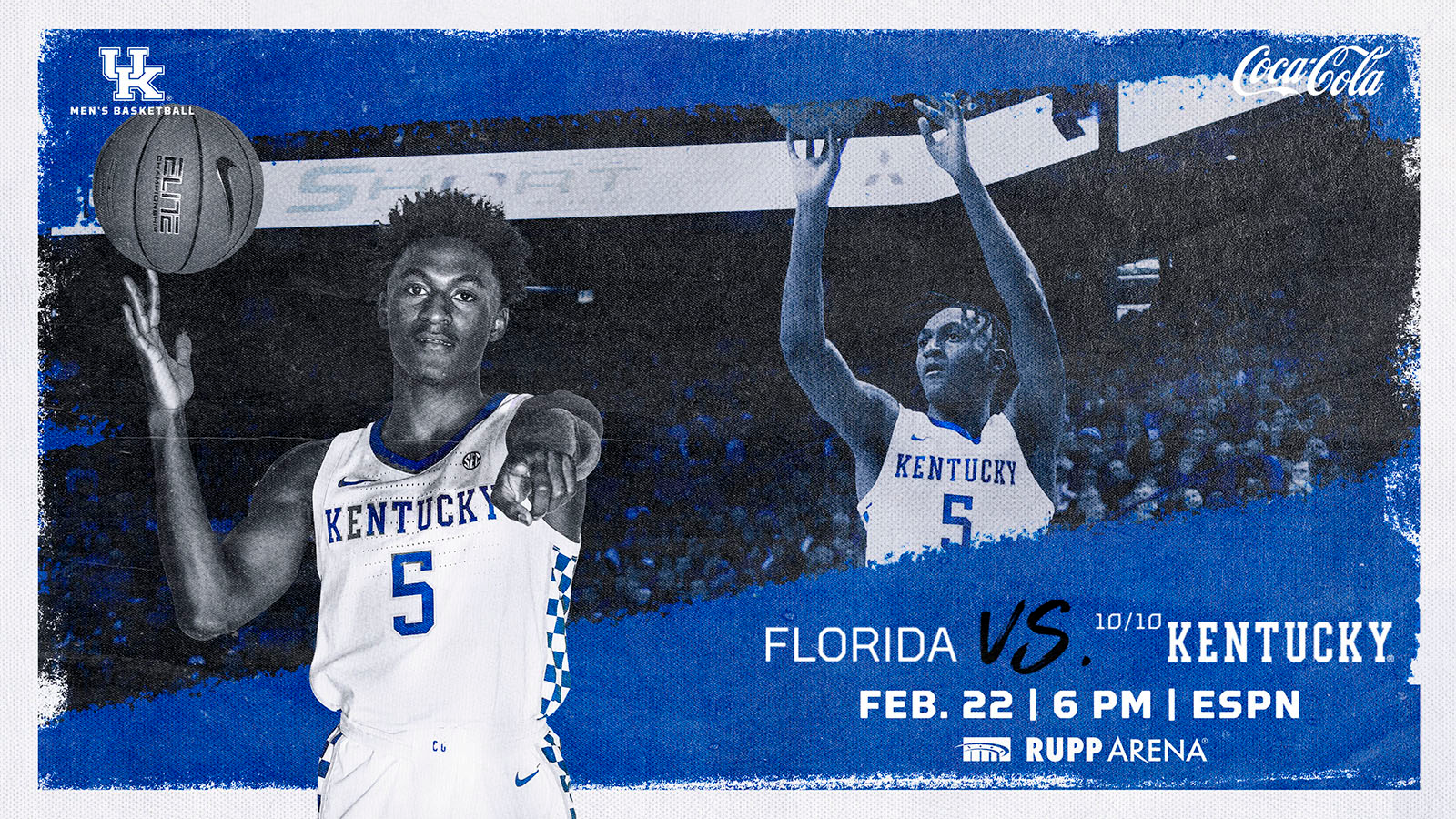 February 21, 2020 - 04:22 PM
No. 10 Cats Prepared to Host Gators on Saturday
The first thing that come to Nick Richards' mind – other than the pain he was feeling – was disbelief.
 
Late in a big road win at LSU that gave Kentucky a two-game cushion in the race for the Southeastern Conference title, Richards threw down an alley-oop. In a freak accident, the ball landed under the basket just before Richards did.
 
There was nothing Richards could do to avoid a rolled right ankle.
 
"I don't think that's ever happened to anybody, but what are you going to do about it?" Richards said.
 
All Richards can do is try to recover as quickly as possible. He returned to the LSU game, but began a regimen of treatment immediately afterward. He did not practice Thursday, but was expected to give it a go Friday ahead of a 6 p.m. Saturday matchup between No. 10/10 Kentucky (21-5, 11-2 SEC) and Florida (17-9, 9-4 SEC).
 
"I think my ankle's pretty good," Richards said. "I'm just going day by day, getting treatment on it every day, listening to my trainer and that's basically it."
 
Kentucky vs. Florida

Sat., Feb. 22 – 6 p.m. ET
Rupp Arena
Lexington, Ky.
Game Notes: UK | UF
UK Athletics App

Coverage

TV: ESPN
Radio: UK Sports Network
Watch
Listen
Live Stats

UK
Stats
LSU
21-5
Record
17-9
11-2
Conference Record
9-4
75.2
PPG
72.8
65.9
Opp PPG
66.5
.461
FG%
.452
.385
Opp FG%
.413
37.8
RPG
35.9
.327
3PT FG%
.345
.297
Opp 3PT FG%
.318
13.8
APG
11.6
5.1
SPG
5.9
5.4
BPG
4.0

Also day-to-day is Ashton Hagans, who suffered a thigh bruise that kept him out of the end of the game at LSU, meaning UK is dealing with yet more roster uncertainty. Within the first two weeks of the season, Richards, EJ Montgomery and Immanuel Quickley all dealt with injuries. A mere three games after they all returned, Nate Sestina went down with a fractured wrist. Then, in late January, Kahlil Whitney departed, leaving UK with eight healthy scholarship players.
 
"You know, that's just the basketball season," Richards said. "Every basketball team has their own adversity that they go through. It's just who figures it out and who's the team that's able to keep going, push through it is going to the better team."
 
The Wildcats have shown themselves willing to fight through adversity all season, which has added up to them playing their best as the games begin to matter most. UK has won 13 of its last 15 games, including five in a row, and, in spite of having only six available players on Thursday, John Calipari said his team had "one of our best practices."
 
"Because they competed, got better, they had great body language," Coach Cal said. "We went from one thing to the other. We got better yesterday."
 
The visiting Gators aren't on quite the same extended streak as Kentucky, but Mike White's team is playing well nonetheless. Winners of five of six – including its last three by an average 16.3 points – Florida has moved into a tie for second place in the SEC.
 
"Watching tape of them too, they're good," Calipari said. "There was a couple games that they lost that I watched that they had and they kind of let go. They've got some size, their guard play. They've got some veterans. They're good. They're good."
 
The Gators entered the season No. 6 in both polls, but a three-game losing streak in late January left them 12-8 and on the bubble. They now stand on firmer ground and a win Saturday would be a massive boost to their resume.
 
"Florida is a really good team," Quickley said. "Just from my experience, since I'm a sophomore, I played against them a good amount of times last year. They played us tough both times, really well coached, they've got a lot of talented players, players that I played against in high school as well. It's going to be a good game. They're really tough, really skilled."
Wildcats Hold Off LSU in Baton Rouge
BATON ROUGE, La. – Immanuel Quickley's reliable scoring and Nick Richards' shot-altering defensive presence gave No. 10/10 Kentucky a decisive edge in a challenging road game with first place in the Southeastern Conference at stake.
Quickley scored 21 points and Kentucky made a timely string of 3-pointers in a 79-76 victory over LSU on Tuesday night.
"Immanuel was great down stretch again, just making baskets and 3s," Kentucky coach John Calipari said. "He's playing so steady."
The 6-foot-11 Richards scored 13 points and blocked six shots for Kentucky (21-5, 11-2 SEC), which rejected 11 LSU shots in all en route to its
fifth straight victory and ninth in 10 games.
"Richards totally controlled the game defensively," LSU coach Will Wade said. "He's as good as there is in the league."
Kentucky made seven of eight 3s in the second half, when graduate transfer Nate Sestina hit three, including two during an 8-0 run that widened the Wildcats' lead to 15 points with 5:14 to go.
"We left him wide open," Wade said, lamenting a frustrating pattern of defensive breakdowns during the past five games, of which the Tigers (18-9, 9-4) have lost four. :He's a good college player. Of course he's going to make a wide open shot."
Richards' basket inside with 49 seconds left helped slow a furious Tigers rally that had trimmed Kentucky's lead to 75-70 on Marlon Talyor's 3 with 1:30 to go.
LSU (18-8, 9-4) pulled to 78-74 on Charles Manning Jr.'s driving floater off the glass with 19 seconds left. But Quickley made a free throw with 11 seconds remaining and the Tigers weren't able to put home their final basket until less than a second remained.
Freshman Tyrese Maxey scored 14 points for Kentucky, while Sestina and Ashton Hagans each scored 11.
Skylar Mays scored 17 points and Darius Days had 13 points and 11 rebounds for LSU. Taylor added 13 points and Manning 11.
Of note …
• UK had a sizzling second half, shooting 73.9% from the field (17 of 23) after making just 12 of 38 (31.6%) in the first half. The 73.9% shooting is the Wildcats' best mark in a half since making 84.2% (16 of 19) in the second half vs. Alabama on March 10, 2018, in the SEC Tournament
• After making only 2 of 10 from long range in the first half, the Wildcats made their first seven 3-pointers of the second half. For the game, UK made nine 3-pointers, one shy of the season high
• Five Wildcats scored in double figures, the last time coming 10 days ago at Tennessee
• Kentucky limited LSU to 39.4% from the field. UK is 201-19 (.914) under Calipari when keeping the opponent at 40%or less, including 14-3 this season
• The Wildcats have held seven straight opponents to 40% or less from the floor
• UK won the game despite losing the rebounding, 45-33. LSU got 23 offensive rebounds – the most UK has surrendered this season – leading to 26 second-chance points
• Entering the game fifth in the nation at 78.9% at the foul line, the Wildcats had another solid performance at 75% (12 of 16). UK has made at least 75% at the line in nine straight games
• Kentucky led by as many as 15 points. UK is 280-7 (.976) in the Calipari era when leading by at least 10 points during the game
• Quickley scored in double figures for the 15th straight game, the best streak since Malik Monk's 30 straight games in 2016-17
• With his first bucket of the game, he topped 1,000-career points split between his Bucknell and Kentucky career. His 11 points were his most since his season-high 17 vs. Ohio State on Dec. 21 and his eight were his most since grabbing a season-best 12 vs. Utah Vally on Nov. 18
Don't Read Too Much Into It
If you're into historical trends, this one may be for you.
Earlier this season, it was noted that winning in Knoxville, Tennessee, has had a peculiar tie with the Wildcats' NCAA Tournament success. Quite simply, a win in Knoxville traditionally spells success for UK in March.
Kentucky has never won an NCAA championship without first winning in Knoxville during the regular season. And leading into this season, every win during the John Calipari era has resulted in a trip to the Final Four later that season (UK did not visit Knoxville in 2014). Kentucky won 77-64 in Thompson-Boling Arena on Feb. 8.
It gets wilder.
For just the fourth time in the last 24 seasons, UK now has victories over LSU in Baton Rouge, Louisiana, Vanderbilt in Nashville, Tennessee, and Tennessee in Knoxville. The last three times UK has achieved that feat: 2012, 1998 and 1996. Why do those years stand out? They correspond with the last three Kentucky teams to win a national title.