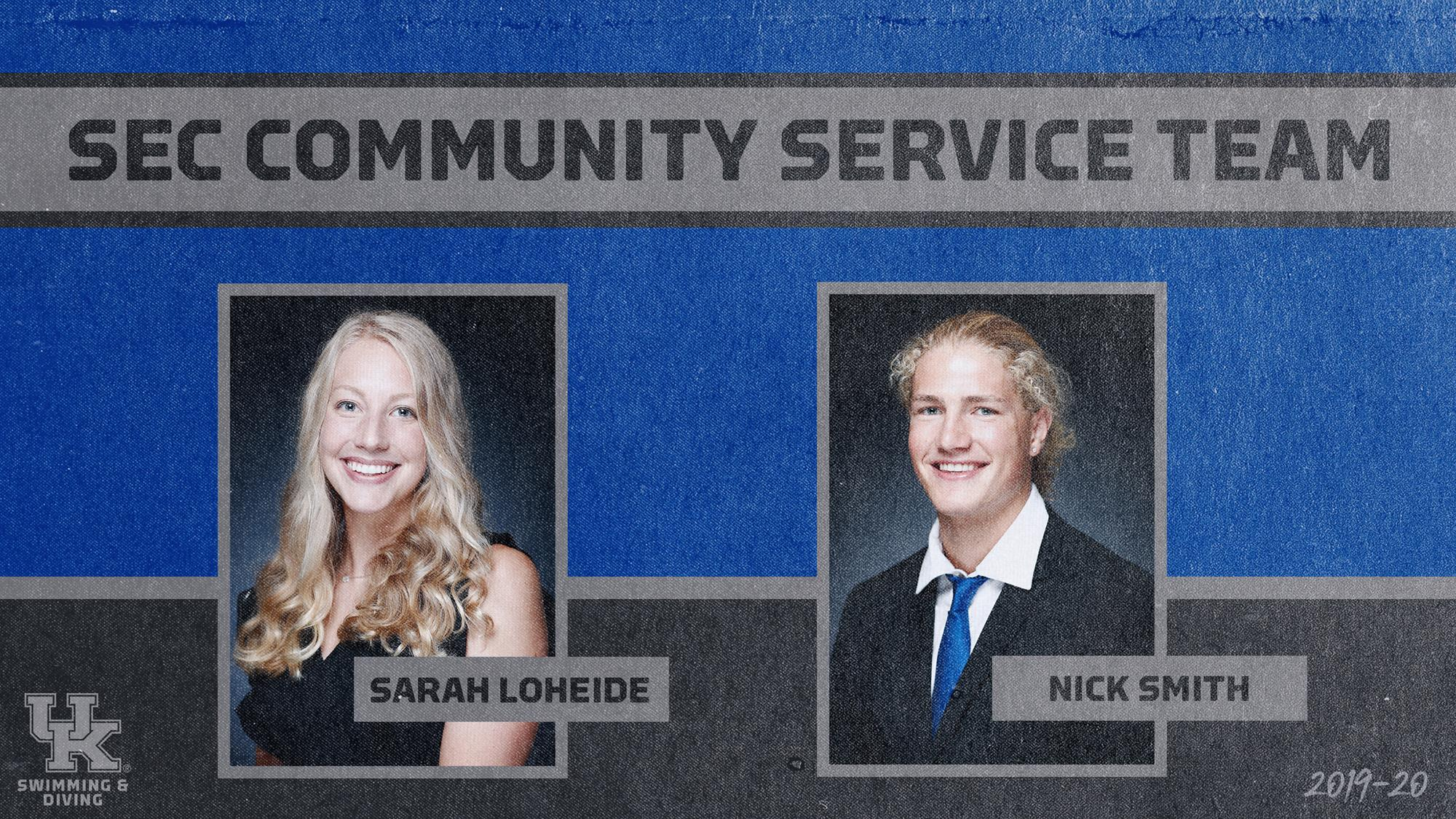 February 18, 2020 - 01:20 PM
Loheide, Smith Named to Southeastern Conference Community Service Team
BIRMINGHAM, Ala. – University of Kentucky swimmers Sarah Loheide and Nick Smith have been selected to the 2019-20 Southeastern Conference Community Service Team, it was announced by the league office Tuesday.
 
Loheide, a senior from Louisville, Kentucky, has donated 239 hours of community service, while boasting a 4.0 cumulative grade-point average in human nutrition. Loheide began serving in 2016, donating 25 hours to the International Book Project. Volunteering with the organization, which strives to improve literacy and education access to communities in Lexington, Kentucky, she helped organize donations, chose books appropriate for a given destination and packaged shipments.
 
In 2018, Loheide spurred a special interest in The Hope Center of Lexington, and has donated 110 hours to the cause over the past two years. Spending most of her total service hours at The Hope Center, Loheide particularly had interest in the health assistance and nutrition services it provided to recovering drug addicts in the community. She volunteers weekly to serve food to the residents of the center, while interacting with a variety of clients.
 
The coaching staff took note of Loheide's unselfish interest in service, nominating her for the UK Athletics service trip to Ethiopia. Spending one week in Ethiopia with nine other athletes last summer, Loheide recorded 70 hours of service, primarily participating in a feeding program for a community that obtained a majority of their food and resources from the trash dump they lived in.
 
While most of Loheide's community service hours were earned on her own, she has also donated 34 hours to CATS in the Community, spending time at the American Red Cross Association, volunteering for the Tri for Sight triathlon, God's Pantry Food Bank, Special Olympics and Salvation Army.
 
Last January, Loheide was inducted into the Frank G. Ham Society of Character, recognizing Kentucky student-athletes who give their best in everything they do and show a profound commitment to academic excellence, athletic participation, personal development, community service, and career preparation. Loheide has also been named the SEC Winter Academic Honor Roll each season (2018, 2019) and the SEC First-Year Academic Honor Roll her freshman season (2017). She also received the Bob Bradley Scholarship Award at the end of the year banquet in 2019.
 
Smith, a native of Covington, Kentucky, has donated 114 hours to community service in two and a half seasons at Kentucky, while boasting a 3.76 cumulative grade-point average in marketing and management.
 
A junior, Smith has donated majority of his time to Amachi Central Kentucky, a Lexington leadership foundation. He has grown a profound devotion to the program, which assists children affected by incarceration in achieving their highest potential by engaging them in consistent and committed mentoring relationships. Since May of 2019, Smith has spent one to two hours every week mentoring children. Smith is a consistent and familiar face to his assigned child each week and is committed to their relationship with the goal of positively impacting his life.
 
Smith has also spent time with Special Olympics Kentucky, spending multiple afternoons bowling with disabled people of all ages. He has also worked with Special Olympics Kentucky in the pool, teaching young and disabled children how to swim and having fun racing. Smith has also spent time volunteering at the Tri for Sight triathlon, which benefited the blind and disabled.
 
Smith was named to the 2019 SEC Winter Academic Honor Roll and the 2018 SEC First-year Academic Honor Roll. Last summer, he trained over 20 hours a week in the off season to qualify for the 2020 U.S. Olympics Team Trials in the 200-meter individual medley (2:03.73). Smith also scored points at the SEC Championships meet last season, earning 22nd in the 400-yard individual medley (3:49.13).
 
He is competing at the SEC Championships in Auburn, Alabama, Feb. 18-22.
 
For the latest on the Kentucky swimming and diving program, follow @UKSwimDive on Twitter and on Instagram, on Facebook and on the web at UKathletics.com.