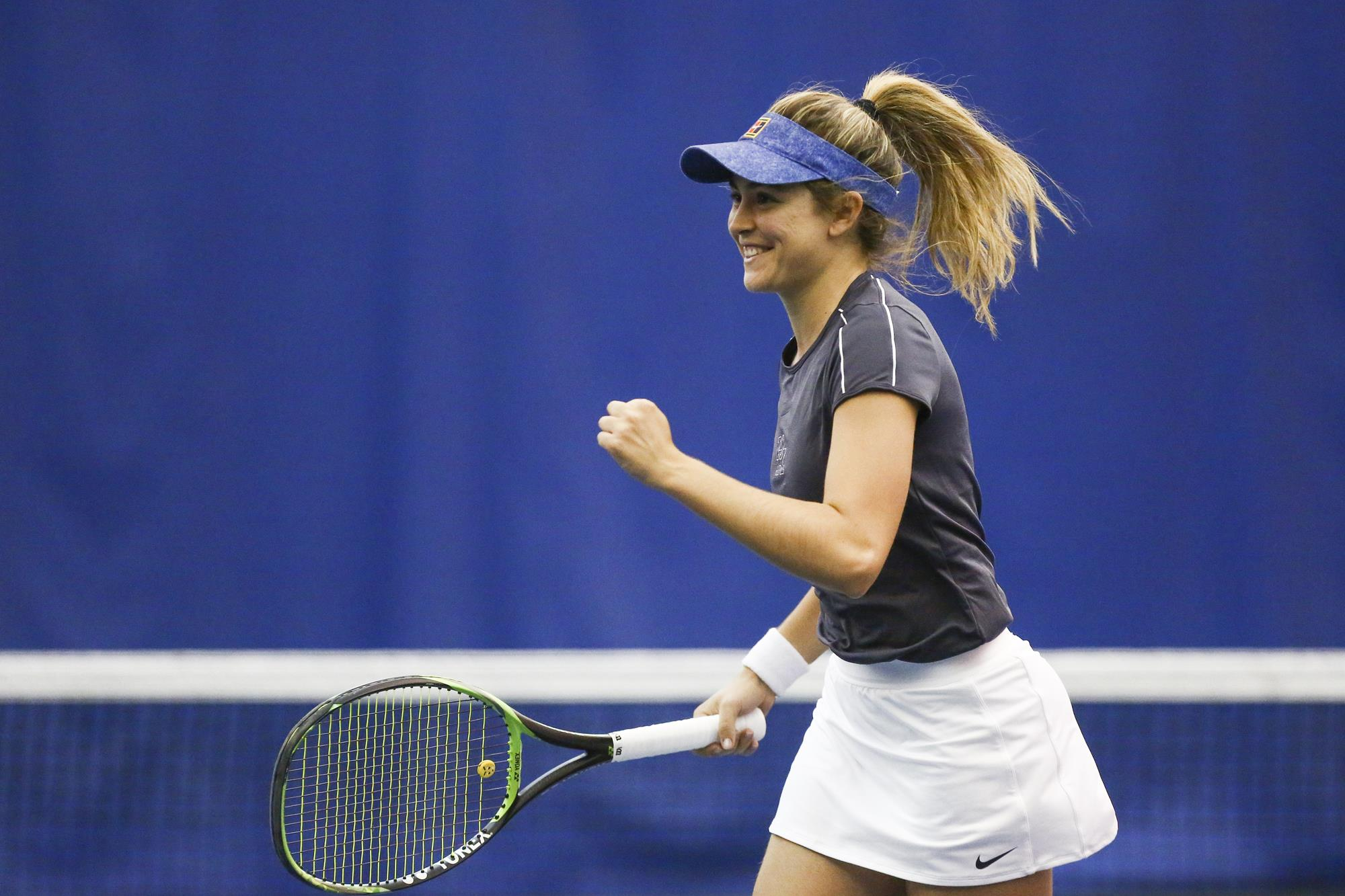 February 2, 2020 - 04:51 PM
Kentucky Women's Tennis Defeats Notre Dame on the Road
SOUTH BEND, Ind. – The University of Kentucky women's tennis team kept its momentum through the weekend, defeating Notre Dame in a 4-3 decision in South Bend, Indiana, on Sunday afternoon. Sophomore Carla Girbau defeated Page Freeman (6-4, 3-6, 7-6) to clinch the match, as Kentucky improved to a 7-2 record and 3-2 on the road.
 
Kentucky's morning got off to a good start, winning the doubles point with victories on courts Nos. 1 and 3. On court one, Akvile Paražinskaite and Carla Girbau defeated the Irish's Cameron Corse and Freeman, 7-5. Before that, Anastasia Tkachenko and Lesedi Jacobs beat Bess Waldram and Ally Bojczuk on the third court, 6-3.
 
The Wildcats carried its doubles momentum into the singles competition, as Diana Tkachenco defeated Julia Lillien (6-1, 6-3) in No. 5 singles to earn the first singles point.
 
The Fighting Irish got right back into the match as they rallied for two wins on courts Nos. 2 and 6, evening the overall score at two points each. Then, Notre Dame followed with a win at No. 1 singles to swing momentum and give the Fighting Irish a 3-2 lead.  
 
Freshman Carlota Molina wouldn't let the match slip out of Kentucky's hand, as she won her No. 3 singles match in a 6-4, 5-7, 6-1 decision over Bojczuk.
 
The clincher would come shortly after when Girbau held on to win her No. 4 singles match over Freeman in a thrilling third-set tiebreak, which gave Kentucky its second straight road win.
 
Singles
1. Zoe Spence (ND) def. Akvile Paražinskaite (UK) 6-4, 0-6, 6-3
2. Cameron Corse (ND) def. No. 59 Lesedi Jacobs (UK) 6-2, 6-2
3. Carlota Molina (UK) def. Ally Bojczuk (ND) 6-4, 5-7, 6-1
4. Carla Girbau (UK) def. Page Freeman (ND) 6-4, 3-6, 7-6
5. Diana Tkachenko (UK) def. Julia Lilien (ND) 6-1, 6-3
6. Maeve Koscielski (ND) def. Anastasia Tkachenko (UK) 6-1, 6-4
 
Doubles
1. Akvile Paražinskaite/Carla Girbau (UK) def. Cameron Corse/Page Freeman (ND) 7-5
2. Zoe Spence/Zoe Taylor (ND) def. Carlota Molina/Diana Tkachenko (UK) 6-2
3. Anastasia Tkachenko/Lesedi Jacobs (UK) def. Bess Waldram/Ally Bojczuk (ND) 6-3
 
Order of Finish: Doubles (3,2,1); Singles (5,6,2,1,3,4)
 
Next on the Schedule
Kentucky travels to Columbus, Ohio, to compete against Ohio State on Feb. 21 and Arizona State on Feb. 22 at the Varsity Indoor Tennis Center.
 
For the latest on the Kentucky women's tennis program, follow @UKWomensTennis on Twitter and on Instagram, on Facebook and on the web at UKathletics.com.