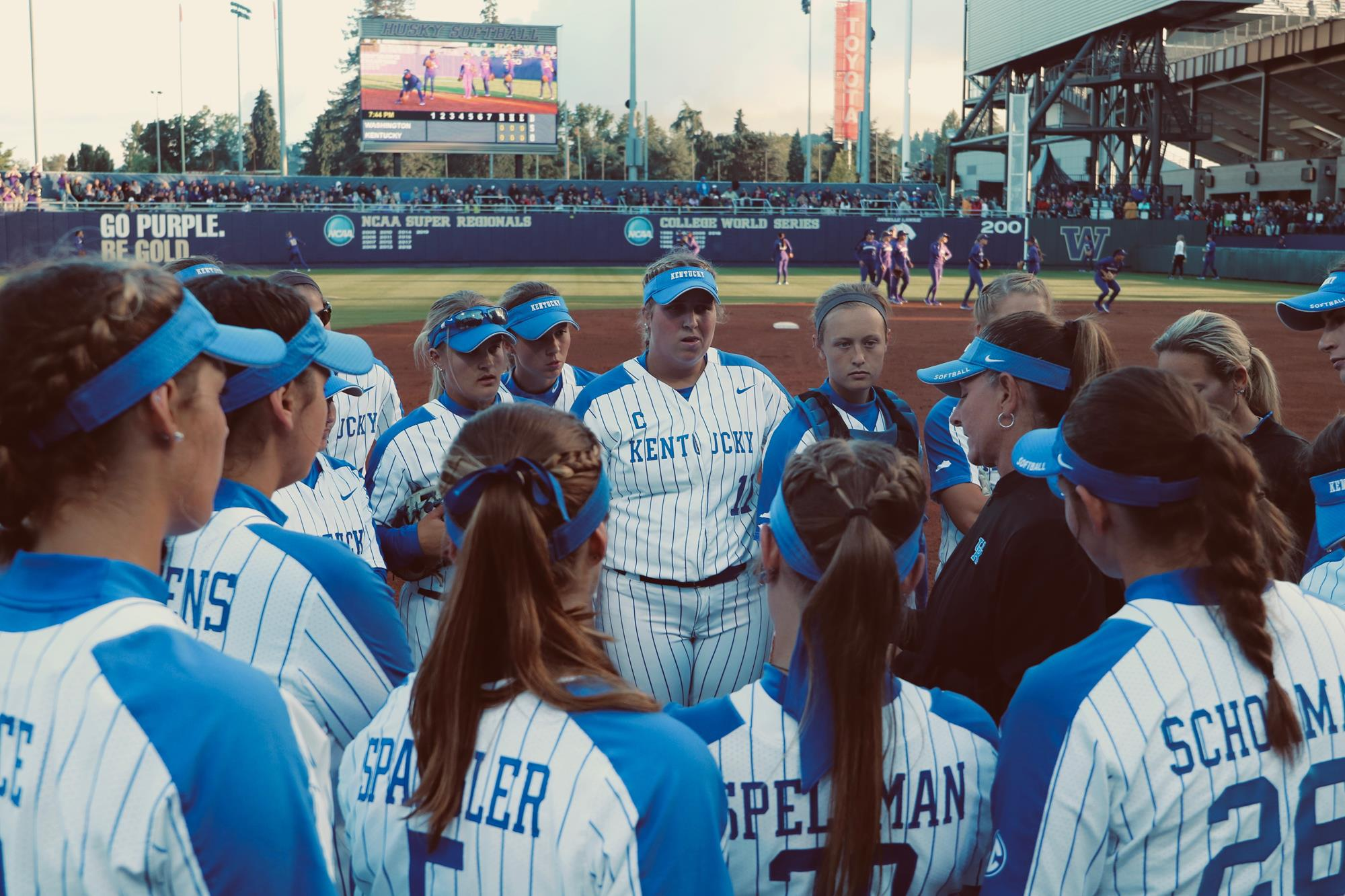 SEATTLE, Wa. – The Washington Huskies scored a run in the top of the first and two in the sixth and seventh to win the 2019 Seattle Super Regional on Saturday night in the Pacific Northwest, 5-0.
 
The 2019 season was one for the record books, as was the entire career for the class of 2019. Saturday night marked the end of the careers of Katie Reed, Jenny Schaper, Abbey Cheek, Kelsee Henson and Sarah Rainwater.
 
This past season, the Wildcats again navigated their way to a national seed in the 2019 NCAA Tournament thanks to the No. 1 national seed and a sixth chance to host an NCAA regional at beautiful John Cropp Stadium in Lexington. UK won all three games of its regional for the third year running, beating Toledo and crushing Virginia Tech 8-1 in the winner's bracket game and 11-1 in the regional final.
 
As much as the senior class has meant on the field – they made their mark on the program more so off the field. All five seniors are graduating in May, using just four years to complete their college education. All five will enter post-graduate work, including Katie Reed – who will begin work in dental school at Pittsburgh in the fall.
 
The senior class guided the Wildcats to the NCAA Tournament in all four of its years and the NCAA Super Regionals in each of the last three seasons. UK earned a national seed in all four of the Class of 2019's years – and advanced out of the regionals in three of the four seasons.
 
The 2019 season was filled with many highs, as Kentucky tied its best finish in Southeastern Conference play with a second-place finish in league action, sporting a 14-10 record. UK swept No. 11 South Carolina in Columbia and No. 17 Auburn in Lexington as one of three sweeps for the Wildcats this season in league play. Kentucky also went to Tuscaloosa and took two of three from the No. 3 Crimson Tide of Alabama for just the second time in program history.
 
In the non-conference portion of its schedule, the Wildcats took wins off of #17 James Madison, #22 Oregon, #24 North Carolina and California. For the second-consecutive season, UK played the No. 1 national strength of schedule in the nation.
 
Washington took the lead in the top of the first inning on a wild play, where a double turned into a run as the ball deflected off the foot of a coach and into the dugout and the runner was awarded home. The Huskies then got a two-out, two-run pinch-hit home run in the top of the sixth, and a two-out RBI single up the middle in the seventh to lock down their 14th trip to the Women's College World Series.
 
For the latest on UK Softball, follow the Wildcats on Twitter and Instagram at @UKSoftball.