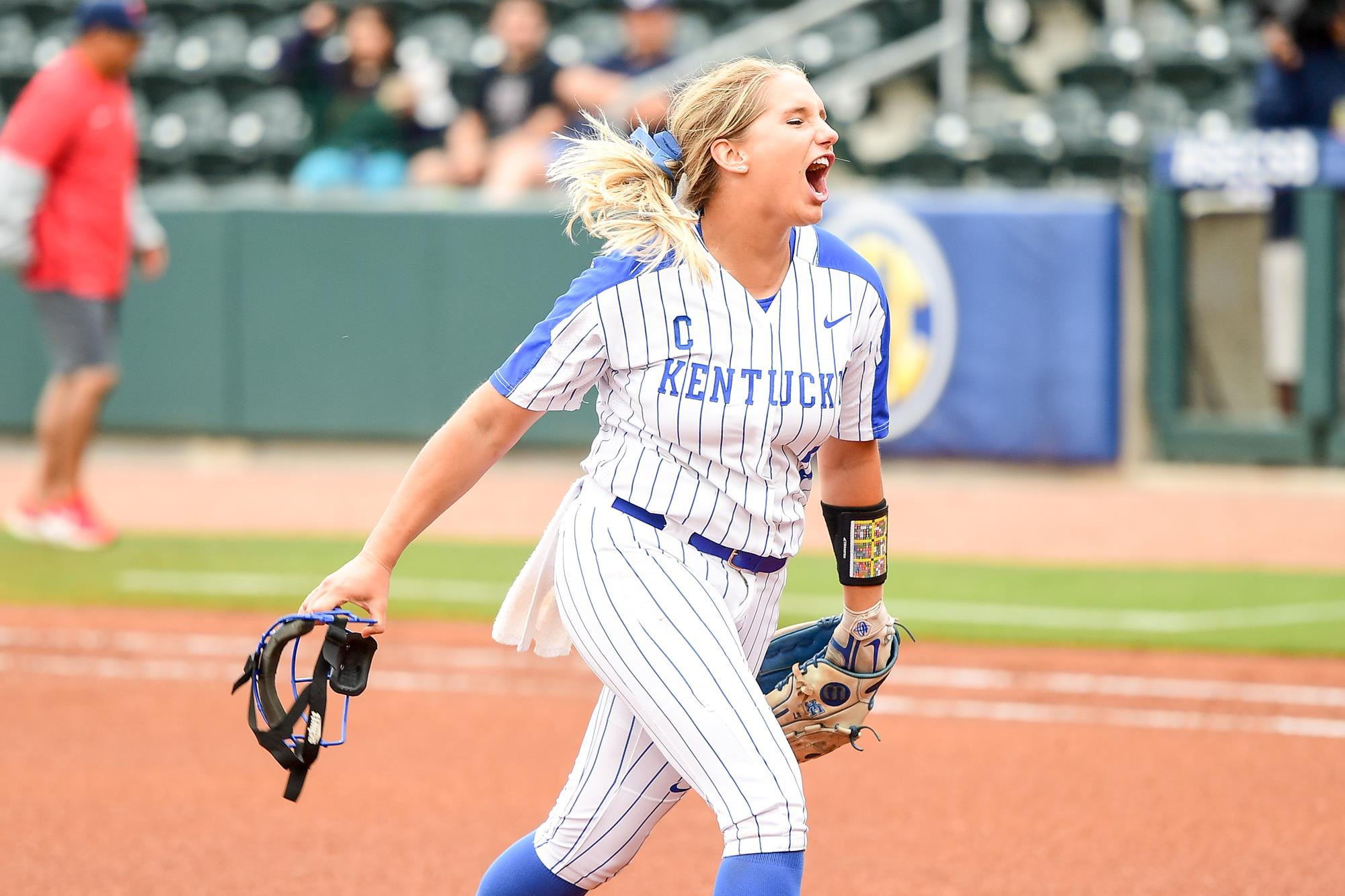 COLLEGE STATION, Texas – Behind a team-leading 20th home run of the season off the bat of Abbey Cheek and a complete-game shutout in the circle from junior Autumn Humes, the #4 seeded Kentucky Wildcats run-ruled #5 Ole Miss on Friday morning 8-0 to book its ticket in to the Southeastern Conference semifinals.
 
The run-rule win was Kentucky's 13th of the season. UK will now play #1 Alabama on Friday night at 7 p.m. ET for a spot in Saturday's championship game. The semifinal will be televised live on ESPN2, ESPN3 and the ESPN app with Beth Mowins (pxp), Michele Smith and Amanda Scarbrough (color) on the call. Tiffany Greene will be reporting from the dugouts.
 
Cheek opened the scoring in the bottom of the first on a two-run home run to score herself and Katie Reed – who laced the first of her two doubles one batter sooner before the homer.
 
Kentucky then scored six runs on seven hits in the bottom of the third inning in a frame that took over a half hour to complete. All 9 UK hitters reached base in the game at least once and five players had runs batted in during the game.
 
Key Stat
2014. This is Kentucky's first appearance in the SEC Tournament semifinals since 2014, when UK was the runner up in the tournament.
 
Key Play
The key play in the game was Mallory Peyton's two-run double on a 13-pitch at bat in the bottom of the third inning.
 
Key Player
Katie Reed was the key player in the game, going 3-for-3 with two doubles and a single to score a run. She scored on Cheek's home run in the bottom of the first.
 
Run Recap
With one out, Katie Reed roped a double into right field and scored on Abbey Cheek's 243-foot home run to left-center. UK 2, OM 0
 
In the bottom of the third, Kentucky exploded for six runs on seven hits, as it sent 11 batters to the plate. Katie Reed led off the inning with a double and Abbey Cheek was intentionally walked to put two on with no outs. Alex Martens bunted a single to load the bases with no outs. Pinch runner Sarah Rainwater then scored on a passed ball from third and on a 13-pitch at bat, Mallory Peyton roped a two-run double into left to score Martens and Kowalilk. Bailey Vick legged out her second infield single of the day to score a run, followed by an RBI single from Jenny Schaper. Reed closed out the inning with an RBI single. FINAL – #4 Kentucky 8, #5 Ole Miss 0
 
For the latest on UK Softball, follow the Wildcats on Twitter and Instagram at @UKSoftball.