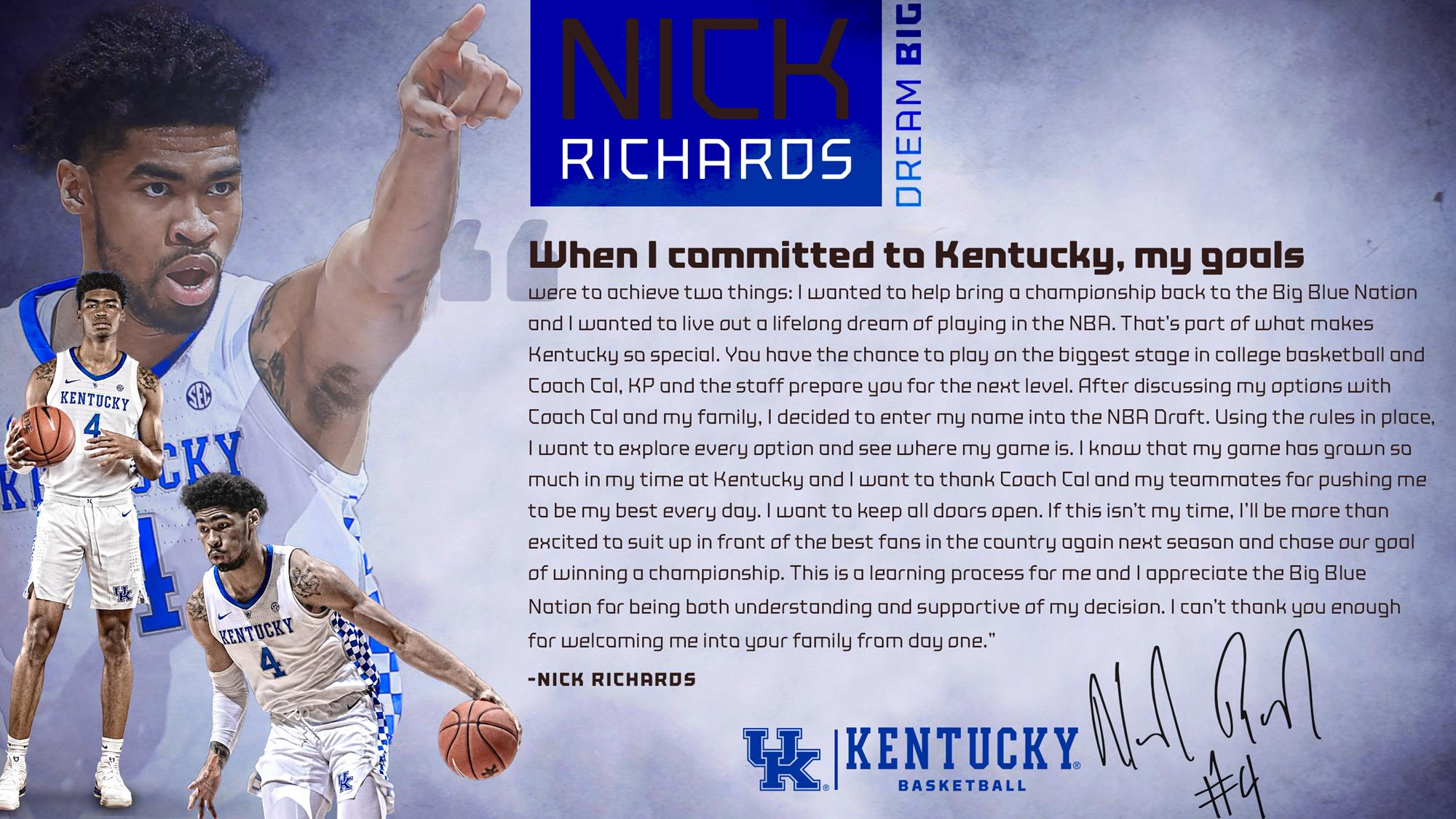 April 22, 2019 - 12:06 PM
Richards to Test Waters and Enter NBA Draft; Eligible to Return
LEXINGTON, Ky. – Kentucky men's basketball sophomore forward Nick Richards submitted his name for the 2019 NBA Draft, he announced Monday. Under new NCAA rules, Richards can sign with an NCAA-certified agent, receive feedback and still return to school.
 
Richards will have until May 29 (10 days after the NBA Draft Combine) to make a final decision as to whether he wishes to remain in the draft or return to Kentucky.
 
"When I committed to Kentucky, my goals were to achieve two things: I wanted to help bring a championship back to the Big Blue Nation and I wanted to live out a lifelong dream of playing in the NBA," Richards said. "That's part of what makes Kentucky so special. You have the chance to play on the biggest stage in college basketball and Coach Cal, KP and the staff prepare you for the next level.
 
"After discussing my options with Coach Cal and my family, I decided to enter my name into the NBA Draft. Using the rules in place, I want to explore every option and see where my game is. I know that my game has grown so much in my time at Kentucky and I want to thank Coach Cal and my teammates for pushing me to be my best every day.
 
"I want to keep all doors open. If this isn't my time, I'll be more than excited to suit up in front of the best fans in the country again next season and chase our goal of winning a championship. This is a learning process for me and I appreciate the Big Blue Nation for being both understanding and supportive of my decision. I can't thank you enough for welcoming me into your family from day one."
  
Richards is the fifth underclassman from the 2018-19 Wildcats to declare for the 2019 NBA Draft, which will be held June 20 at the Barclays Center in Brooklyn, New York. Sophomore forward PJ Washington and freshman guards Tyler Herro and Keldon Johnson have all announced they will remain in the draft, ending their collegiate eligibility. Like Richards, freshman forward EJ Montgomery is testing the waters and has declared for the draft but is keeping his options open to possibly return to UK.
 
Richards submitted necessary paperwork to the NBA last week but has not yet determined his final status. As in years past, players can submit paperwork to receive evaluations from the NBA and participate – if invited – in the NBA Draft Combine. At this time, Richards plans to utilize the current rules in place.
 
"Nick is one of the most lovable and nicest people I've ever coached," UK head coach John Calipari said. "He's made great strides and at some point he's going to be an NBA player who influences games. At 7-foot with his ability to shoot and block shots, it's just a rare commodity. I think Nick is making a good decision for him and his family to explore their options and see what's out there. I'll fully support what he and his family choose to do."
 
Richards has appeared in all 74 games of his two-year career with the Wildcats, making 40 starts. He averages 4.5 points per game, 3.9 rebounds and 1.1 blocks per game. His career field-goal percentage is 60.8 percent and he shoots free throws at a 70.4-percent clip. The Kingston, Jamaica, native helped the Wildcats to a Southeastern Conference Tournament title as a freshman and an Elite Eight appearance in the NCAA Tournament as a sophomore.
 
In 2018-19 he led the team in blocks with 47 and paced the team in that category in 16 games this season, including swatting a career-high five shots in the win over Kansas. He snared a career-high 19 rebounds in a win over Southern Illinois. That mark matched the entire SIU squad's total for the game and matched Michael Kidd-Gilchrist for the most in a game under Calipari. Richards scored 10 points in a win over Winthrop and he had 14 on the road at Vanderbilt.
 
For his career, he's charted nine double-figure scoring efforts and three double-figure rebounding games. He's led the team in rebounding in 12 games and 28 games in blocks. Over two seasons, he has logged three or more blocks in a game on 12 occasions.
 
Since Calipari joined the Wildcat program for the 2009-10 season, UK has produced 35 NBA Draft picks over nine seasons, nearly twice as many as the next-closest school (Duke). Included in the 35 are 26 first-rounders, three No. 1 overall picks and 19 lottery selections.  
 
Of the 25 players at UK who have declared for the NBA Draft after their freshman seasons, 23 have been first-round draft picks. All 25 have played a game in the NBA.
 
The 2019 NBA Draft Combine will take place May 15-19 in Chicago, although it hasn't been determined yet if Richards will participate. The 2019 NBA Draft is June 20 at the Barclays Center in Brooklyn, New York. 
 
For the latest on the Kentucky men's basketball team, follow @KentuckyMBB on Twitter, Facebook, and Instagram, and on the web at UKathletics.com.