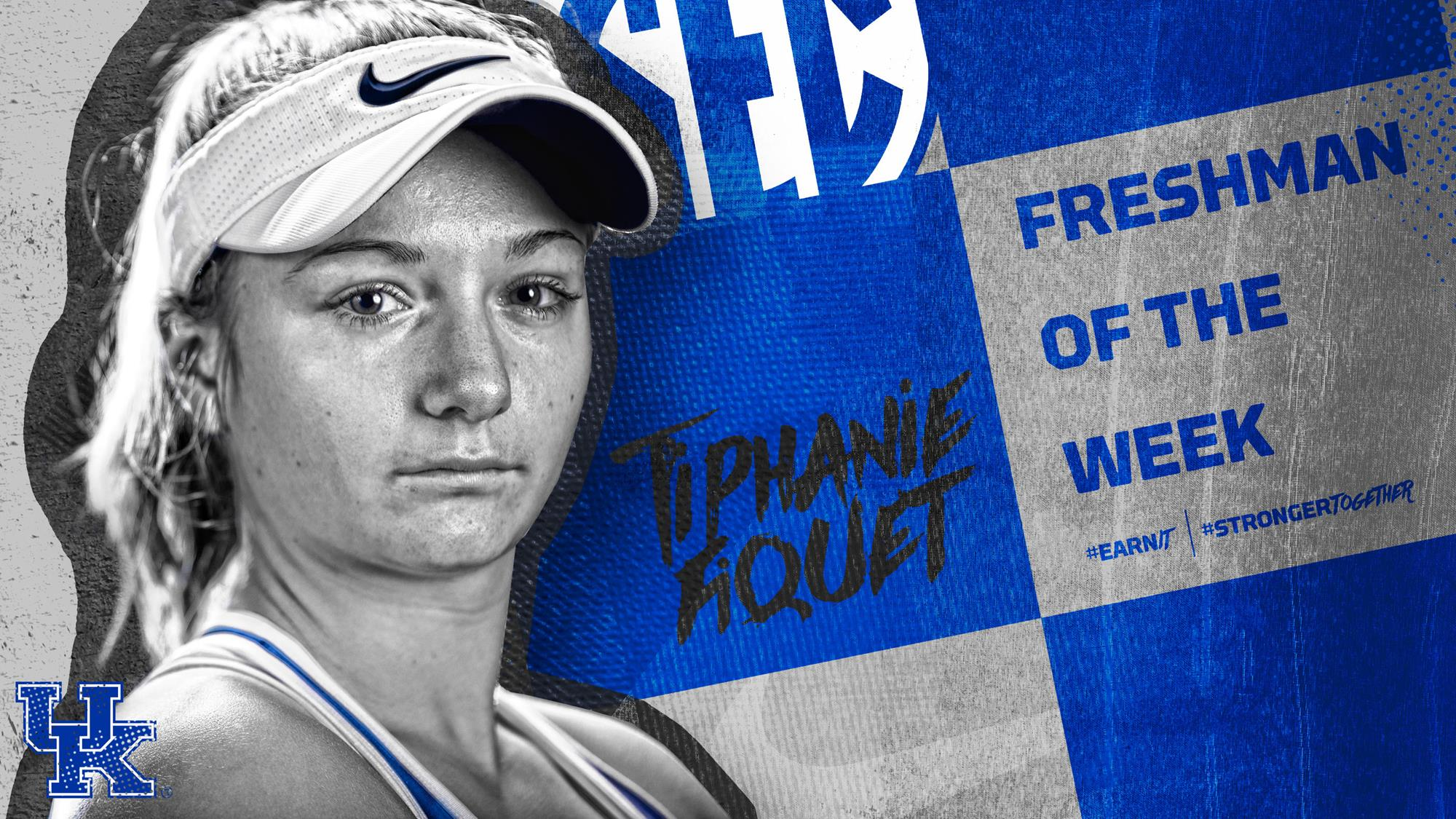 February 27, 2019 - 03:40 PM
Fiquet Named SEC Freshman of the Week for Third Time
LEXINGTON, Ky.  – Freshman Tiphanie Fiquet was named Southeastern Conference Freshman of the Week on Wednesday, making her third honor of the season. She is the third Wildcat in program history to be awarded three rookie awards by the conference, which is the most won all-time by a UK women's tennis player.
 
The native of Nice, France, is unbeaten in nine singles matches and nine doubles matches this season. Fiquet has claimed seven singles victories on court four and two singles victories on court two. All but one of her doubles wins have been awarded on court two.
 
Fiquet is tied with junior Diana Tkachenko for the best singles record on the team. She has limited her singles opponents to three or less games won per set in thirteen of eighteen possible sets. Most recently, she earned a victory against Angie Shakhraichuk of Baylor on Friday with a 6-0, 3-2 retired match. She carded another victory Sunday versus Ana Perez-Lopes of Southern Methodist with a 6-4, 6-4 mark.
 
The newcomer is traditionally paired with junior Lesedi Jacobs in the doubles division. The duo have formed an 8-0 mark this season, while Fiquet and redshirt-junior Akvile Paražinskaite carded a victory in the fourth match of the season over Western Kentucky, which happened on court one by a 6-1 standard.
 
Fiquet and Jacobs were the first pair to finish their doubles match in the Wildcats' first road match of the season on Friday over Baylor, which helped Kentucky to the doubles point. The twosome forced a 6-1 set over Jessica Hinojosa and Paula Baranano. The doubles victory was the fifth time this season Fiquet has limited her doubles opponents to just one game.
 
In the dual match against SMU last Sunday, the Wildcats and the Mustangs were tied at 1-1 in doubles until Fiquet and Jacobs pulled out a crucial win on court two with a 7-6 (8) victory to give Kentucky the doubles point. Up until the match, Fiquet held each of her doubles opponents this season to two games.
 
The Wildcats will return home for their conference opener against Arkansas on March 1 at 5 p.m., followed by Missouri on March 3 at 11 a.m. Both matches will be played at the Hilary J. Boone Tennis Center.
 
For more on Kentucky women's tennis, follow @UKWomensTennis on Twitter and Instagram, Kentucky Women's Tennis on Facebook, or on the web at UKathletics.com.