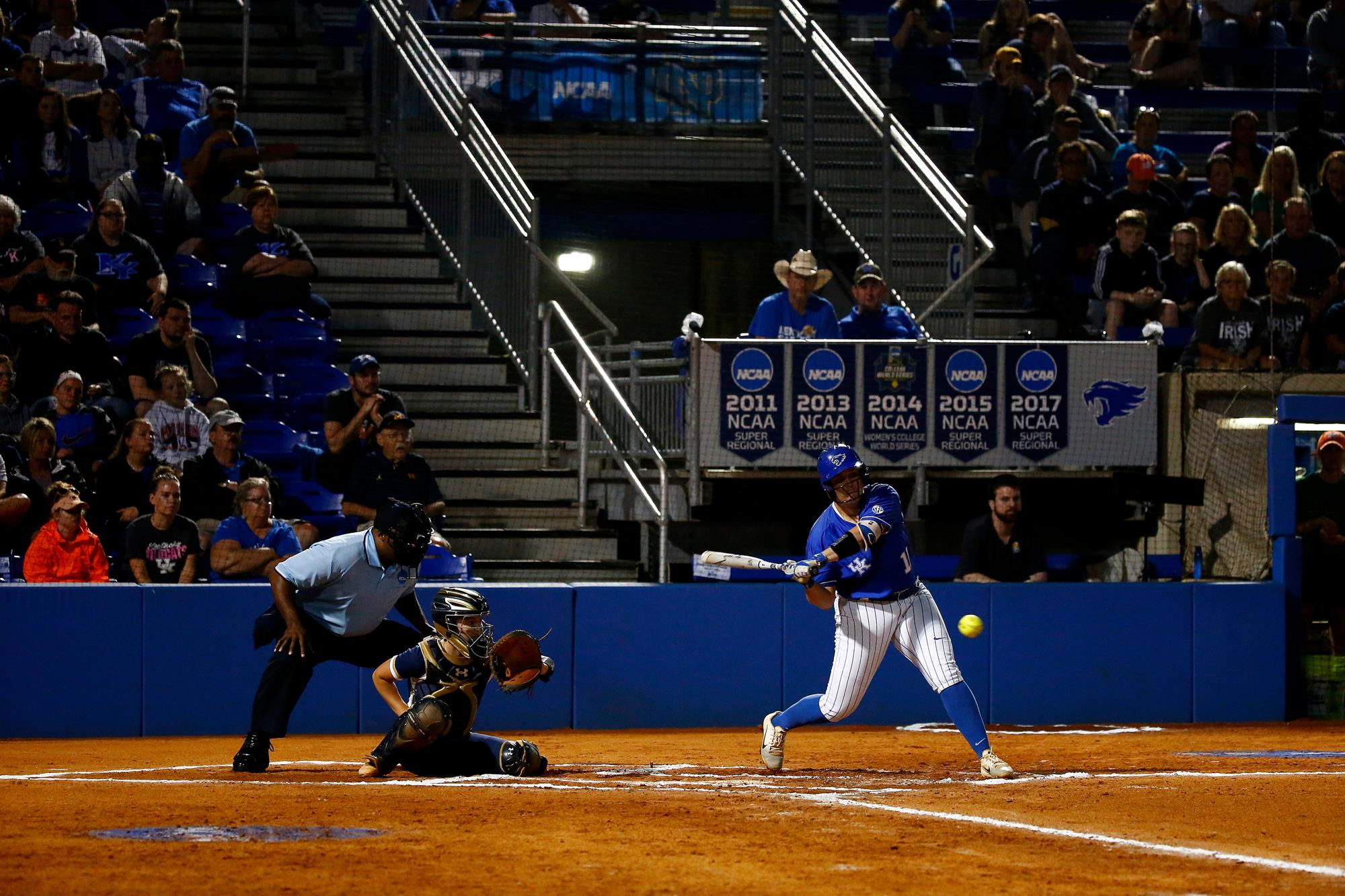 LEXINGTON, Ky. – After a 3-2 weekend on its west-coast swing out to Palm Springs, California – the No. 17/22 Kentucky softball team will play in the 2019 Coach B Classic over the weekend to be contested in Chattanooga, Tennessee at Frost Stadium. The tournament was originally scheduled to be contested in Carbondale, Illinois, but expected temperatures forced the organizers to move it to Tennessee.
 
The Wildcats will face St. Louis, Southern Illinois and Murray State over the two-day tournament. The only team not slated to make an appearance is Wichita State. UK will play St. Louis at 10 a.m. ET to open the day on Friday followed by a game against the de facto hosts, SIU at 12:15 p.m. ET. Day two on Saturday features two afternoon games for the Wildcats, with UK facing Southern Illinois in the team's second meeting at 2:30 p.m. ET, and a 4:45 p.m. ET affair with Murray State to finish the week-end.
 
Kentucky is currently two games over the .500 mark on the season at 9-7, having played one of the toughest non-conference schedules to date in the country. UK has played seven ranked teams, including four in the top 10. The Wildcats played three PAC-12 teams over the weekend, picking up a win over Cal in addition to victories over Bethune-Cookman in a run-rule win, and North Carolina in a rain-shortened game, 1-0.
 
The Wildcats are paced offensively by Abbey Cheek, who enters the weekend at a .395 aver-age with three home runs and 11 RBI. The native of Inman, S.C., is walking at a higher ratio than ever in her career, having been given 14 walks already this season – just one shy of her entire total from last year.
 
In the circle, it was the best weekend of the season last week for right hander Grace Baalman, who picked up two shutout wins over Cal and North Carolina. The native of Hardin, Illinois combined to give up just six hits in the 12 innings she pitched against those two teams in addition to not conceding a run. She only allowed one hit to the Tar Heels in the opener of the Mary Nutter Collegiate Classic.
               
All UK games this weekend will have live stats, but there will be no live streaming. Links to the stats feed can be found on UKathletics.com.
 
A full schedule of the tournament is below:
 
March 1
10am ET – Kentucky vs. St. Louis
12:15pm ET – Kentucky vs. Southern Illinois
2:30pm ET – Southern Illinois vs. Murray State
4:45pm ET – St. Louis vs. Murray State
 
March 2
10am ET – Southern Illinois vs. St. Louis
12:15pm ET – Murray State vs. St. Louis
2:30pm ET – Kentucky vs. SIU
4:45pm ET – Murray State vs. Kentucky
 
For the latest on UK Softball, follow the Wildcats on Twitter and Instagram at @UKSoftball.