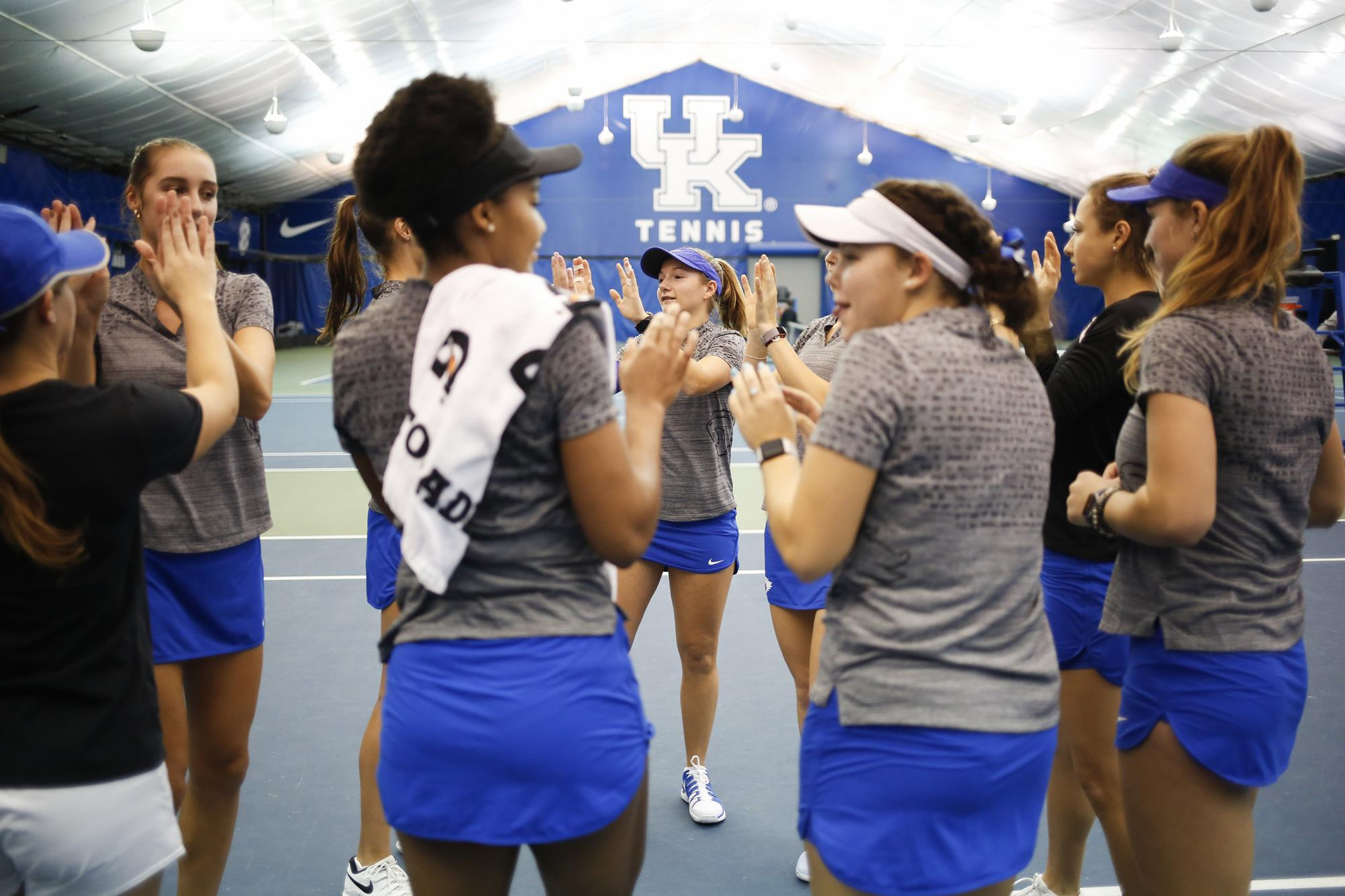 February 24, 2019 - 07:07 PM
Kentucky Women's Tennis Reaches 10 Wins Before Conference Schedule
DALLAS – Kentucky reached 10 wins Sunday when they defeated Southern Methodist on the road to cap the Wildcats' road swing in Texas, the first set of true road matches for the program this season.
 
Reporting a 4-1 mark over the Mustangs Sunday, the UK women's tennis team improved its record to 10-1, five days ahead of the conference opener. It is the best start to the season since the program put together an 11-1 record to open the season in 2016.
 
Kentucky forced an early lead over SMU, but it wasn't easy. The 50th-best pair in the nation in senior Justina Mikulskyte and redshirt-junior Akvile Paražinskaite defeated the No. 55 duo in Liza Buss and Anzhelika Shapovalova. The Wildcat duo finished first in doubles and with a victory on court one by a 6-1 standard. However, the Mustangs' Monarres Yesaki and Tiffany Hollebeck rallied a 7-6 victory on court three over junior Anastasia Tkachenko and sophomore Alexis Merrill.
 
The doubles point was in the hands of the unbeaten Wildcats in junior Lesedi Jacobs and freshman Tiphanie Fiquet. The twosome held strong, charting a 7-6 finish on court two. The win put Kentucky on the scoreboard first.
 
Jacobs and Fiquet remain unbeaten as a duo, carding nine victories on court two. Kentucky has also won 10 of 11 doubles points this season.
 
UK rallied the first singles point with the help of junior Diana Tkachenko who is unbeaten in nine singles matches. She forced a 6-3, 6-0 mark over Nicole Petchey to set Kentucky up with a 2-0 lead.
 
However, redshirt-junior Akvile Paražinskaite foiled on court two by a 3-6, 1-6 standard. The Lithuania native gave up a singles points to Shapovalova of SMU.
 
The Wildcats grabbed two more singles wins to clinch the singles division. Anastasia Tkachenko finished third on court six with a 6-3, 6-2 outcome. Sealing the deal was Fiquet who defeated Ana Perez-Lopez with a 6-4, 6-5 mark.  The freshman remains undefeated on the doubles court and the singles court, posting nine victories apiece.
 
The Wildcats will return home for their conference opener against Arkansas on March 1. The first serve is slated for 5 p.m. The program will compete in a doubleheader Sunday, hosting Missouri at 11 a.m. and Lipscomb University at 4 p.m. The weekend matches will be contested at the Hilary J. Boone Tennis Center and are free admission.
 
For more on Kentucky women's tennis, follow @UKWomensTennis on Twitter and Instagram, Kentucky Women's Tennis on Facebook, or on the web at UKathletics.com.