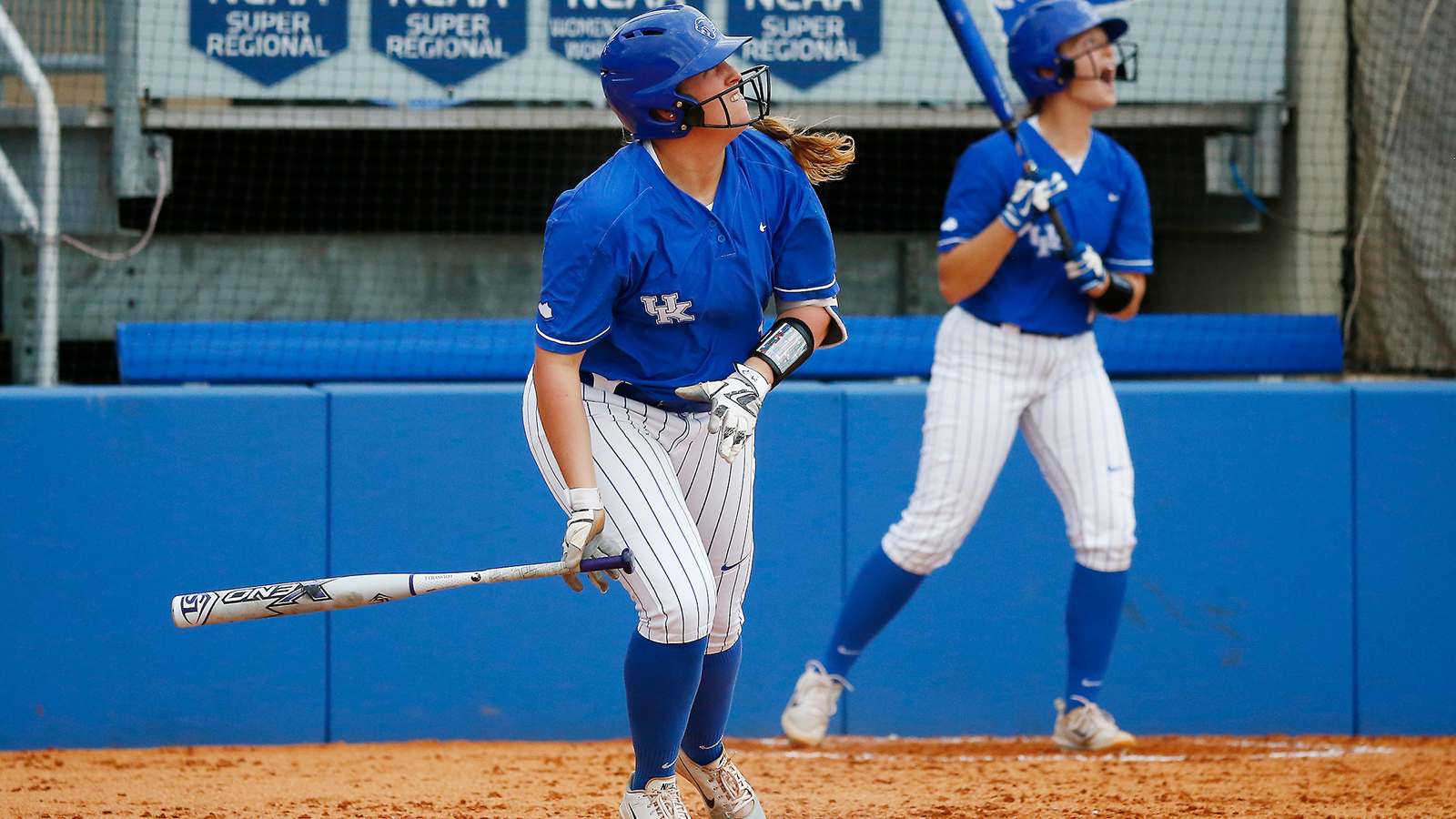 CATHEDRAL CITY, Calif. – Abbey Cheek hit her third home run of the season to give No. 16 Kentucky a 10-2 win over Bethune-Cookman in five innings.
 
With the win, Kentucky moves to 7-6 on the season. The Wildcats will play California and No. 1 UCLA on Saturday to finish the 2019 Mary Nutter Collegiate Classic. The game with Cal starts at 5:30 p.m. ET and that is followed by UK vs. UCLA at 8:30 p.m. ET. Both games will be streamed live on FLOsoftball for a yearly subscription fee.
 
Key Stat
3. Three different UK players had two hits in the game, as Abbey Cheek, Jenny Schaper and Lauren Johnson all had two hits in the game. Additionally, UK used three pitchers in tonight's contest, as Larissa Spellman, Grace Baalman and Tatum Spangler all saw time in the circle.
 
Key Play
The key play in the game was Abbey Cheek's walk-off home run in the bottom of the fifth inning, which sent UK home with the walk-off win. The home run for Cheek is her third on the season, as she drove in her ninth RBI of the year.
 
Key Player
Tatum Spangler was the key player in the game, pitching the two best innings of her Wildcat career. The freshman went 1-2-3 in the top of the fourth inning and was solid in the final inning of work she saw.
 
Run Recap
After Lauren Johnson led off the bottom of the second with a double, she came around to score on an RBI fielder's choice by Bailey Vick. Kayla Kowalik brought home another run on a fielder's choice and an error by the Bethune-Cookman right fielder brought in two more. UK 4, BC 0
 
In the bottom of the third, UK loaded the bases with nobody out and Katie Reed made it 5-0 on a sacrifice fly to deep right. Jenny Schaper doubled to left to score Grace Baalman and Bailey Vick, and Abbey Cheek drove in UK's eighth run on an RBI single up the box. UK 8, BC 0
 
Bailey Vick singled in Lauren Johnson for her second RBI of the contest in the top of the fourth. UK 9, BC 0
 
In the top of the fifth, a two-run double scored Bethune-Cookman's only two runs of the game. UK 9, BC 0
 
Abbey Cheek hit a walk-off home run in the bottom of the fifth inning to end the game. FINAL – #16 Kentucky 10, Bethune-Cookman 2
 
For the latest on UK Softball, follow the Wildcats on Twitter and Instagram at @UKSoftball.