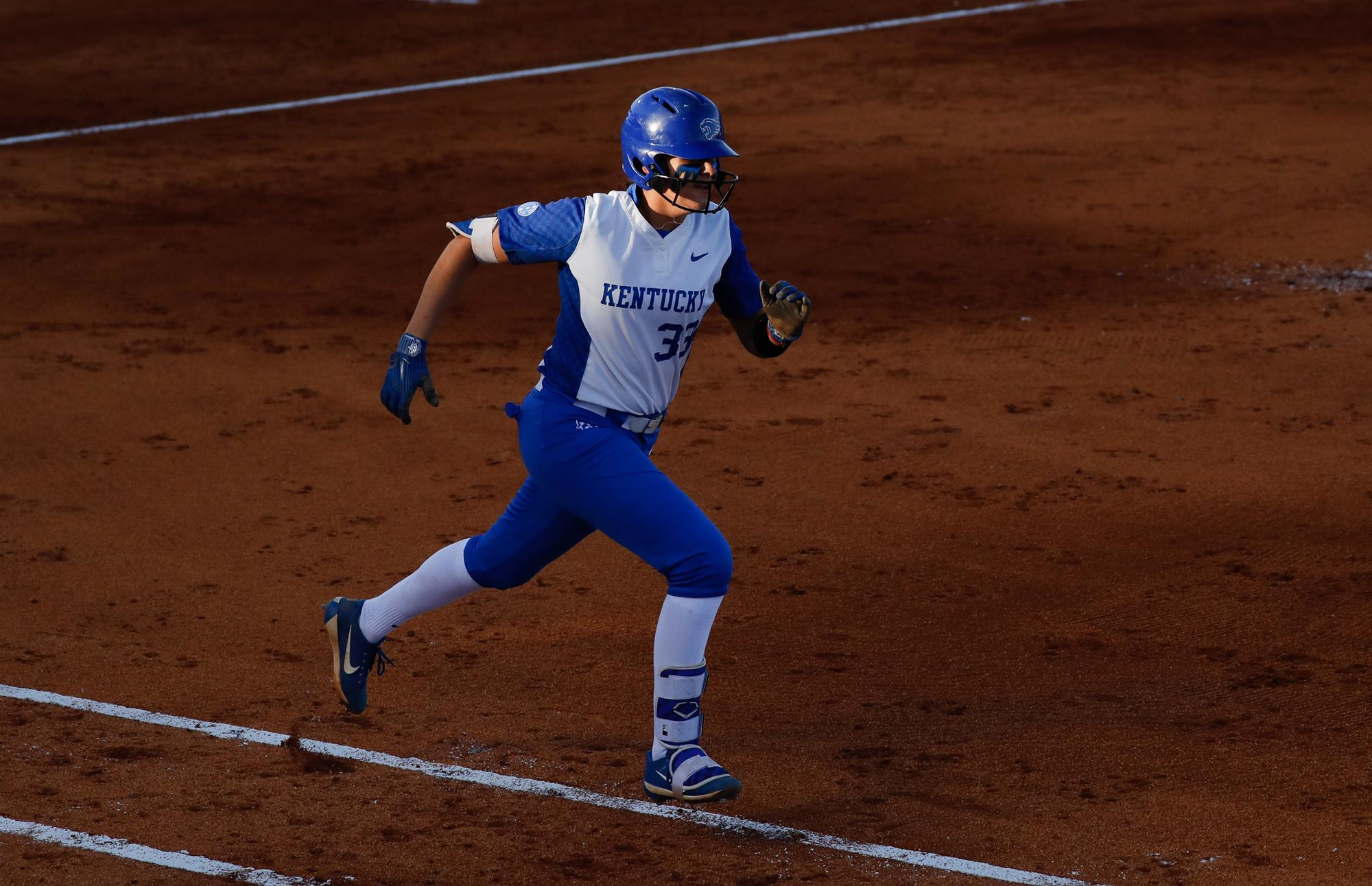 PALM SPRINGS, Calif. – After collecting its first two ranked wins of the season, the No. 16/20 Kentucky softball team will travel to the west coast this weekend to compete in the 2019 Mary Nutter Collegiate Classic held in Palm Springs, California from Thursday through Sunday.           
 
UK will play five games in three days, facing North Carolina and Bethune-Cookman on Thursday, No. 5 Washington, and California and No. 1 UCLA on Saturday afternoon. All games except UK's game with California will be carried live on FLOsoftball.com, with a yearly subscription required. Live stats will be available on UKathletics.com.  
 
The No. 1 Bruins and No. 5 Huskies are the sixth and seventh ranked teams that UK will have faced in the opening three weekends of play thus far. UK is 2-3 this year against top-25 foes with wins over No. 17 Oregon and No. 20 James Madison last weekend in the St. Pete/Clearwater Elite Invitational.
 
Mallory Peyton was UK's offensive catalyst, hitting four home runs to lead the tournament, as well as leading the field of 16 teams in RBI (12), slugging percentage (1.311) and total bases. The sophomore from Madisonville, Kentucky tit her second-career grand slam as part of hitting four home runs in four-straight games. She scored seven runs on the weekend, which was second most for all competing teams and had three games of two or more RBI – with one coming against No. 19 Oregon.
 
In the circle for the Wildcats, Autumn Humes picked up UK's win against James Madison, going the distance without allowing an earned run in a 6-1 win over the Dukes. Freshman Meghan Schorman collected her first-career top-25 win in a 12-3 dismantling of No. 19 Oregon in which Schorman went 6.1 innings in the circle for the Wildcats. Sophomore Grace Baalman pitched two games against No. 3 Oklahoma and No. 11 Texas, and performed admirably in both. Junior hurler Larissa Spellman pitched her first-career complete game, and shutout the Hofstra Pride, 8-0 in the process.
 
Kentucky at the Mary Nutter Collegiate Classic
Palm Springs, California
Big League Dreams
 
Thursday, Feb. 21
North Carolina vs. Kentucky – 6 p.m. ET [Wrigley Field]
Bethune-Cookman vs. Kentucky – 8:30 p.m. ET [Wrigley Field]
 
Friday, Feb. 22
Kentucky vs. Washington – 4 p.m. ET – [Wrigley Field]
 
Saturday, Feb. 23
California vs. Kentucky – 5:30 p.m. ET [Fenway Field]
UCLA vs. Kentucky – 8:30 p.m. ET [Wrigley Field]
 
Full Tournament Schedule
 
For the latest on UK Softball, follow the Wildcats on Twitter and Instagram at @UKSoftball.