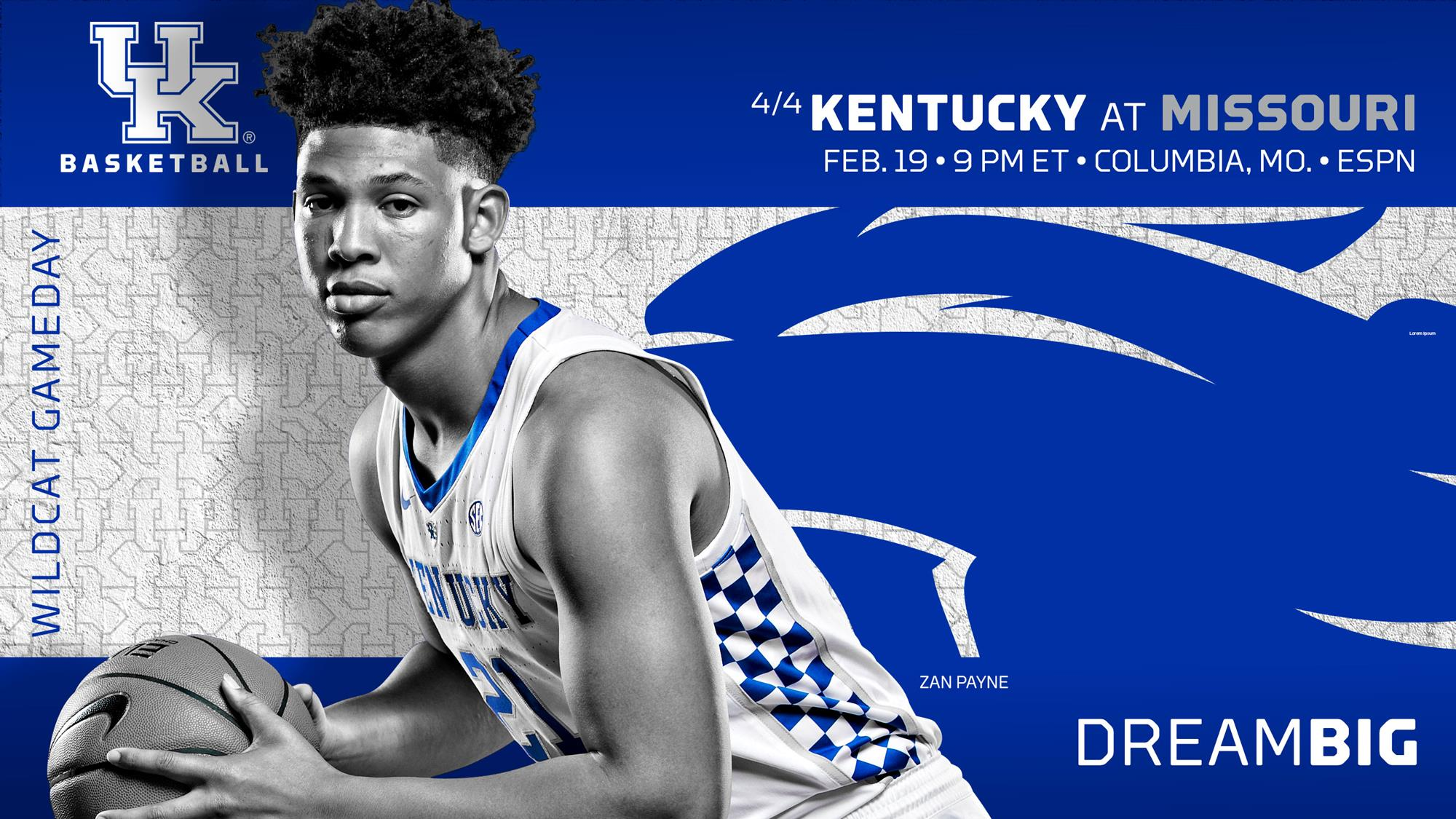 February 18, 2019 - 06:32 PM
'Difference Maker' Travis Doing Whatever It Takes
All the talk postgame was about Reid Travis's teammates.
 
PJ Washington dominated, Ashton Hagans rediscovered his mojo, Keldon Johnson delivered a 3-point barrage and Tyler Herro had his first career double-double.
 
Travis might have had a quiet night statistically relative to his fellow starters as UK blew out top-ranked Tennessee, but his game spoke loudest to his coach.
 
"The difference maker in the game for us was Travis," John Calipari said Saturday night.
 
Travis accepted the challenge of guarding Grant Williams for most of his 33 minutes. He limited the national player of the year candidate to a season-low four field-goal attempts – two of which came from beyond the arc. That freed up Washington to play his game.
 
"I think Williams has really tortured this conference with his physical play," associate head coach Kenny Payne said. "He's dominated this conference, not just this year, last year as well with physical play. Reid Travis – that fits right into his hands. He's a very physical forward who has really learned to move his feet and be defensive here."
 
Kentucky at Missouri

Tue., Feb. 19 – 9 p.m. ET
Rupp Arena
Lexington, Ky.
Game Notes: UK | MU
UK Athletics App Digital Guide

Coverage

TV: ESPN
Radio: UK Sports Network
Watch
Listen
Live Stats

UK
2018-19 Stats
MU
21-4
Record
12-12
10-2
Conference Record
3-9
78.7
PPG
68.0
65.6
Opp PPG
68.9
.477
FG%
.432
.407
Opp FG%
.435
39.0
RPG
35.0
.353
3PT FG%
.370
.351
Opp 3PT FG%
.326
.743
FT%
.700
14.2
APG
11.1
6.6
SPG
4.6
4.9
BPG
1.8

Really, the Tennessee game is a microcosm of Travis's entire graduate transfer season at Kentucky. His stats might be modest (11 points and eight rebounds against the Vols) compared to what he produced the previous two seasons at Stanford, but his impact is supersized.
 
"I can't imagine Reid Travis not on this team and what he's meant," Payne said. "Imagine being at Stanford for the last two years, averaging 20 and eight and nine. You come here, the numbers aren't the same, but your impact on the program is more because now you're winning against the No. 1 team in the country. You're beating teams, and you're a major part of that, and it's not centered around you getting 20. You're playing with other great players. You're learning to sacrifice, to be a great teammate and to play winning basketball."
 
Travis's averages his last two seasons at Stanford were 19.5 points and 8.7 rebounds in 2017-18 and 17.4 points and 8.9 rebounds in 2016-17. He was a First-Team All-PAC 12 selection in both years and could have pursued a professional career after graduating last spring, but instead chose to take on the challenge of playing at Kentucky.
 
In doing so, he wanted to improve and expand on his game while playing on a winning team. He knew his stats would likely take a hit, and so they have. He's averaging 11.6 points and 7.1 rebounds, but that doesn't capture what he means to his team or how much more well rounded his game has become. It also doesn't capture that he's all but certain to do something he never did in his first four college seasons: play in the NCAA Tournament.
 
"At the end of the day I'm going to do whatever I can to help us win games," Travis said. "Whether that's setting that physical mentality, guarding guys down low, bringing leadership – whatever I can. For me it's every day just trying to bring it, be the hardest worker that I can and just help us win games. It's good to hear people say that they can see the impact. It's something I've worked on every day."
In the preseason, when Travis talked about wanting to grow his game at Kentucky, most likely thought of adding to his offensive repertoire and expanding his range. Travis, however, had nights like Saturday in his mind too.
 
"Defense was a big part of that as far as being able to guard smaller players if we do a switch or something like that," Travis said. "But, also in the post was being able to be reliable one-on-one, holding my ground without fouling and playing good 'D.' So, I feel like the last couple of weeks I've made strides as far as being more active, getting deflections, getting blocks and really just trying to guard my man a lot better. I'd say I've made big jumps in that. There's still a lot more to go, but I'm pretty happy with the way that I've improved in that."
 
Travis is still more than capable of a big night in the box score – think about the 18 points and 12 rebounds he had against Kansas – but that doesn't define success for him. Success, for Travis and Kentucky, is all about wins.
 
"For us it's one game, one week at a time," Travis said. "So, I'd say there's a lot of excitement. I think that's what really helps everybody is that we're all in here trying to get better, working hard every day. So you can really get over that mental fatigue when everyone has so much excitement about what's about to come for us in the next couple of games, next couple of months."
 
The task at hand for Travis and No. 4/4 Kentucky (21-4, 10-2 Southeastern Conference) is a trip to face Missouri (12-2, 3-9 SEC) Tuesday at 9 p.m.
 
"Whatever their record is there were two or three other games they had a chance to win," Calipari said. "They played at Tennessee and had their chances and did a great job in a hostile environment. We know that they're good enough to beat us. We know that. Having their best player go down early affected their team. But they've recovered from that."
Kentucky Tops Tennessee to Stay in SEC Race
 
No. 5/5 Kentucky got the strong start it sought against No. 1/1 Tennessee and for a moment was blowing out the Volunteers. Most important was that the Wildcats finished off the Vols on a national stage, just what they needed days after letting one slip away.
PJ Washington scored a game-high 23 points, Keldon Johnson added 19 and Kentucky upset Tennessee 86-69 on Saturday night to end the Volunteers' school-record 19-game winning streak.
It was Kentucky's fifth victory in seven games this season vs. an Associated Press Top 25 team but its first victory vs. the AP's top team since defeating Ohio State in the 2011 NCAA Tournament.
The Wildcats used a 25-7 surge over a little more than seven minutes for a 62-38 lead, providing a cushion that withstood the Volunteers' 13-0 spurt soon after that cut the advantage in half. Kentucky maintained a double-digit lead to win the highly anticipated matchup of top-five schools.
Kentucky (21-4, 10-2) also avoided a second consecutive SEC loss to stay within reach of co-leader Tennessee (23-2, 11-1), which hadn't lost since Nov. 23 to then-No. 2 Kansas. A raucous crowd of 24,467 fans saw the Wildcats' victory, the third largest in Rupp Arena history.
"It shows everybody that we can still play with great teams in this league and also in the country," said Washington, who scored Kentucky's first seven points and finished 9 of 12 from the field for his seventh 20-point effort in the past eight games.
Johnson, meanwhile, made 8 of 14 shots with three 3-pointers as the Wildcats shot 54.7 percent. Tyler Herro had 15 points and a game-high 13 rebounds for his first career double-double as Kentucky beat a physical Tennessee team 39-26 on the glass.
It was a big improvement from Tuesday night's 73-71 home loss to No. 19/21 LSU, a game decided on a last-second tip-in. However, Kentucky played a big role with breakdowns and questionable shots that let the Tigers rally and eventually win the game.
The Wildcats rebounded with an effort that was thorough in many phases. They outscored the experienced Vols 36-20 in the paint and edged them 17-14 in second-chance points. And instead of letting Tennessee expand its one encouraging run, Kentucky did what it had to do to keep a double-digit advantage.
"I hit them right after the game with LSU and said, 'Hey, that was a tough loss,'" Kentucky coach John Calipari said. "But you know, we needed it. We need to go back to what we were, and sometimes you've got to get knocked in the head to know that. So the loss to LSU probably helped us win this game."
• In UK's most played series, the Wildcats now lead 155-71 and 93-17 when the game is played in Lexington. UK is now 12-8 when both teams are ranked in the AP Top 25. This game was the first time the two had been ranked in the top five at the same time
• It was Kentucky's eighth victory in 23 tries all time vs. the AP No. 1 team and its second-biggest margin of victory
• UK is 5-2 vs. AP Top 25 foes this season
• Kentucky's 16-0 run that started with the last basket of the first half and spanned into the second is the Wildcats' biggest run of the season
• UK shot at least 50 percent for the 10th time this season. The Wildcats have won all 10 of those games
• Kentucky won the rebounding 39-26 and points in the paint 36-20. UK is now 19-2 this season when winning or tying the rebounding and 18-3 when prevailing in the paint
• Calipari is now one win away from tying Joe B. Hall for the second-most victories as UK's head coach
• UK is 57-28 vs. AP ranked competition under Calipari
• Calipari is now 5-4 in his career vs. the AP No. 1 team, including 2-2 at Kentucky. According to the SEC Network, there have been 87 coaches who have faced the No. 1 team in the land at least seven times. Calipari is the only coach with a winning record
• UK improved to 48-12 in "bounce-back games" following a loss under Calipari, including 4-0 this season
• Washington is the first UK player to score in double figures in 10 straight games since Shai Gilgeous-Alexander did it 10 consecutive times from Feb. 20, 2018 to March 22, 2018
• Kentucky improved to 12-0 this season when Herro scores at least 15 points
• Johnson's 19 points tied for the most by a UK freshman vs. the top-ranked team in program history
• Herro's 13 rebounds are the most by a Kentucky freshman vs. the No. 1 team in the country
Big-Game Cal, Cats
 
John Calipari's teams aren't just good against the best teams in the country, they're great. Not only does Kentucky have a 57-28 record (.671) vs. Associated Press Top 25 teams, UK is 6-4 when both teams are ranked in the AP top five under Calipari following Saturday's win over topranked Tennessee
All-time, Calipari is 12-8 when both teams are ranked in the AP top five. When both teams are ranked in the AP Top 25, Calipari's all-time record is 80-51, including a 49-24 mark at Kentucky. When both are ranked in the top 10 he has a 26-16 record, including 15-9 at UK.
Dating back to last season's Southeastern Conference Tournament championship game, the Wildcats have won six of their last eight matchups when both opponents are ranked.
In terms of this season alone, Kentucky has answered the bell of big-time showdowns after an early season lesson vs. Duke. Since that season-opening loss to the Blue Devils, UK won four straight games vs. AP Top 25 teams before a last-second tip-in against No. 19 LSU snapped its best such streak since winning eight straight during the 2014-15 season.
Then came the national statement vs. then-No. 1 Tennessee. The victory was Kentucky's first vs. the AP No. 1 team since toppling Ohio State in the 2011 NCAA Tournament. All-time it was the Wildcats' eight victory for the No. 1 team in 23 tries and its second largest margin of victory.
Calipari improved to 5-4 vs. the No. 1 team in his career with the win vs. Tennessee, including 2-2 at Kentucky. According to the SEC Network, there have been 87 coaches who have faced the No. 1 team in the country at least seven times but Calipari is the only coach with a winning record. Four players in particular have stepped up in the top-25 matchups. Below are their averages in UK's seven games vs. AP Top 25 opponents:
• Keldon Johnson – 17.6 points per game, 4.9 rebounds per game, .557 field-goal percentage, .50 3-point FG pct.
• PJ Washington – 16.6 ppg, 7.4 rpg, .543 FG pct.
• Reid Travis – 14.6 ppg, 8.9 rpg, .534 FG pct.
• Tyler Herro – 14.3 ppg, 5.7 rpg, 3.7 apg