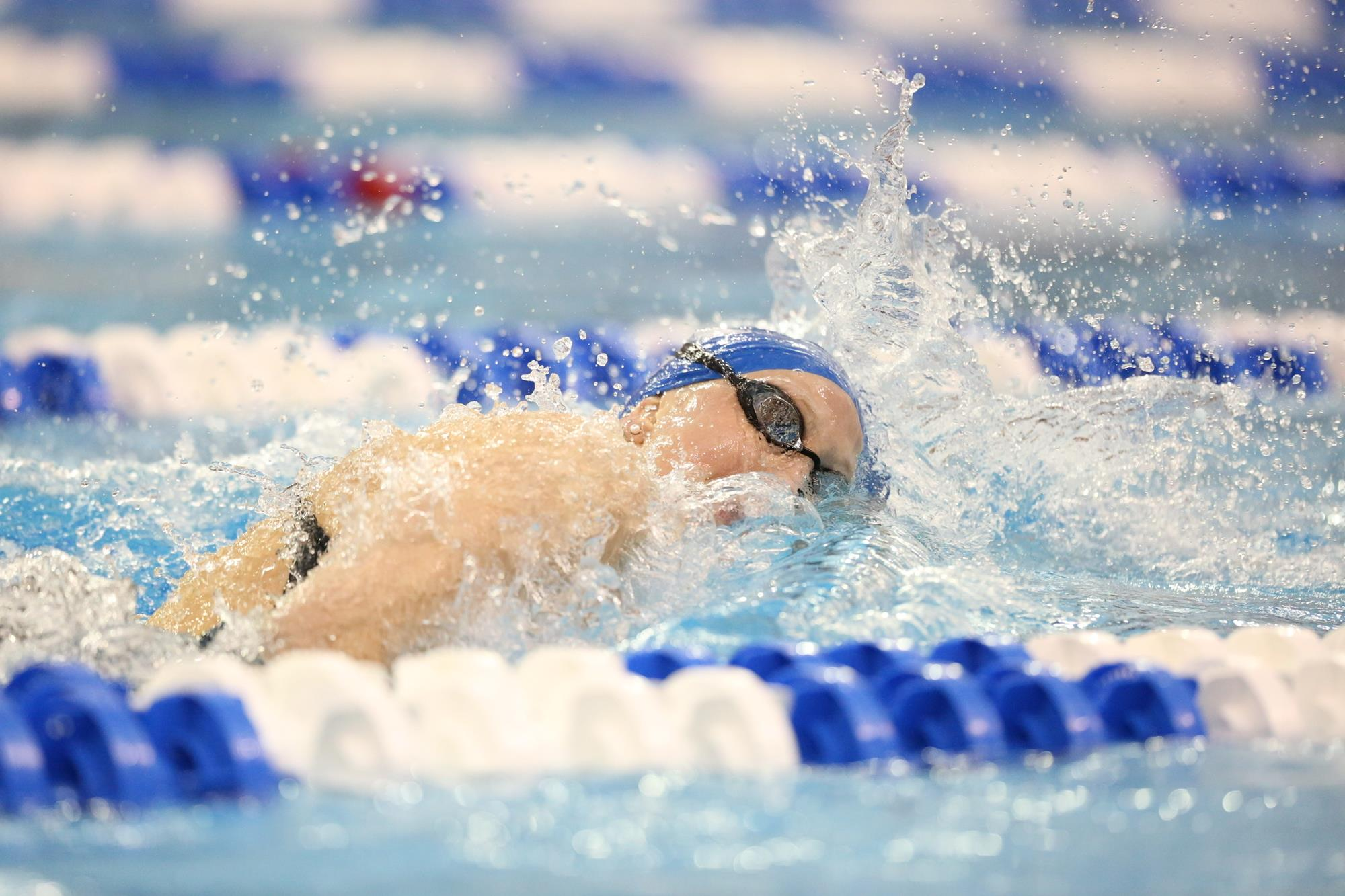 February 1, 2019 - 10:40 PM
Freriks Shatters School Record in Home State
CINCINNATI – In her final dual meet of her college career, senior Geena Freriks shattered a school record that had been steadfast for 20 years, as Kentucky concluded dual season with a pair of victories at Cincinnati Friday.
 
Both Kentucky clubs collected back-to-back wins to cap their season with wins over Louisville last week and wins over Cincinnati Friday. The No. 10 women defeated the Bearcats, 157-100. The Kentucky men found success on a 156-101 final score.
 
"Obviously, today was highlighted by Geena's performance, which was really a phenomenal swim," said head coach Lars Jorgensen. "She will never swim the 1000 free competitively again, so we just thought we would give it a run today and see what she could do when she didn't have to worry about other events. Although, she did come back and actually swam a good 50 free. She has got really good speed and versatility. So, I was really proud of her performance."
 
The seven-time NCAA All-American earned headlines when she earned the top spot on Kentucky's 1000 free all-time performance list, adding to her lengthy list of program records. Freriks out swam the field to post a 9:30.78, which reset the program record by more than 10 seconds. Remarkably, it was nearly 20 seconds improved from her previous career best in the event, 9:51.27.
 
Freriks' 9:30.78 ranks among the top-20 best times in the world, checking in as the 19th all-time best swim in the 1000 free.
 
Former Wildcat Rachel Komisarz previously held the school record when she clocked a 9:41.53 in 1999, which would rank as the best time for 20 years. Komisarz was a three-time Southeastern Conference Champion and six-time NCAA All-American.
 
Freriks, who owns five individual long-course program records, now holds three individual short-course records – 200 free, 500 free and 1000 free. She has also contributed to four program-record relays in her four-year career.
 
"All of our seniors did a really good job," Jorgensen said. "Alaina Potts did a really good job in her last meet. On the men's side, Peter Wetzlar continues to be great and he was really good today. I thought Mason Wilby performed well. Nick Smith and Glen Brown had a really good race at the end of the meet in the 400 IM. The last swim in the 200 free relay was pretty good, too. Overall, I was really pleased with both sides today, and we'll look to improve in the next few weeks." 
 
Kentucky swimmers earned gold in 20 of 28 swim events possible. UK swept the diving events for the second-straight meet, finishing victoriously in the men's and women's 1M and platform.
 
The program record book was rattled not once, but twice in the dual meet. Sophomore Chase Lane scored a 352.65 on the 1M springboard to place second, less than two points behind senior Seb Masterton. Lane moved into the 1M all-time top performance list for the first time, posting the eighth best score in school history.
 
The meet marked the last dual for 19 of the graduating seniors. Select Wildcats will travel to Columbus, Ohio, to compete in the Ohio State First Chance meet Feb. 16-17, while the team prepares for the SEC Championships hosted in Athens, Georgia, Feb. 19-23.
 
For the latest on the Kentucky swimming and diving program, follow @UKSwimDive on Twitter and on Instagram, on Facebook and on the web at UKathletics.com.