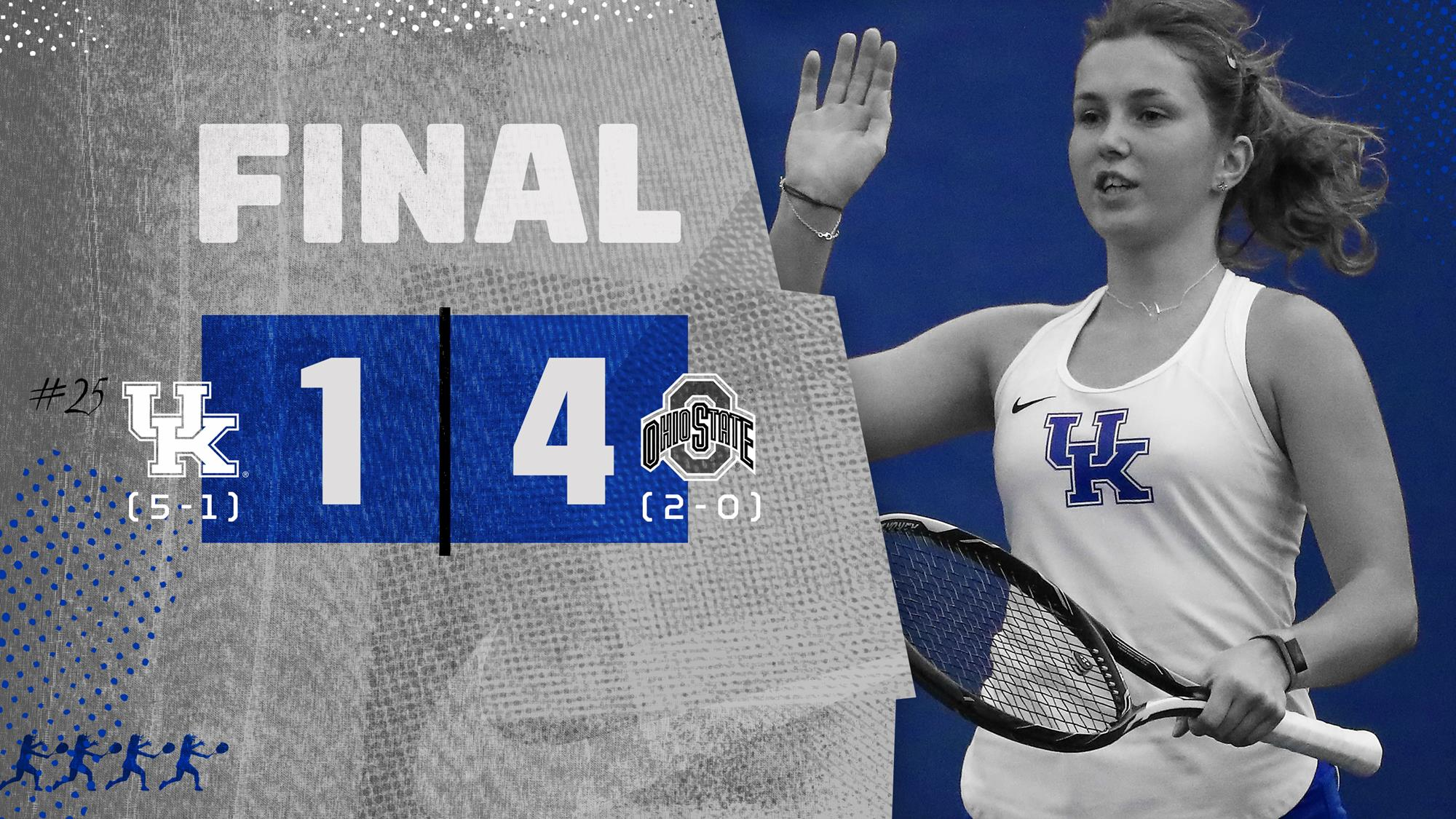 January 27, 2019 - 08:43 PM
Mikulskyte Tabs Kentucky's Only Singles Win as UK Drops First Dual of the Season
ATLANTA – After defeating Auburn on a perfect decision in the opening round of the ITA Kick-Off Weekend Saturday, the women's tennis program dropped their first dual of the season Sunday to Ohio State in the Championship Match.
 
No. 25 Kentucky gave up the doubles point for the first time this season, which would give Ohio State the necessary momentum to tab a 4-1 victory over the Wildcats.
 
Kentucky looked to take an early lead in the doubles competition when court two favored the Wildcats. Junior Lesedi Jacobs and freshman Tiphanie Fiquet gave Kentucky an early advantage with a 6-1 outcome.
 
However, the Buckeyes rallied a win on court three when junior Anastasia Tkachenko and sophomore Alexis Merrill allowed Ohio State to a 6-1 mark. It came down to the strong matchup on court one, but seniors Akvile Paražinskaite and Justina Mikulskyte fell in a first-to-ten tiebreak game, 7-6(8).
 
Kentucky's momentum didn't appear hurt when Mikulskyte snagged an early singles win on court one with a 6-0, 6-3 outcome. However, Ohio State followed with three-straight singles points, forcing wins over Paražinskaite (6-4, 3-6, 6-1), A. Tkachenko (4-6, 6-2, 6-1) and Jacobs (3-6, 6-4, 6-4).
 
Ohio State will move on to compete with 15 other teams in the ITA National Team Indoors in Washington Feb. 8-11.
 
The women's tennis program moved to a 5-1 mark on the young season. They will enjoy 19 days off, with their next match falling on Feb. 15 in a dual versus South Florida at the Boone Tennis Center.
For more on Kentucky women's tennis, follow @UKWomensTennis on Twitter and Instagram, Kentucky Women's Tennis on Facebook, or on the web at UKathletics.com.