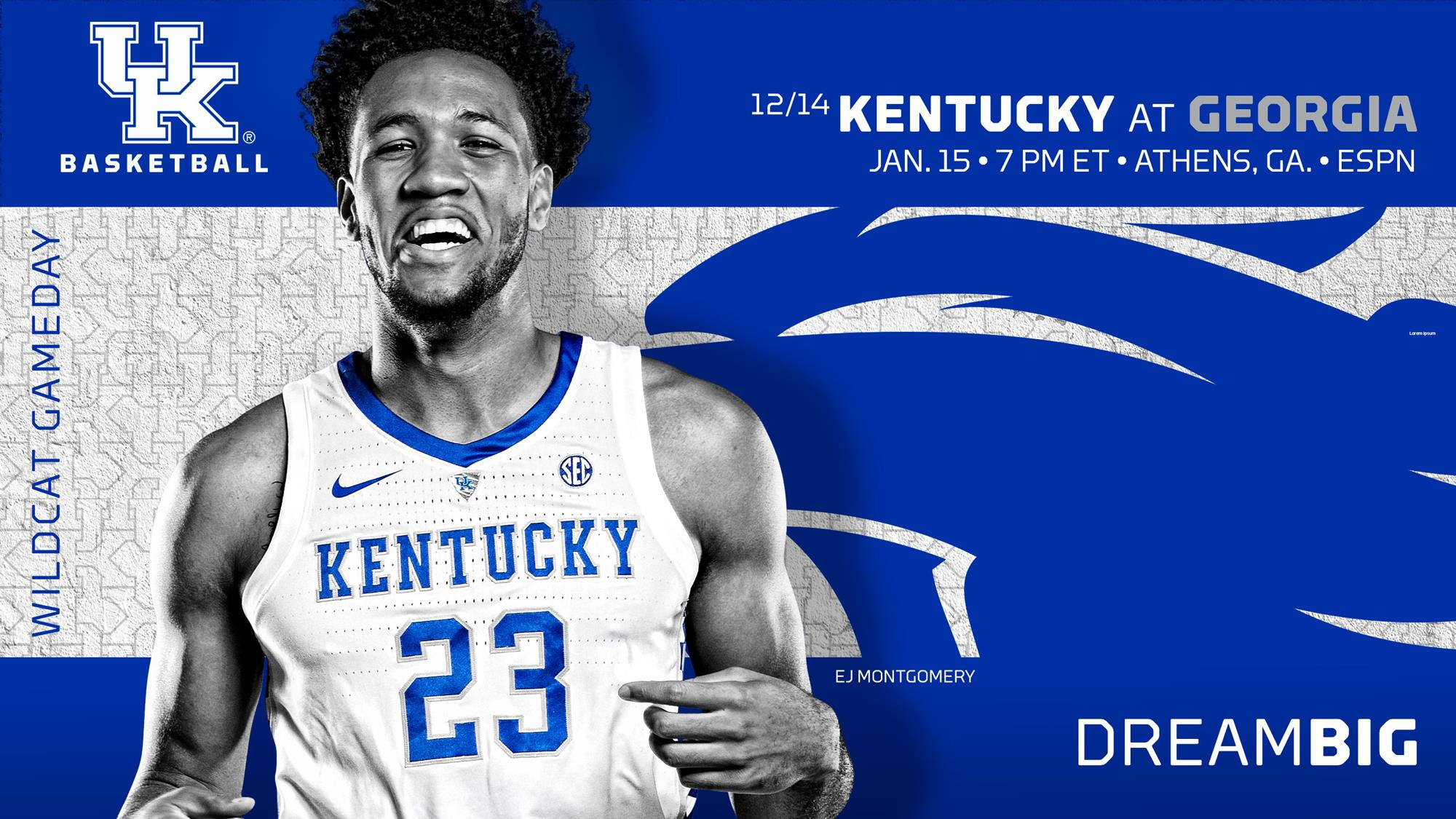 January 14, 2019 - 05:51 PM
Week of Road Challenges Begins at Georgia
John Calipari generally doesn't pay much attention to weekly awards in the Southeastern Conference, but his ears perked up Monday when he learned Ashton Hagans had been named Freshman of the Week for the second time.
 
He sensed a coaching opportunity.
 
"It's a great thing for my team to understand," Calipari said. "The two weeks he was Freshman of the Week, he had five turnovers in both games."
 
Calipari is no fan of turnovers, but Hagans giving the ball away five times against both Vanderbilt Saturday and against North Carolina the last time he won SEC honors offers a lesson. Though Hagans is far from a finished product, he is finding success by focusing on his strengths and not his weaknesses.
 
"It's kind of tells him, if you do your job, all the other stuff, the numbers don't matter," Calipari said. "Why are you worried about numbers if I have the ball more or if I am playing more and what I have got? The numbers don't matter. They have never mattered here."
 
Kentucky at Georgia

Tue., Jan. 15 – 7 p.m. ET
Stegeman Coliseum
Athens, Ga.
Game Notes: UK | UGA
UK Athletics App Digital Guide

Coverage

TV: ESPN
Radio: UK Sports Network
Watch
Listen
Live Stats

UK
2018-19 Stats
UGA
80.9
PPG
77.3
68.7
Opp PPG
73.2
.490
FG%
.465
.426
Opp FG%
.395
38.0
RPG
41.5
.346
3PT FG%
.330
.381
Opp 3PT FG%
.309
.752
FT%
.725
14.3
APG
14.6
6.8
SPG
5.8
5.4
BPG
6.5

True as the axiom may be and as often as Calipari may repeat it, that doesn't mean it's an easy one to grasp. Particularly for young players who have spent most of their lives focusing on one line in the box score, it takes time.
 
"Well, what you have is that they think that junior high basketball, high school basketball is the same as college basketball is the same as NBA, which is if you just score and be the man and shoot all the balls and la da da," Calipari said. "As you learn this game and as you prepare yourself to be an unbelievable teammate who can play, the numbers don't matter as much and the cream always rises."
 
Reid Travis already gets it. That's why it hasn't been difficult for him to keep a level head even as he has scored just 11 points combined in UK's last two games.
 
"That's the biggest thing for me, is it can't be all be about scoring," Travis said. "There's a lot of different ways that you can impact the game: with your energy, the way you're talking, the way you're leading. So, just trying to do it on many different fronts and some nights you'll have that, where it's low scoring or high scoring, but if I continue just to focus on other things, continue to be well rounded I think that's just going to help the team."
 
Travis would surely accept quiet scoring games the rest of the season if it means the Cats will win like they did twice last week. UK was far from perfect against both Texas A&M and Vanderbilt – particularly in falling behind by double digits early in each game – but the Cats did enough to come away with victories.
 
"Obviously we're going to try to improve every game and try to get better at the things that we didn't do right at the game," Travis said, "but at the end of the day be happy with the fact that you were able to pull out some ugly wins and celebrate that fact because that's what we're trying to do. We're trying to win. As those keeps rolling together, we'll keep building confidence off of that."
 
The next tests of UK's confidence will both come on the road, as the No. 12/14 Cats (12-3, 2-1 SEC) will travel to face Georgia and Auburn this week. The first will come in Stegeman Coliseum as UK will take on Tom Crean's Bulldogs (9-6, 1-2 SEC) as Hagans returns to play against his home-state school Tuesday at 7 p.m.
 
"It's always sold out," Calipari said. "Somebody told me it's been sold out since June. It's a date marked on the calendar for the whole town. And you're going in and they're going to be ready to play – and you have to be ready. With that being said, all the games are close, tough, hard-fought games. I would expect this to be the same."
 
Hard-fought games are the expectation the rest of the way for UK, but Calipari expects this one to be different from the last. Whereas Vanderbilt attacked UK by hanging in a zone and preventing the Cats from getting out on fast breaks, Calipari does not expect a slowdown game from the Bulldogs.
 
"Now, you're playing Georgia," Calipari said. "They send four guys to the glass. All four come. They get it in quick and try to score in the first five seconds, so you're now playing a team that's totally different – good for us. It's good for us."
 
Calipari sees things that way because he can imagine the Cats facing a similar contrast in playing styles from game to game about two months from now.
 
"You have to figure out in March, you don't know what you're going to get," Calipari said. "The draw, boom, and there you go, and then you have one day in between, bang, there you go. They all play different. So, this is good for our team, but it challenges young players."
Trio of Guards Leads Kentucky in Comeback Victory vs. Vanderbilt
Kentucky believes it will figure out how to start games with the focus and resolve it has shown in closing them. Now would be fine by coach John Calipari after again watching his No. 18/18 Wildcats having to scrap past Vanderbilt.
Ashton Hagans (15 points), Keldon Johnson (15) and Immanuel Quickley (12) combined for 42 points to rally Kentucky from another slow start in a 56-47 win over Vanderbilt on Saturday night. It was the second straight game UK had to climb back from an early double-digit hole.
This time it was Kentucky's initial failure to defend the Commodores' perimeter shooting, which propelled them to a 16-4 lead and 30-28 edge at the break. Vanderbilt was pretty effective inside the arc as well, shooting 11 of 22 overall and hanging in as Kentucky slowly closed the gap.
Johnson and Hagans then took over and combined to score the first seven points of the second half for the Wildcats' first lead at 35-30. Kentucky steadily pulled away for its second consecutive win, despite a season low in points.
"It's just clicking together and not letting up on the defensive end," said Hagans, who made 7 of 9 shots and had four assists and three steals. "As the season goes along, we're going to click on at the beginning of the game and just get it going from there."
Kentucky shot 52.6 percent after halftime and 50.0 percent overall, while holding Vanderbilt to just 6 of 25 (24.0 percent) in the final 20 minutes. Three-point defense was key as the Wildcats allowed just 2 of 14 in the second half.
"We gave up some 3s to guys that usually make shots," Quickley said, "and we had to press up on them, make them drive and I think we did that."
The Wildcats also outrebounded the Commodores 38-21, with Reid Travis' season-high-tying 12 boards leading the way. Quickley's outside shooting also helped as he had three 3s for the Wildcats, a career high.
Aaron Nesmith had 11 points, while Saben Lee and Joe Toye added nine apiece for Vanderbilt (9-6, 0-3 SEC).
• UK shot 50.0 percent from the field. It was UK's seventh game of the season shooting 50 percent or better, all wins
• The Wildcats limited Vanderbilt to 47 points. UK is 66-0 under Calipari when keeping the opponent to 55 points or less, including 2-0 this season
• UK limited Vanderbilt to 17 second-half points. That's the lowest point total by a UK opponent since the Wildcats held Tennessee to 17 second-half points on Feb. 17, 2015
• Vanderbilt shot only 36.2 percent from the field. UK is 169-15 (.918) under Calipari when keeping the opponent at 40 percent or less, including 5-0 this season
• UK improved to 245-5 (.980) under Calipari when leading by at least 10 points at any point in the game
• Kentucky has won 13 in a row in Rupp Arena, dating back to last season
• UK dominated around the basket, winning the rebounding battle 38-21 and points in the paint 32-16
• It was Hagans' fourth straight games in double figures after starting the first 11 games of his career in single figures
• Hagans also had game-highs with four assists and three steals. He has at least three thefts in five straight games, which is believed to be a school record (since steals have been recorded). He's also the first major-conference freshman with three or more steals in five or more games since Oklahoma State's Marcus Smart did it five straight games from Jan. 26-Feb. 9, 2013
Comeback Cats
Kentucky has come back from double-digit deficits in each of the last two games. It's the first time that's happened since the Wildcats rallied from two straight double-figure holes at West Virginia and vs. Vanderbilt last January. The last time UK did it three straight times was vs. Florida, Vanderbilt and Texas A&M to end the 2016-17 regular season.
Both comeback victories this season had common denominators: slow starts. UK fell behind 10-0 to Texas A&M before trailing Vanderbilt 16-4 on Saturday.
Said John Calipari after the latest early hole: "We've got to figure out how we start games. It's getting ridiculous. It's five halves in a row where we just start the game and we're getting smashed."
The obvious plus from both games is that UK found a way to fight back in both of the games and did so in fairly quick order. Against Texas A&M, Kentucky led by 12 at halftime, and after allowing Vanderbilt to score 22 points in the first 8:34 of Saturday's game, the Wildcats' defense limited the Commodores to just 25 points over the final 31:26 of game time.
Oddly enough, Vanderbilt has been at the wrong end of a number of double-digit comebacks:
• Jan. 12, 2019 – UK rallied from 12 down in the first half to win
• Jan. 30, 2018 – Kentucky came back from a 14-point deficit for the victory in overtime
• Feb. 28, 2017 – The Wildcats stormed back from a 19-point first-half hole for a dramatic victory over the Commodores
• Jan. 22, 1997 – UK trailed by 22 late in the first half in Nashville, Tenn., but found a way to rally and win
Streaking into Georgia
Kentucky's historical dominance over its Southeastern Conference brethren is well-documented, but the Wildcats have had particular success against Georgia of late. UK has won 11 straight games vs. Georgia — which has included some strong teams — dating back to the 2014-15 season.
The Wildcats' last loss vs. Georgia was during the 2012-13 season in Athens.
It must be something about Bulldogs because UK's current 11-game winning streak against the Georgia Bulldogs is tied with Kentucky's 11-game winning streak vs. the Mississippi State Bulldogs as its longest current winning streak vs. an SEC opponent. The Wildcats had won 10 straight vs. Alabama before losing in Tuscaloosa earlier this month.
The consecutive wins vs. Georgia is not the longest such streak against the Dawgs, however. Kentucky has previous win streaks of 20 (1950-66), 16 (1994-2001) and 12 (1977-82).
Tom Crean will look to try to end Kentucky's success in his first season as the Georgia head coach. UK head coach John Calipari is 6-3 all-time vs. Crean, who previously served at Indiana and Marquette.