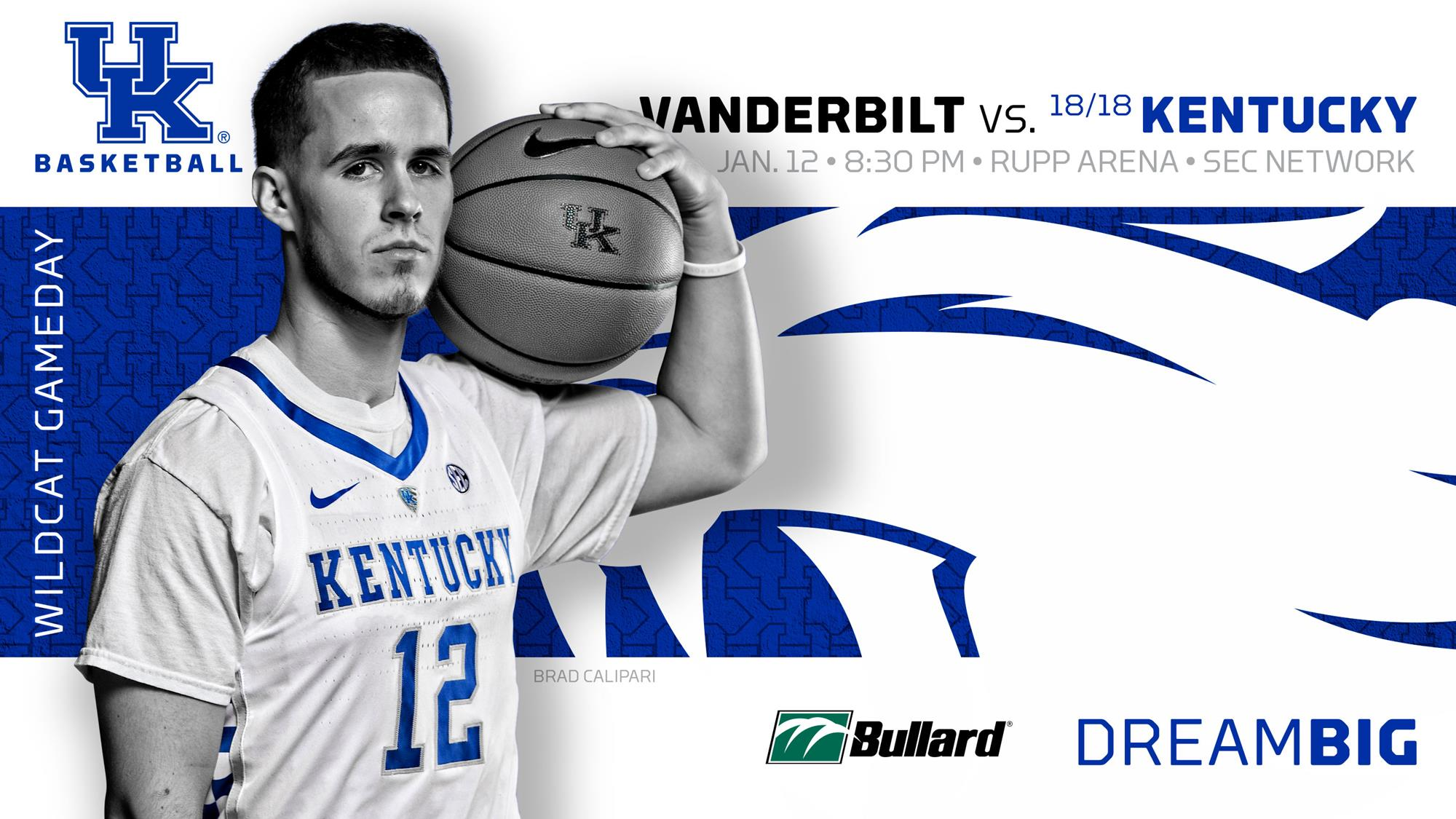 January 11, 2019 - 04:48 PM
Hagans Locking Down Opponents, Point-Guard Position
Ashton Hagans sees the effect he has on the opposing player who has the misfortune of being guarded by him.
 
The game starts and his man, believing in his own ability, is eager to take on the challenge of beating Hagans.
 
That has a tendency to change.
 
"But as the game goes along, they move more off the ball," Hagans said. "I can tell when they don't really want to have the rock, so I just try to pressure up more."
 
That sort of attitude is what makes Hagans so valuable to his team.
 
"That's the guy you want on your team, that you want disruptive 94 feet, that you have the opposing point guard looking over their shoulder," assistant coach Joel Justus said. "Other guys wondering, 'OK, where's this guy at?' That's an unsettling feeling for a point guard to have somebody that can come after you that can come after you for as long as Ashton can and pick you up full court."
 
Kentucky vs. Vanderbilt

Sat., Jan. 12 – 8:30 p.m. ET
Rupp Arena
Lexington, Ky.
Game Notes: UK | VU
UK Athletics App Digital Guide

Coverage

TV: SEC Network
Radio: UK Sports Network
Watch
Listen
Live Stats

UK
2018-19 Stats
VU
82.6
PPG
80.6
70.3
Opp PPG
71.9
.490
FG%
.455
.429
Opp FG%
.407
38.0
RPG
40.1
.352
3PT FG%
.337
.389
Opp 3PT FG%
.322
.759
FT%
.715
14.6
APG
13.7
6.9
SPG
5.1
5.4
BPG
4.9

All that has added up to create Hagans' rapidly budding defensive reputation. Though the 19 steals he has snagged in his last four games – a stretch that began with a school record-tying eight against North Carolina – might be a source of amazement for fans and misery for opponents, Hagans doesn't see himself as doing anything particularly special.
 
"It's just me playing my game, just playing on the defensive end, trying to get my teammates going," Hagans said. "Other than that, I feel good about it, but just got to keep going as the season presses on."
 
The season will press on next when No. 18 Kentucky (11-3, 1-1 Southeastern Conference) hosts Vanderbilt (9-5, 0-2 SEC) at Rupp Arena Saturday at 8:30 p.m. Unfortunately for Vandy, the Commodores will be without the player expected to handle point-guard duties this season, as star freshman Darius Garland is out for the season with a knee injury. Saben Lee has taken over in absence.
 
"He should be able to play his game," PJ Washington said of Hagans against Vanderbilt. "He should come out and try to disrupt on the defensive end like he's been doing lately and he'll be fine. I think we'll be fine as well. If he brings that pressure on the defensive end, it's going to help us a lot."
 
Hagans' defense isn't going anywhere, but his play is trending up on the other end of the floor as well. The freshman has emerged as UK's primary point guard, which at first meant the Wildcats weren't getting much scoring from the position. Over three starts against Seton Hall, Utah and UNC, Hagans scored just 17 points on 6-of-20 shooting.
 
In three games since, Hagans has scored in double figures each time out, most recently pouring in 18 points and hitting 10-of-11 free throws against Texas A&M. Over those three games, his assist-to-turnover ratio (14 to 5) is even better than his steal-to-turnover ratio (11 to 5).
 
"I think the No. 1 thing is he's continued to work," Justus said. "As with a lot of the guys on our team, this group of guys loves to work. These guys came here because they knew that it was going to be a process. They knew that they were going to have the access to get in the gym 24 hours a day. They knew that they were going to have the facilities.
 
"The blueprint has been here for guys before them, and the guys that come here are like Ashton. They know that they aren't a finished product. They're coming here to work. They're coming here to work every day. They're coming here to be coached. They're coming here to work against other good players. Ashton, from the time that he stepped foot on campus, has embraced that."
 
Hagans is already a good example of a player who has benefited from a stiff one-on-one practice matchup.
 
"I think someone even asked the other day on the podcast that we do with TJ (Beisner) on Coach's website, 'What's the best battle that we have?' " Justus said. "It's Ashton and Immanuel (Quickley). I don't think it's any surprise that those two guys are starting to go in a direction of positive playing time and productive minutes and efficient minutes."
 
Though Hagans might have taken over primary point-guard duties, Quickley has hardly faded into the background. Instead, Quickley is coming off a 10-point performance against A&M in which he shot 4 of 4 from the field, hit a pair of 3s, grabbed three steals and added two assists.
 
Jemarl Baker is emerging similarly, creating depth in a backcourt where that was supposed to have been an issue after Quade Green's departure. That's both a testament to the work of the three guards and a preview of what could come next.
 
"They had some periods where they were so-so, and then they have times they were OK and now they are playing really well," Justus said. "I think the great thing for us, and our coaching staff thinks, 'OK, who's going to be the guy that steps up today in practice, or who's going to be the guy that steps up tomorrow in the game?' That's the exciting part about the process, as you asked, is you're just kind of waiting to see who's next."
Herro, Bench Lead Wildcats to First SEC Win
After a slow start, Kentucky coach John Calipari was happy to see his team finish off Texas A&M.
Tyler Herro had 21 points, Ashton Hagans scored a career-high 18 and No. 18/18 Kentucky overcame a 10-0 deficit before holding off Texas A&M for an 85-74 victory on Tuesday night.
"The whole season is about building," Calipari said. "We won a game. We won a league game. We won our first league game. Good start."
Kentucky (11-3, 1-1 Southeastern Conference) started slowly on both ends with four missed shots, turnovers and defensive breakdowns the Aggies seized upon for a pair of 10-point leads. Kentucky quickly regrouped with a 19-6 run over 5:21. Hagans had a pair of steals during the spurt in which everything clicked.
The Wildcats led 46-34 at the break before having to withstand a second-half comeback by the Aggies (6-7, 0-2), who got within 66-64 with 7:55 left. Immanuel Quickley answered with a 3-pointer and PJ Washington eventually followed with a traditional three-point play for an 11-point cushion that held up.
"We started pretty slow and eventually we got it going a little bit," said Herro, who was 7 of 14 from the field with three from long range for his second 20-point effort in three games. "Second half, we played a little bit better. Overall, we have to start games quicker and better." Hagans made 10 of 11 free throws along with shooting 4 of 6 as the Wildcats made 15 of 27 (56 percent) after halftime to finish 52 percent overall.
"The Alabama game was tough," Quickley said, "but we bounced back. It felt extremely good."
Jay Jay Chandler and TJ Starks each had 18 points for Texas A&M, which shot better than 50 percent for much of the game. The Aggies cooled off late and finished 48 percent.
• UK shot 51.8 percent from the field. It was UK's sixth game of the season shooting 50 percent or better, all wins
• The Wildcats made a season-high 91.3 percent on their foul shots, 21 of 23 (91.3 percent). It was the highest percenatage of makes since UK shot 90 percent (9 of 10) against Wisconsin on April 4, 2015
• UK had 11 steals, one shy of the season high
• Kentucky is now 47-12 under Calipari in "bounce back" games after losses, including 3-0 this season
• UK improved to 244-5 (.980) under Calipari when leading by at least 10 points at any point in the game
• Kentucky has won 12 in a row at Rupp Arena, dating back to last season
• UK's bench scored 23 points, with Quickley scoring 10 and Jemarl Baker Jr. adding four. The scoring output from the bench was its best since the Monmouth game
• Hagans has scored a career high in points in three straight games (11 vs. Louisville, 12 vs. Alabama, 18 vs. Texas A&M)
S-E-C! S-E-C! S-E-C!
 
Kentucky has the unquestionable reputation as the league's gold standard. Since the SEC's inception in 1932-33, the Wildcats have been the most dominant team in the league, recording a 983-279 mark (.779) in regular-season conference play. Only two other teams have won more than 700 regular-season SEC games (Alabama and Tennessee), and no other team has a better winning percentage.
• Kentucky has averaged 11.6 wins and only 3.3 losses per season in 85 seasons in the SEC
• UK has won 48 SEC titles and 31 SEC Tournament championships
• The Wildcats have won 16 of the last 26 SEC Tournament titles
• Kentucky has won at least a share of five of the last nine SEC regular-season championships under head coach John Calipari
• UK has played in the championship game of the SEC Tournament in eight of Calipari's nine seasons, winning the tournament six times, including each of the last four
• The SEC won the Big 12/SEC Challenge for the first time with a 6-4 margin in 2018
• Eight teams made the 2018 NCAA Tournament field, the second most of any league in the country and a new conference record. The league went 8-8
• Four teams from the SEC rank in the top 25 of both major polls
• Ten SEC schools rank in the top 75 and four are in the top 25 of the NCAA's Jan. 8 NET rankings
Super Herro
For each of the last 10 seasons with John Calipari at the helm, he's stressed a number of things: Every player is on his own path. Every player must embrace a role and focus on the areas of his strengths which in turn betters the team. Finally, he asks every player to continue to impact the game beyond scoring.
For Tyler Herro, determining a role and figuring out the college game took a little more time than many expected after a prolific performance in the Bahamas. Over his first six games, Herro averaged a respectable 10.0 points per game. He was shooting 39.3 percent from the field and 29.6 percent from 3-point range. Known as an expolsive scorer, he knocked down just two or more 3s in just two of the six games.
But then, something clicked. The game slowed down. He found ways to get his shot off. His offensive play was sparked by his defensive effort. Beginning with a 16-point, eight-rebound, five-steal effort against Monmouth on Nov. 28, Herro's game has gone to another level.
Over the last eight games, he's averaging a team-best 16.6 points per game and reached double figures in all eight. He's shooting 48.5 percent from the floor and 36.0 percent from deep. He's also drained multiple 3-pointers in seven of the eight games.
His breakthrough performance came in the form of a career-high 24-point effort on the road at Louisville, which marked the second-most points ever by a UK freshman against its archrival. He was named the Bluegrass Sports Commission's MVP of the game and then went on to win the USBWA Wayman Tisdale's National Freshman of the Week honor. NCAA.com named him its national player of the week, and he took home SEC Freshman of the Week accolades.
As Kentucky continues to navigate its way through the next half of its schedule, Herro's development offensively will continue to evolve. But, it will also be important for him to continue to impact the game should team's try to take him away. Over the last eight games, Herro is also averaging 4.3 rebounds per game and 1.3 steals.