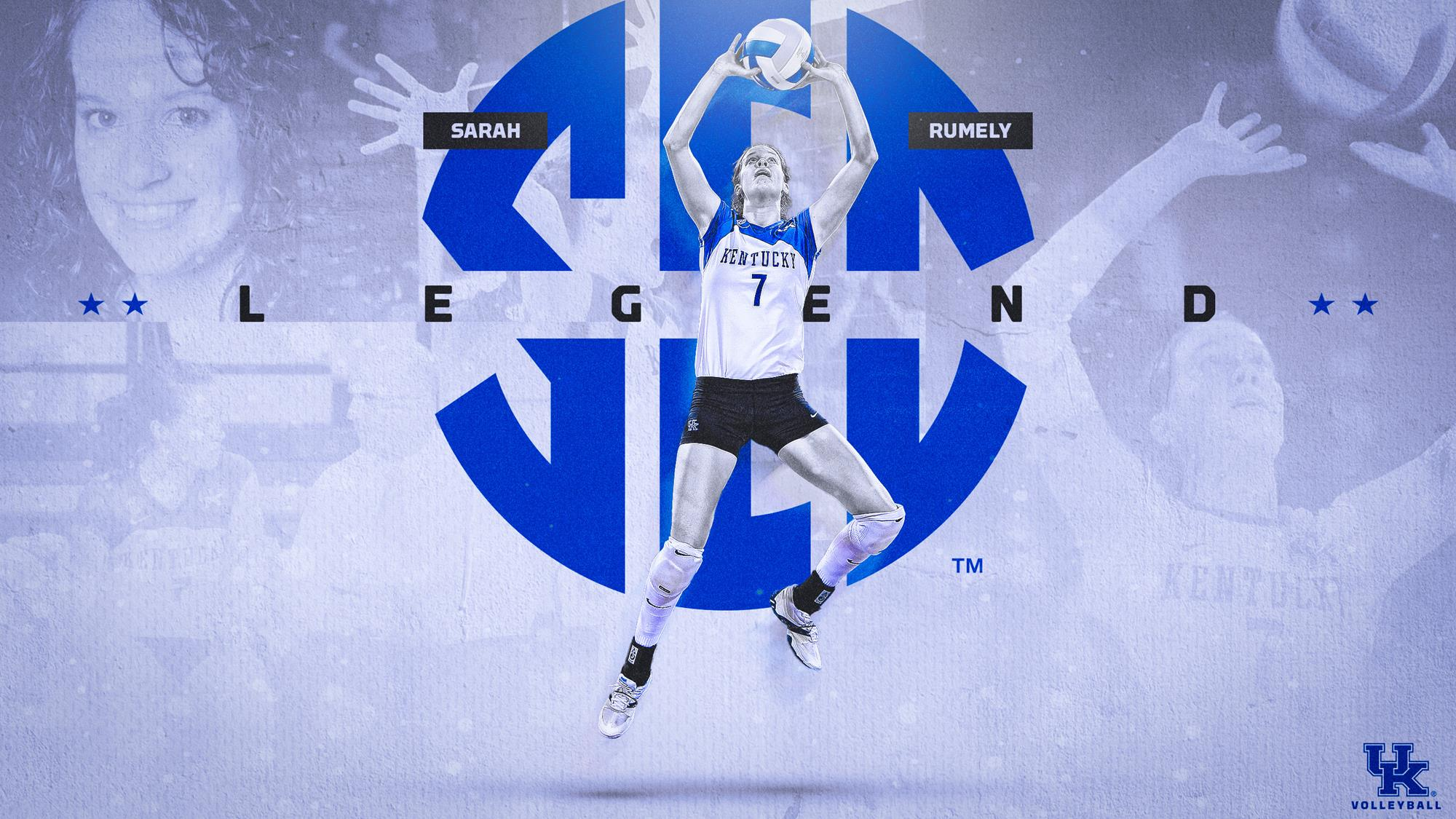 January 10, 2019 - 03:00 PM
UK Athletics Hall of Famer Sarah Rumely Named SEC Women's Legend
BIRMINGHAM, Ala. – Kentucky Athletics Hall of Famer and former All-America star volleyball player Sarah Rumely will represent the Wildcats as a member of the 2019 Southeastern Conference Women's Legends Class. Rumely will be honored at the 2019 SEC Women's Basketball Tournament, March 6-10 in Greenville, South Carolina.
 
The SEC showcases former student-athletes, coaches and administrators from all 14 member SEC institutions each year at the SEC Women's Basketball Tournament. Each legend will be honored during halftime of their team's first game of the tournament and all 14 individuals will be honored as a group.
 
Rumely was inducted into the UK Athletics Hall of Fame in 2017 after a decorated four-year career from 2006-09. One of Craig Skinner's first recruits, Rumely was a four-year starter at setter for the Wildcats and was a cornerstone in UK becoming one of the most prominent programs in the country over the last decade.  
 
"I am extremely honored to be named an SEC Legend," Rumely said. "I love both the SEC and Kentucky volleyball and getting to represent them both is humbling. I am so thankful for my time competing in Lexington and in the SEC, and I can't thank Craig Skinner enough for believing in me and letting me be a part of what Kentucky Volleyball is and has become. The SEC truly just means more."
 
At the conclusion of her career, Rumely was the only player in program history to earn SEC Freshman of the Year (2006) and SEC Player of the Year (2008) honors.  She was a two-time AVCA All-America selection, a four-time All-SEC player and a third-team Academic All-American as a senior.
 
"I can't think of a better person to represent Kentucky," Skinner said. "Her passion, determination and work ethic should be a role model for any aspiring student-athlete at all levels."
 
She directed the Wildcats to four NCAA Tournaments, including an appearance in the NCAA Regional Semifinals in 2009. She capped her career owning UK records in career assists (5,703) and aces (165). Her 5,703 assists also ranked fifth all-time in SEC history.
 
Furthermore, Rumely ended her career ranking in the top 10 in sets played (third), block assists (ninth), digs and attack percentage (10th) and she is the only player to record a triple-double in a match in program history (10 kills, 56 assists, 18 digs vs. Ole Miss).
 
At the conclusion of her career, she played professionally in the top professional division in France, Ligue A, as the starting setter for Nantes Volley Feminin. She then entered the coaching ranks where she's served as an assistant coach at North Texas (2011-12), Wake Forest (2013-15), Arkansas (2015-16) and LSU (2017-present).
 
The SEC Women's Legends program is in its 19th year and Rumely is the first UK volleyball player to earn recognition. She's the eighth volleyball player to be a part an SEC Legends class.
 
Below is the list of the 2019 SEC Women's Legends:
 
ALABAMA – Rick Moody; 1989-2005, Basketball (Coach)
ARKANSAS – Stacy Lewis; 2005-08, Golf           
AUBURN –Katy Frierson Freels; 2008-11, Soccer
FLORIDA – Marshae Dotson; 2005-09, Basketball
GEORGIA – Kelly and Coco Miller; 1997-2001, Basketball
KENTUCKY – Sarah Rumely; 2006-09, Volleyball
LSU – Karen Mayson Bahnsen; 1980-1983 (Student-Athlete), 1984-2018 (Coach) Golf
OLE MISS – Teneeshia Jones-Boyd; 1999-2001, Track & Field
MISSISSIPPI STATE – Carri Wood; 1990-93, Golf
MISSOURI – Nancy Rutter; 1974-78, Basketball
SOUTH CAROLINA – Heather Larkin; 1994-97, Volleyball
TENNESSEE – Nicky Anosike; 2004-08, Basketball
TEXAS A&M – Courtney Walker; 2012-16, Basketball
VANDERBILT – Simone Charley; 2013-17, Soccer/Track & Field
 
For the latest on the Kentucky volleyball team, follow @KentuckyVB on Twitter and Kentucky Volleyball on Facebook and Instagram and on the web at UKathletics.com.