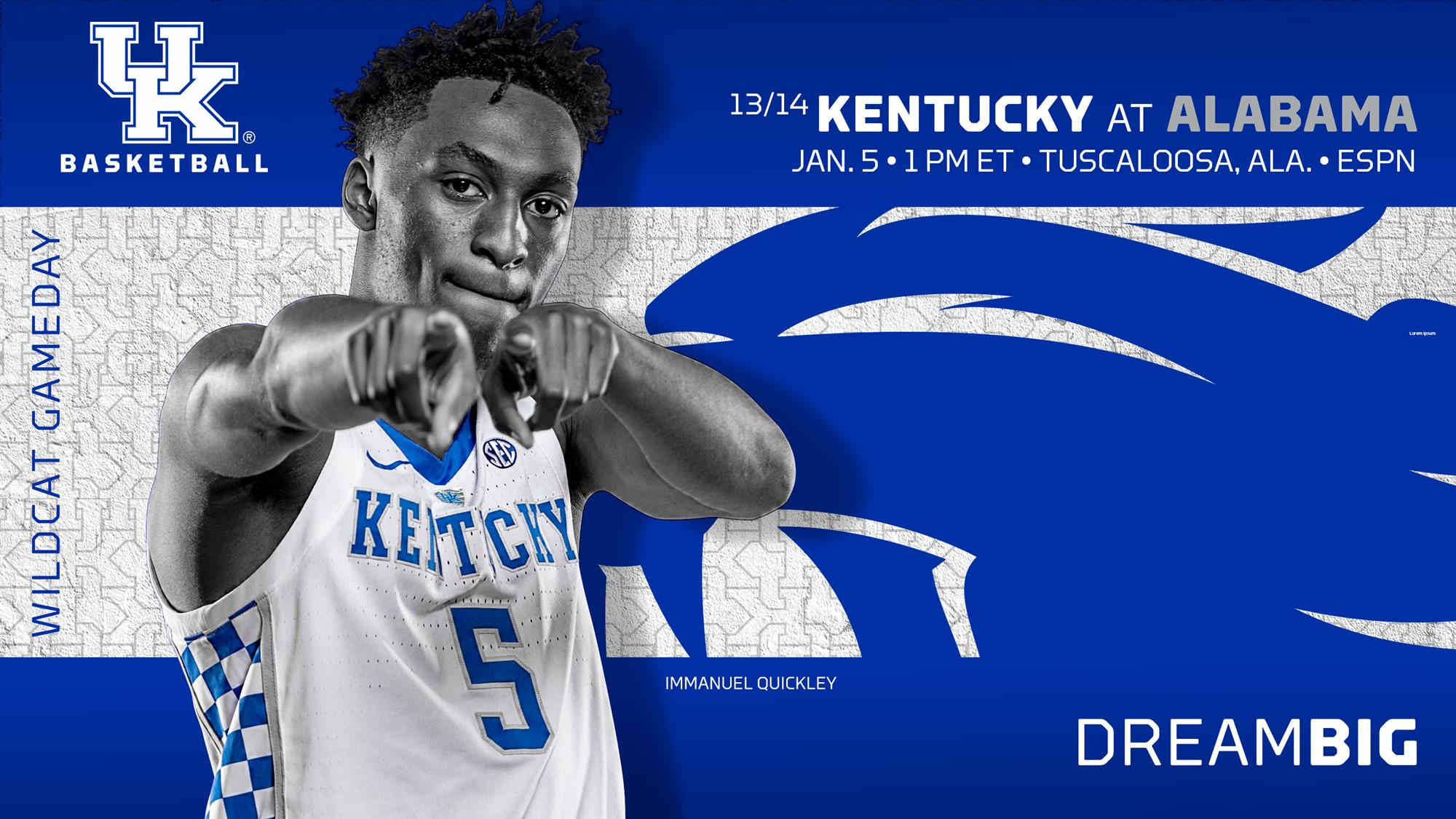 January 3, 2019 - 06:30 PM
UK Focused on Becoming 'Championship Team' on Eve of SEC Play
Regular-season play in the Southeastern Conference is upon the Kentucky Wildcats.
 
It's going to be a grind. There's just no way around that.
 
A season ago, an SEC record eight of the league's 14 teams made the NCAA Tournament. Entering the start of conference play this weekend, 12 are ranked among the top 82 in NET rankings. That includes Alabama, which carries a 9-3 record into Saturday, when the Crimson Tide will host the No. 13/14 Wildcats (10-2) at 1 p.m. at Coleman Coliseum.
 
The game won't be easy. Neither will the 17 that will follow it. The unique thing about being at Kentucky, though, is those 18 challenges – nine in hostile road environments – are somewhat of an afterthought.
 
That's not meant as a slight to UK's SEC brethren. It's just that John Calipari and the Cats have something more important on their minds: themselves.
 
Kentucky at Alabama

Sat., Jan. 5 – 1 p.m. ET
Coleman Coliseum
Tuscaloosa, Ala.
Game Notes: UK | UA
UK Athletics App
Digital Guide

Coverage

TV: ESPN
Radio: UK Sports Network
Watch
Listen
Live Stats

UK
2018-19 Stats
UA
83.1
PPG
76.5
69.4
Opp PPG
71.3
.493
FG%
.457
.423
Opp FG%
.442
39.3
RPG
39.0
.360
3PT FG%
.340
.380
Opp 3PT FG%
.351
.744
FT%
.678
14.6
APG
12.8
6.6
SPG
5.2
5.8
BPG
3.8

"I learned from Larry Brown to worry more about your team than the other," Calipari said.
 
That's why the Cats have been spending a lot of their time during the holiday break on something you might assume would happen in the preseason.
 
"Well, we really had to define roles a little bit better and I had to help them with that," Calipari said. "As we did that, people rolled into those positions and started playing better."
 
Indeed, UK is coming off its best two performances of the season: a neutral-site win over North Carolina and a road victory over archrival Louisville, both coming in fairly convincing fashion. The games had the weight of ones played in March, not December, which are exactly the kinds of games Kentucky wants to win to accomplish its true goal: becoming a championship-caliber team.
 
In other words, Kentucky isn't doing a single thing focused on winning games in December and January. However, making strides toward becoming a championship-caliber team should lead to wins right now. Ashton Hagans is proof of that.
 
"For us to be a championship team, what does Ashton Hagans have to do?" associate head coach Kenny Payne said. "He has to be a pest defensively. He has to get people shots. He has to push the ball in transition and he has to control the offense. That's his role."
 
Hagans has begun to capably fill that role. He hasn't scored more than 11 points in a game this season, but his defense (11 steals over the last two games) and improved decision-making have been game-changing.
 
"One of the things we talk about here is that it's easy to talk about scoring," Payne said. "Championship basketball, winning basketball, reaching your dreams as a basketball player means you can impact the game in other ways. We don't want players here that can go score 30 points a game, get two rebounds and one assist. You can't help us win a championship with that. Get 15 points, get eight rebounds, get seven assists, get three blocks."
 
PJ Washington is putting up numbers just like that lately. Tyler Herro, meanwhile, scored at a higher level against Louisville as his outside shooting rounded into form, but Payne is pleased with him more for the diverse game he's playing. Both, like Hagans, are making significant contributions on defense.
 
"Well, if we're going to be a great defensive team, a team again I say trying to win a championship, we have to be on point for 40 minutes defensively," Payne said. "We've made a big jump. We still have a long way to go, but we've made a big jump."
 
Alabama will present another test on that front, starting with Kira Lewis. The freshman point guard leads the Tide in scoring (15.0 ppg) and assists (3.1 apg) while shooting better than 40 percent from 3-point range.
 
"He's a very, very good basketball player," Payne said. "When you watch film and you see his impact on Alabama basketball, he's pretty good. We knew it because, you know, we talked to him. (We) talked about him and recruited him a little bit, but he's a really good basketball player who controls a lot of stuff for their team. He's going to be a handful because he can shoot it. He's really fast and he can pass the basketball."
 
Alabama also relies on returners Donta Hall, John Petty, Dazon Ingram and Herbert Jones, as well as Texas transfer Tevin Mack. And don't forget about the Crimson Tide home crowd, which will be hungry to end Kentucky's 10-game winning streak in the series.
 
"I just think that anytime you're playing on the road, the true test of a player, the true test of a team is can you go on somebody else's court and have success?" Payne said. "As a player, I wanted to be the player that had better games on the road than I did at home. I hope that we teach these guys that. Because playing at home is one thing, but if you're going to be a championship team, you've got to go into the other team's home and beat them."
Freshmen Lead Cats Past Louisville
Tyler Herro better get used to being the center of attention after a career performance that also showed how No. 16/15 Kentucky has progressed since its season-opening blowout loss to Duke.
The freshman guard had a career-high 24 points, Keldon Johnson added 15 and the Wildcats beat Louisville 71-58 on Saturday in this fierce Bluegrass rivalry.
A close game for 10 minutes quickly swung toward the Wildcats (10-2) behind an 11-0 run for a 31-17 lead. The spurt typified their success on both ends. They kept the Cardinals (9-4) from passing and driving inside and grabbed offensive rebounds leading to second and third chances.
Herro thrived the most, making his first three attempts on the way to finishing 10 of 13 from the field with four 3-pointers. That surpassed his previous best of 18 achieved twice, most recently on Dec. 1 against UNC Greensboro.
"I felt like I was in a rhythm since warmups," said Herro, who has averaged 16.7 points over his past six games. "But I feel like my shot's going to work all the time."
Johnson was just 5 of 13 but helped Kentucky keep a double-digit lead for much of the final 30 minutes. The Wildcats won their third in a row overall and 10th of 12 in the Bluegrass rivalry.
Kentucky's latest victory was more notable, coming a week after it controlled then-No. 9/10 North Carolina 80-72 in Chicago. Though the most challenging part of the Wildcats' season begins with next week's Southeastern Conference opener at Alabama, they appeared to have turned a corner in many phases.
"At the beginning of this year we were a bad defensive team," Kentucky coach John Calipari said. "Unwilling passers, `I'm only passing if I don't have a shot.' We had guys so focused on themselves they couldn't play for us.
"You know what, I missed it. I missed it as a coach. After I saw it, (I said) we are going back to these things and get better at this stuff."
Calipari credited Herro and Johnson for starting Kentucky's offensive flow.
"We started playing and he got by a guy," the coach added, "Keldon got by a guy, and then we opened up the offense a little bit and played a little different than we've been playing. But he (Herro) played well. He also rebounded the ball, ends up with five rebounds."
Christen Cunningham had a season-high 20 points and Jordan Nwora 17 for Louisville, which shot just 36 percent in having its three-game winning streak stopped. Hoping to win its second game over a ranked school since beating then-No. 9 Michigan State last month, the Cardinals didn't get closer than 50-41 with 9:39 remaining.
"We were playing down 10 the whole game," first-year coach Chris Mack said. "We could never get it down where we could put a little bit of game pressure on them. A big part of that is us; a larger part is our opponent."
• UK improved to 8-2 in the KFC Yum! Center (including NCAA Tournament appearances)
• The Wildcats are 93-43 in true road games under Calipari
• Kentucky is now 243-5 in the Calipari era when leading by at least 10 points at any time in the contest. UK has had a 10-point lead in a whopping 85.3 percent of Calipari's 285 wins at Kentucky
• UK dominated in the paint, outscoring the Cardinals 42-22 in the interior. The Wildcats are now 8-1 on the season when outscoring its competition in the paint
• Kentucky blocked eight shots and has now tallied four or more blocks in all 12 games
• The Wildcats are now 159-7 when limiting the opponent to 63 points or less. Kentucky held Louisville to 58 points
• In limiting the Cardinals to 36.4 percent from the field, UK improved to 168-15 under Calipari when limiting the opponent to 40 percent or less
• Herro, who made a career-high four 3-pointers, was named the Bluegrass Sports Commission's MVP and finished the game two points shy of tying the freshman record for points vs. the Cardinals as a freshman. He became the fifth player in program history to have his first career 20-point effort come against Louisville joining (Winston Bennett, 1985; Josh Harrellson, 2010; Michael Kidd-Gilchrist, 2011; Shai Gilgeous-Alexander, 2017)
• Ashton Hagans scored a career-high 11 points and added three steals and three assists
• PJ Washington tied his career high with four blocks
• Calipari is 16-7 (.696) against Louisville all-time and has the second-most wins against the Cardinals of any active coach in the country (Bob Huggins, 17-15)
• Kentucky has held Louisville to less than 50-percent shooting in 22 straight games
• UK has consecutive wins of 13 points or more against Louisville for the first time since 1995-96
• The Cats are 22-1 against the Cardinals when limiting their oppponent to 69 points or less since 1983
S-E-C! S-E-C! S-E-C!
Kentucky has the unquestionable reputation as the league's gold standard. Since the SEC's inception in 1932-33, the Wildcats have been the most dominant team in the league, recording a 982-278 mark (.779) in regular-season conference play. Only two other teams have won more than 700 regular-season SEC games (Alabama and Tennessee), and no other team has a better winning percentage.
• Kentucky has averaged 11.6 wins and only 3.3 losses per season in 85 seasons in the SEC
• UK has won 48 SEC titles and 31 SEC Tournament championships
• The Wildcats have won 16 of the last 26 SEC Tournament titles
• Kentucky has won at least a share of five of the last nine SEC regular-season championships under head coach John Calipari
• UK has played in the championship game of the SEC Tournament in eight of Calipari's nine seasons, winning the tournament six times, including each of the last four
• The SEC won the Big 12/SEC Challenge for the first time with a 6-4 margin in 2018
• Eight teams made the 2018 NCAA Tournament field, the second most of any league in the country and a new conference record. The league went 8-8
• Four teams from the SEC rank in the top 25 of both major polls
• Ten SEC schools rank in the top 75 of the NCAA's Jan. 1 NET rankings
Calipari in Elite Company with Conference Championships
Kentucky men's basketball coach John Calipari added another first to his Hall of Fame career in 2017.
When Kentucky clinched at least a share of the 2017 Southeastern Conference championship by beating Vanderbilt on Feb. 28, 2017, he made history as a head coach. Calipari became the first NCAA Division I coach to lead three different programs (UMass, Memphis, Kentucky) to five on-court regular-season league titles five different times. He won the Atlantic 10 at the helm of UMass in 1992, 93, 94, 95 and 96. Memphis claimed the Conference USA crown in 2004, 06, 07, 08 and 09. Kentucky has captured the SEC five times in 2010, 12, 15, 16 and 17.
Perhaps more impressive is that Calipari has 30 combined regular-season and tournament championships after the 2018 SEC Tournament title. That trails only Mark Few of Gonzaga (32 titles) among all active coaches. All-time, Calipari trails only the great Adolph Rupp (41) and Few.