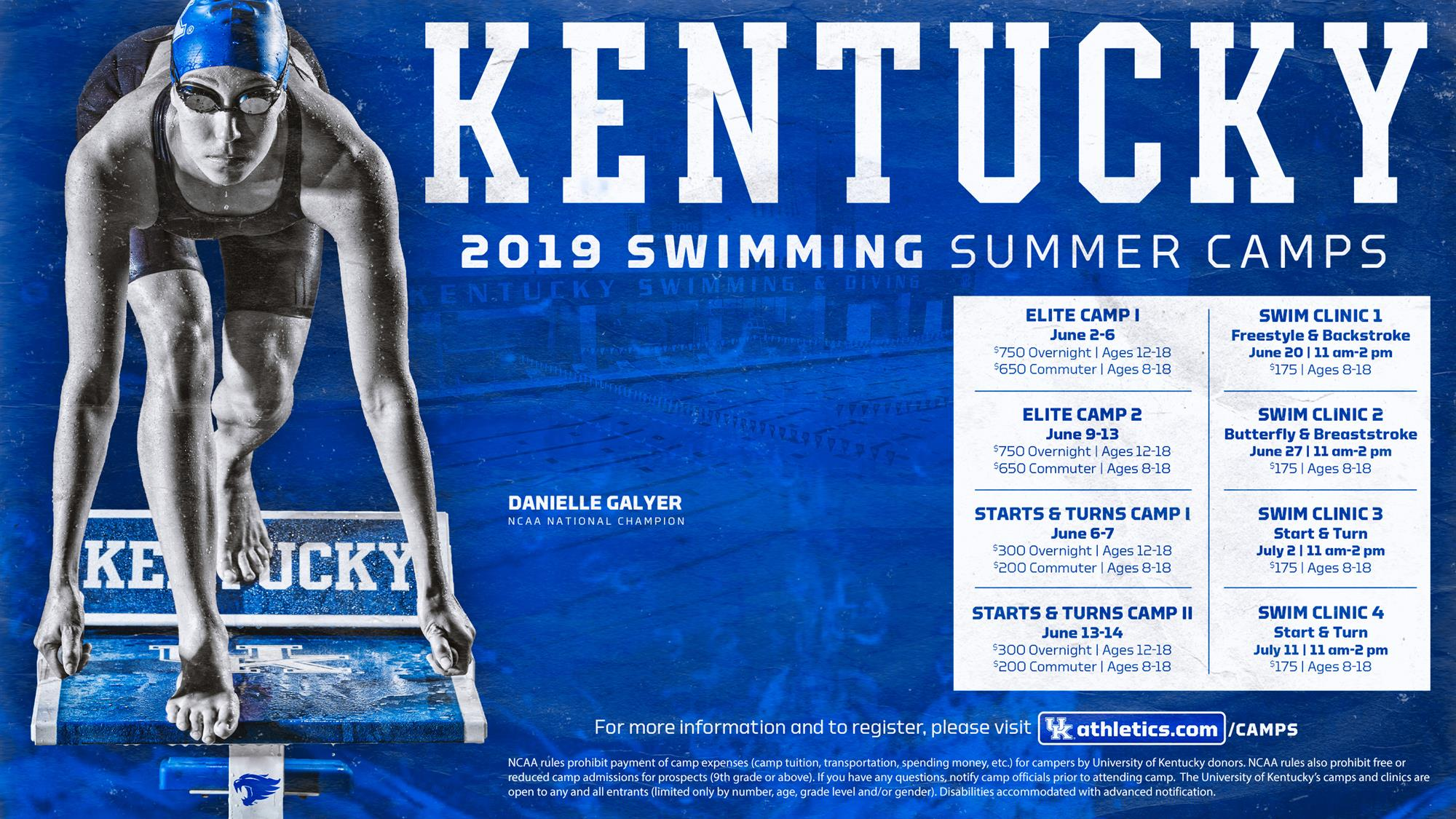 December 21, 2018 - 10:15 AM
2019 Kentucky Swimming & Diving Summer Camps
***July 11th Camp Has Been Cancelled***
ELITE/STARTS & TURNS CAMP GENERAL INFORMATION
$100 discount for registering for both the Elite Camp and Starts & Turns Camp
$200 deposit for ELITE Camps only
$50 discount for UK employees
$25 Sibling Discount  
REFUND POLICY
If a camper notifies camp administration in advance (minimally a week prior to their respective camp) of the intent to withdraw from a camp, a refund will be processed in full except for a $25 service fee. Refunds will be given after the camp begins only in the case of injury or family emergency.
WHAT TO BRING
All participants need to bring necessary swim gear: suits, goggles, towels, swim caps. Also please bring tennis shoes, spare dry clothes for when we're not swimming and cash for any desired purchases from the UK Camp Store. All personal items should be labeled. Please do not bring any valuables. Bring all swim bags onto the pool deck – do not leave personal items in the locker room. Remember, lunch is provided at no additional cost and will be served at The 90 (UK Dining Services) across from the W.T. Young Library (3 minute walk). There is a camp store which sells snacks (late afternoon) and gear.
DIRECTIONS
All check-in, check-out and camp activities will take place at the Lancaster Aquatic Center: 416 Complex Dr., Lexington, KY 40506
ADDITIONAL INFO
Parents are welcome to stay during camp and observe instruction and activities from the balcony area.
CAMP STORE
Snacks, drinks, swim caps, t-shirts, water bottles, etc. will be offered.
No single food/drink item will cost more than two dollars.
This store can accept CASH only.
 
MEDICAL INFO & REQUIREMENTS
UK camps require the following forms to be completed prior to participation:
1.Registration & Payment (online preferred)
2.Copy of Physical Form (must be signed by a physician in the last 12 months)
3.Copy of the front and back of health insurance card
 
UPLOAD MEDICAL FORMS ONLINE
Medical forms may be uploaded on your registration page; however you can still email (emily.lyden@uky.edu); or mail (Kentucky Swim Camps, 338 Lexington Ave., Lexington KY 40506) medical forms and insurance requirements.
You will NOT be able to pay by credit card at check-in.
ONLY CHECKS OR CASH.