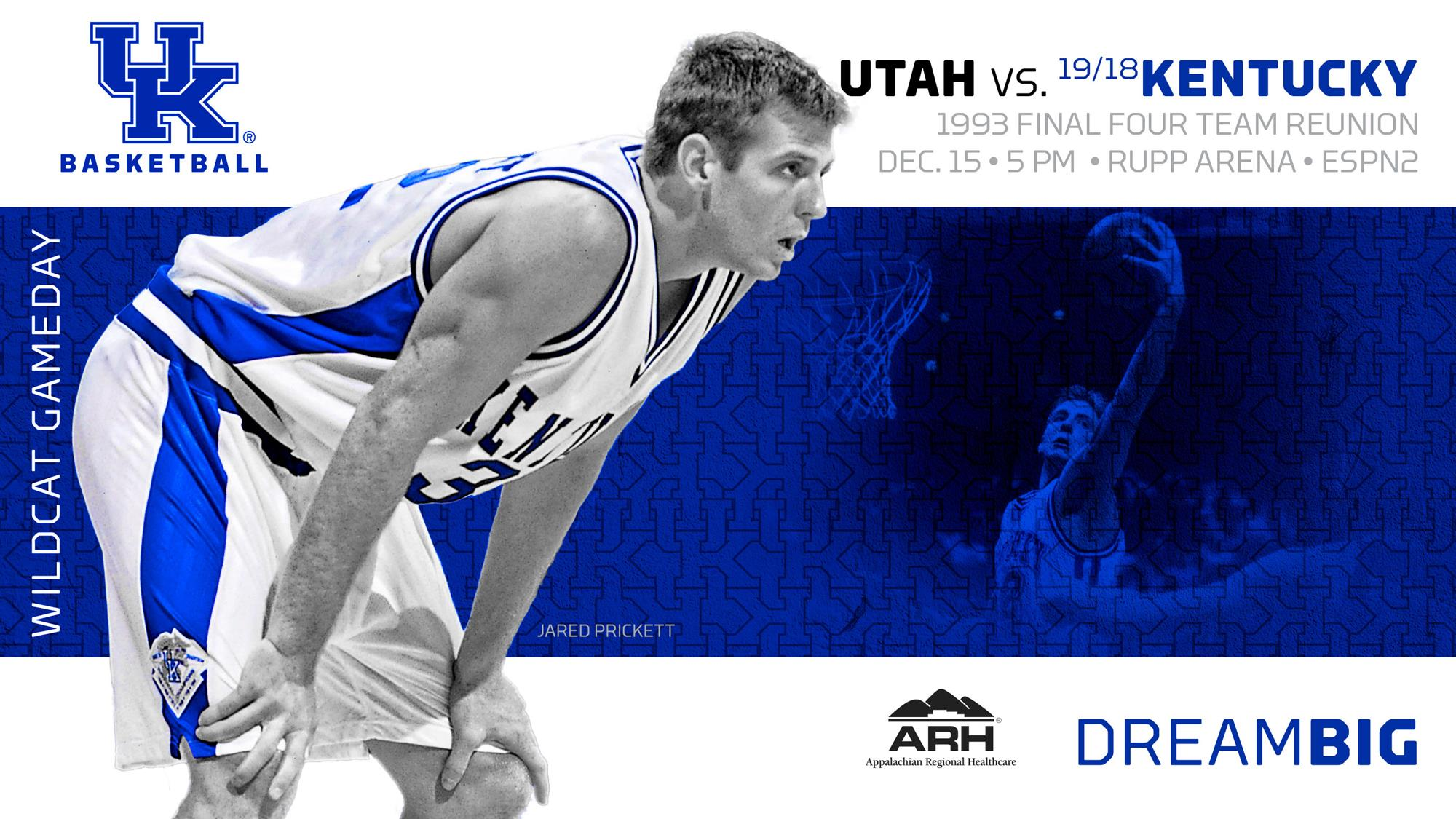 December 14, 2018 - 05:23 PM
Calipari Asking Cats to Relish Tough Stretch
John Calipari isn't one for looking ahead, but he knows Kentucky's schedule. He's well aware the Wildcats' final 21 games of the regular season will all come against Power Five Opponents.
 
Coach Cal is also well aware what that means for his team.
 
"We're not going to have any blowout games," Calipari said. "They're done. We didn't blow out people that you thought we should so every game we play is going to be a war."
 
First comes a matchup with Utah. Then comes a neutral-site battle with North Carolina and a trip down Interstate 64 to face archrival Louisville with an 18-game Southeastern Conference grind to follow with a game against Kansas mixed in.
 
That leaves the No. 19/18 Cats (7-2) but one choice.
 
Kentucky vs. Utah

Sat., Dec. 15 – 5 p.m. ET
Rupp Arena
Lexington, Ky.
Game Notes: UK | UU
UK Athletics App
Digital Guide

Coverage

TV: ESPN2
Radio: UK Sports Network
Watch
Listen
Live Stats

UK
2018-19 Stats
UU
84.2
PPG
72.6
71.3
Opp PPG
71.9
.488
FG%
.450
.426
Opp FG%
.447
41.2
RPG
34.5
.340
3PT FG%
.360
.400
Opp 3PT FG%
.335
.757
FT%
.712
14.1
APG
14.1
5.8
SPG
3.3
5.4
BPG
2.4

"Well, love it," Calipari said. "You only learn from that kind of competition. I told you before, you don't learn from Popcorn State, beating them by 40. You don't learn. But you do learn when every game is like this. Every game will be a war. Every game will come down to three possessions. Alright, now we know playing winning basketball is going to matter."
 
That begins Saturday at 5 p.m. at Rupp Arena against the Utes (4-4). 
 
"They're big," Calipari said. "They're really big. They run good stuff. They space the court. They play kind of a matchup zone that's interesting. Sometimes they'll stay in it; sometimes they'll go man. So they'll do some stuff that you'll have with teams you've got to look at and say, 'OK, let's make sure we cover this.' "
 
Utah does indeed have size, with a ranking of 21st in average height according to kenpom.com and three 7-footers on the roster. The Utes also have a face familiar to PJ Washington in Donnie Tillman, a fellow Findlay Prep alumnus averaging 11.4 points and 6.8 rebounds as a sophomore.
 
"Utah is a really great team," Washington said. "They run a lot of plays. I actually played with a guy that goes to Utah in high school. I know him pretty well and I know he's going to go out and try to play his game. I'm going to be happy to see him and just go out there and try to get a 'W' for us."
 
Washington will be happy to see his former teammate, but he and the Cats are more worried about returning to the floor and getting back in the win column after an overtime loss to Seton Hall last weekend.
 
"The biggest takeaway for us, Coach was saying we didn't get out in transition and score," Washington said. "We usually do that with some of the best teams in the country. I think we only scored like two points in transition that whole game. That was the biggest emphasis for us. And then, guarding the ball on the  defensive end in the second half. We had a lot of letdowns and we're trying to capitalize on that in practice this week."
 
UK now has plenty of time for that, as finals are wrapped up and practice restrictions gone with them.
 
"Since finals are over for us, we've just been in the gym," Washington said. "Early mornings, in the evenings, even after that. Just a lot more bonding time. We've been going out to eat together and stuff like that. Just spending a lot more time with the guys."
 
Of course, Quade Green is now missing from that group after electing to transfer earlier this week. It was an amicable parting, but one that leaves UK without a reliable scorer and shooter.
 
"Guys have to step up and just play better, play better on both ends of the floor," Washington said. "We got Jemarl (Baker) back, so we're just hoping he brings where Quade left off. Happy for him and happy for Jemarl as well."
 
Baker saw the first playing time of his college career against Seton Hall, playing one minute at the end of the first half. He knows Green's departure brings opportunity for him, but he also isn't going to let that get to his head in any kind of negative way.
 
"I don't feel any pressure or anything like that," Baker said. "We wanted him here, but he had to do what was best for him and now I'm just going to step in and work hard and play my game."
 
Baker has been listening to his coach.
 
"He should be able to score the ball for this team, which is something that we need," Calipari said. "He's not just a 3-point shooter. He can make 3s, but he's more of a scorer, and I told him – the other stuff, make really simple plays. Don't try and create and go crazy. Just score the ball. Figure out where you can score. If you can't, make an easy play. Let these other guys do what they do. You do what you do.
Kentucky Falls to Seton Hall in Overtime
PJ Washington scored a career-high 29 points and grabbed 12 rebounds, but ninth-ranked Kentucky came up short, losing to Seton Hall 84-83 in overtime on Saturday in Madison Square Garden in the Citi Hoops Classic.
Kentucky (7-2) appeared to have lost the game at the end of regulation when Seton Hall's Myles Powell hit a 3-pointer with 1.5 seconds left in the game to give the Pirates a 70-67 lead. But Washington inbounded to Keldon Johnson, who drilled a midcourt three to tie the game 70-70, forcing overtime.
In the extra session, Seton Hall scored the first four points to lead 74-70. The Pirates would hold the lead until Johnson struck again, with another 3, giving the Cats an 82-81 lead with 42 seconds left.
On Seton Hall's next possession, Myles Cade missed a 3-pointer and Johnson secured the rebound. UK's Ashton Hagans was fouled, and was able to make one of two at the line to make it 83-81 with 23 seconds remaining.
Seton Hall (6-3) had a chance to take the lead on its last possession, again going to Cade, who converted a 3-pointer from the right side to give the Pirates an 84-83 lead with 9.5 seconds left. Kentucky did not call a timeout, instead choosing to play. Johnson got a look at a 3, but Seton Hall's Quincy McKnight got a hand on the shot, and the ball fell harmlessly as time expired.
Kentucky controlled the first half, trailing only once, at 12-11. The Cats struggled to score in the first 20 minutes, but the UK defense held Seton Hall in check. Kentucky used a 9-1 run to take a 24-16 lead, which would be the Wildcats' biggest advantage of the game. UK led 31-25 at the break.
Early in the second half, Kentucky would again lead by eight, 35-27. But with the Cats leading 39-32, the Pirates went on an 11-0 run to take a 43-39 advantage with 12:39 to play in regulation. Kentucky would tie the game 43-43 and the teams would play evenly until the Cats had a 5-0 run to lead 58-54 with 4:45 to go.
Kentucky held a 67-64 lead with 1:48 remaining in regulation, but Powell, who led Seton Hall with 28 points, hit a contested 3 with 1:13 left to tie the game at 67 apiece. Powell struck again with two seconds left, setting the stage for Johnson's heroics, which sent the game to extra time.
Reid Travis had 13 points and six rebounds for the Cats, while Johnson and Tyler Herro each had 10.
• The loss snapped a seven-game winning streak for the Wildcats and ended their four-game winning streak in Madison Square Garden, where the Wildcats are 13-4 all-time
• UK led at halftime despite going 10:23 of game time without a field goal in the first half. The Wildcats missed 14 straight shots during the stretch. Kentucky was able to stay in front by holding Seton Hall to 33.3 percent from the floor in the first half with 10 turnovers
• The Wildcats won the battle of the boards for the eighth straight game. UK is plus-138 on the boards during that stretch, the most dominant eight-game rebounding run of the John Calipari era
• Kentucky blocked a season-high seven shots
• UK shot 80.0 percent at the free-throw line (24 of 30) and has made at least 70 percent in all but one game this season
• Washington's double-double was his third of the season and sixth of his career. He also added a career-high-tying four blocks and a career-high-tying four assists. He made a career-best 12 shots at the foul line on 13 attempts
• Hagans tied his career best with four assists in addition to eight points
• Jemarl Baker Jr. made his first career appearances in a regular-season game with 1:19 left in the first half. Baker redshirted last season and had missed the first eight of this season for precautionary reasons (swelling in his left knee)
Kentucky Faces Utah 20 Years after 1998 National Championship
A handful of months past the 20th anniversary of the 1998 national championship game in San Antonio, UK will host Utah for the first of a two-game series with the Utes on Saturday.
The Comeback Cats, who made a habit of rallying from behind during their national championship run, including overcoming a 10-point hole vs. Utah, defeated the Utes 78-69 in the Alamodome on March 30, 1998. Although the game won't be an official reunion of UK's seventh national title, it will bring back memories of some memorable battles with the Utes, especially in the 1990s.
UK faced the Utes in four of six seasons in the NCAA Tournament from 1993 to 1998, including the '98 national championship game, the '97 Elite Eight and the '96 Sweet 16. The Wildcats won all four NCAA Tournaments matchups in the '90s.
Kentucky has actually faced Utah in the NCAA Tournament in six of its last seven meetings, including a 62-52 victory in the 2005 NCAA Tournament. The Wildcats own the overall series 9-2, but this will mark Utah's first visit to Rupp Arena and its stop in Lexington since the 1976-77 season.
Kentucky will also face Utah next season during a two-game swing out west. The Wildcats will play back-to-back games in T-Mobile Arena in Las Vegas, first vs. Utah on Dec. 18, 2019, and then Ohio State on Dec. 21, 2019, in the CBS Sports Classic.
Utah is currently 4-4 on the season as has not won or lost consecutive games all season. If you're a believer in patterns, the Cats should be wary as the Utes are coming off a loss. 
UK Welcomes 1993 Final Four Team for Reunion
The 1993 Kentucky men's basketball Final Four team will be honored this weekend, including at Saturday's home game vs. Utah, as UK continues to honor elite teams of the past.
The team will watch practice of the current team this week, take a tour of UK's facilities, enjoy a Friday evening social and then watch Saturday's game in Rupp Arena. The team will be introduced at halftime.
The 1993 team is one of 10 teams across three programs being honored during the 2018-19 athletics season, as selected by UK's reunion committee.
UK Athletics established a reunion committee as a way to honor great Kentucky teams of the past. The committee was formed to define official parameters of recognition, identify and select deserving teams, and coordinate dates and arrangements with the specific programs. Input from current head coaches and administrators was taken into account when setting the criteria.
Standards for selecting teams each year will include but is not limited to final records, conference championships and postseason finishes. The committee will place emphasis on honoring teams that coincide with yearly markers (for example, a 25th anniversary of a team's championship), although other factors will be taken into consideration.
UK honored Adolph Rupp's first three national championship teams (1948, '49 and '51) at Big Blue Madness. The 1958 national championship team will be celebrated for the Auburn home game on Feb. 23.
The 1993 Kentucky Final Four team marked the program's first visit to the national semifinals since 1984 after enduring NCAA sanctions just a few years earlier. Led by Jamal Mashburn, an NCAA Consensus First Team All-American and the Southeastern Conference Player of the Year, the Wildcats won the SEC Tournament and stormed through the NCAA Tournament with a high-scoring offense. The Wildcats scored 96 or more points in three of their NCAA Tournament games before falling to Michigan in the Final Four.
Mashburn led the Wildcats with 21.0 points and 8.4 rebounds per game. Travis Ford averaged 13.6 points and 4.9 assists per game, and Dale Brown chipped in with 9.4 points a 3.4 boards per game.