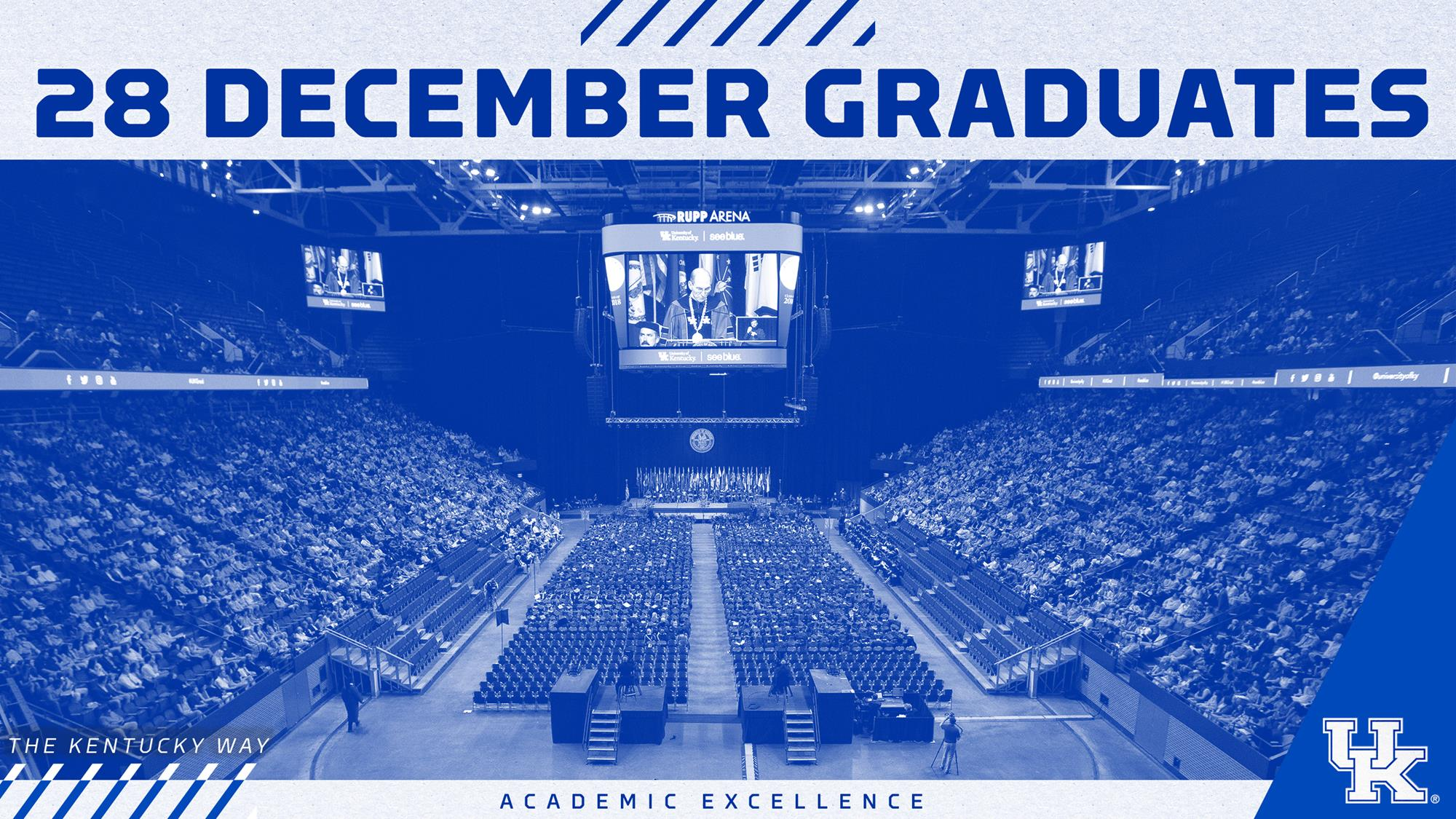 December 13, 2018 - 10:05 AM
28 Wildcats Set for December Graduation
LEXINGTON, Ky. – Twenty-eight current and former Wildcats from 11 UK teams are on track to graduate Friday.
 
These 28 Wildcats will participate in the University of Kentucky's Commencement ceremonies this Friday at Rupp Arena. Adding the 61 Wildcats who graduated in May, UK Athletics is expected to have 89 Wildcats earn degrees during the 2018 calendar year alone.
 
It's a decorated group, as five of the graduates were members of conference championship teams during their playing careers. The graduates also include 11 members of the VRBO Citrus Bowl-bound Kentucky football team and three NCAA track and field event champions (Jasmine Camacho-Quinn, Kayelle Clarke and Tim Duckworth).
 
Included are two Wildcats who are expected to graduate through UK Athletics' Post-Eligibility Program. John Shelby – an All-SEC performer and key cog on UK's 2006 SEC championship team – returned to Lexington in January as a student assistant baseball coach after a professional career and will now graduate. Mychal Bailey – a two-year starter at safety for the Kentucky football team in 2010-11 – also returned to finish his degree.
 
Through the Post-Eligibility Program, UK Athletics pays for tuition and books for scholarship student-athletes who return to school after completing their eligibility. Since its inception in 1989, more than 150 Wildcats have returned to graduate through the program.
 
Below is the complete list of expected graduates:
 
John Shelby – Baseball
George Asafo-Adjei – Football
Dorian Baker – Football
Blake Best – Football
Miles Butler – Football
C.J. Conrad – Football
Tymere Dubose – Football
Mike Edwards – Football
Lonnie Johnson, Jr. – Football
Bunchy Stallings – Football
Darius West – Football
Tristan Yeomans – Football
Mychal Bailey – Football
Fred Allen Meyer – Men's Golf 
Isabelle Johansson – Women's Golf
Grace Rose – Women's Golf
Tanner Hummel – Men's Soccer 
Andrew McKelvey – Men's Soccer 
Rachael Metzger – Softball 
Erin Rethlake – Softball 
Rachael Freeman – Women's Swimming & Diving
Allie Petersen – Women's Swimming & Diving
Mami Adachi – Women's Tennis
Kayelle Clarke – Women's Track & Field
Jasmine Camacho-Quinn – Women's Track & Field
Tim Duckworth – Men's Track & Field
Anna Nyberg – Volleyball 
McKenzie Watson – Volleyball
 
These December graduates continue a tradition of academic success for UK student-athletes. Guided by UK Athletics' Student-Athlete Experience Division, Wildcat student-athletes have achieved a cumulative grade-point average of better than 3.0 in 12 consecutive semesters. In November, UK student-athletes broke school records in the NCAA's Graduation Success Rate and Federal Graduation Rate.