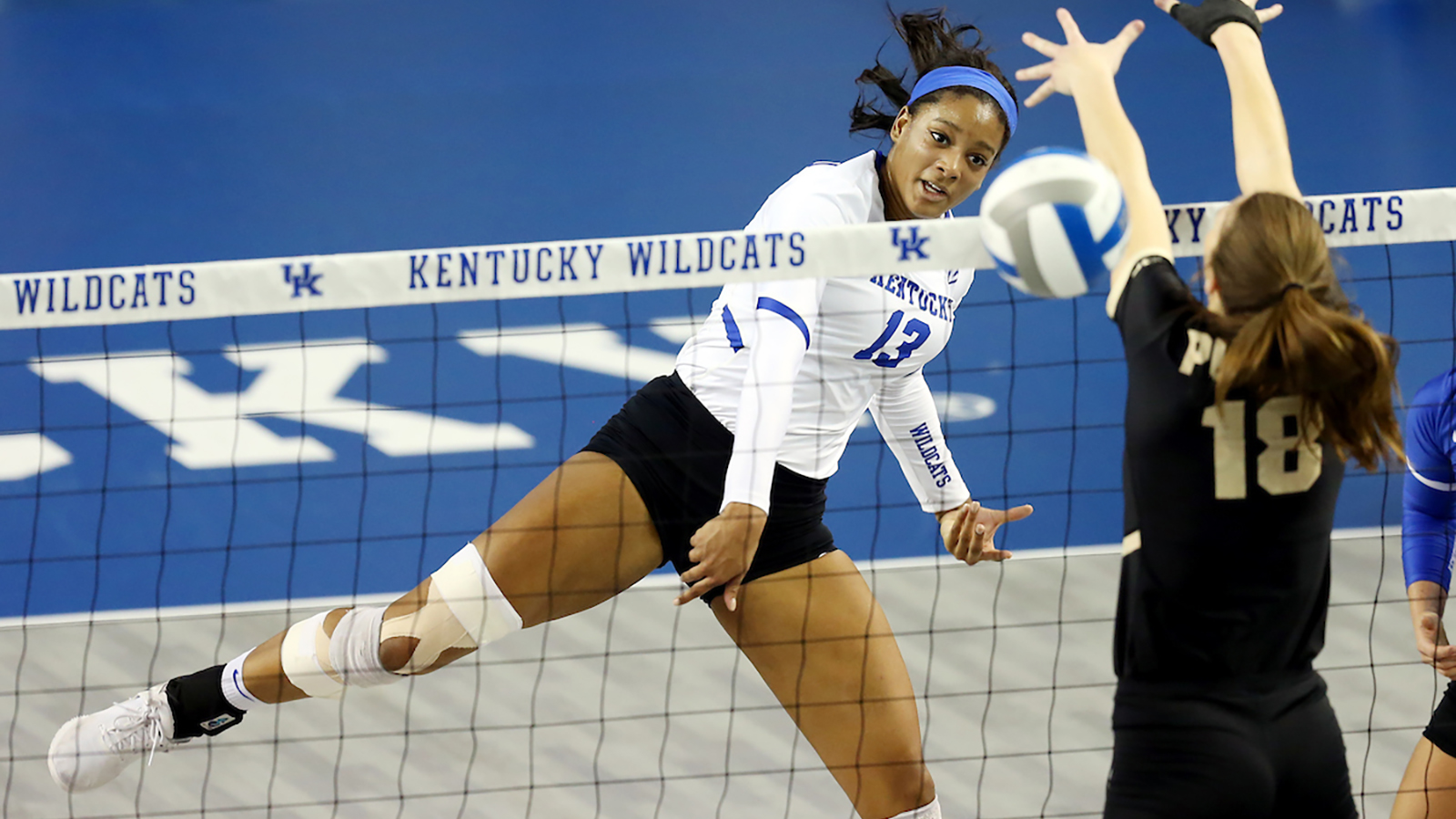 December 2, 2018 - 12:17 AM
Balanced Attack Carries Volleyball Cats to Sweet 16
On Saturday, the Kentucky volleyball team faced one of the nation's most prolific attackers, Purdue's Sherridan Atkinson. The 6-5 senior entered Saturday's NCAA Tournament second-round match ranked eighth in the country in total kills (537).
Kentucky, of course, has it's own superstar in junior Leah Edmond, who ranked 33rd in the country in kills prior to Saturday's match. But the Wildcats had something that Purdue was unable to muster in Saturday's contest – balance.
Edmond had a match-high 13 kills, but she had plenty of help on offense. Senior Brooke Morgan had 12 kills, while junior Caitlyn Cooper and freshman Alli Stumler each had eight as No. 10 Kentucky swept 12th-ranked Purdue 25-20, 25-21, 25-14 to advance to the Sweet 16.
Meanwhile, the Cats held Atkinson to just nine kills, her second-fewest this season. Atkinson got help from Blake Mohler, who led the Boilermakers with 10 kills. However, no other Purdue player had more than three kills in the match, and, as a team, the Boilermakers had just 27 kills compared to Kentucky's 49.
Kentucky head coach Craig Skinner was pleased with his team's effort on Saturday.
"We knew it was going to be a battle and our team really stepped up and made a statement today," Skinner said.
Sophomore setter Madison Lilley dished out 37 assists in the match. Lilley noted how having many weapons makes her team dangerous.
"I think we definitely knew this team was going to be really good blocking going into the match," Lilley said. "I think everyone was kind of on their A-game. Caitlyn (Cooper) was going on the right, Leah (Edmond) and Alli (Stumler) were going on the left, and then getting our middles involved is a lot of fun too. Having all the options available, even against a really good blocking team is really reassuring."
Purdue head coach Dave Shondell noted how Kentucky took advantage of it's many options in a multi-faceted offensive attack.
"A big part of our focus was (Leah) Edmond and (Alli) Stumler, who have been playing very, very well," Shondell said. "I thought we actually contained those two at a reasonable level. (Brooke) Morgan, who played great last night, played very well tonight. I think she's certainly one of the most improved players in the entire country. (Caitlyn) Cooper is a handful; just a great athlete."
Kentucky advances to next week's Sweet 16, where the Wildcats will face Nebraska, the team that knocked the Cats out of the tournament last season. If Kentucky can continue to have the kind of balance it had on Saturday night, the Wildcats will have a shot at revenge against the Huskers.