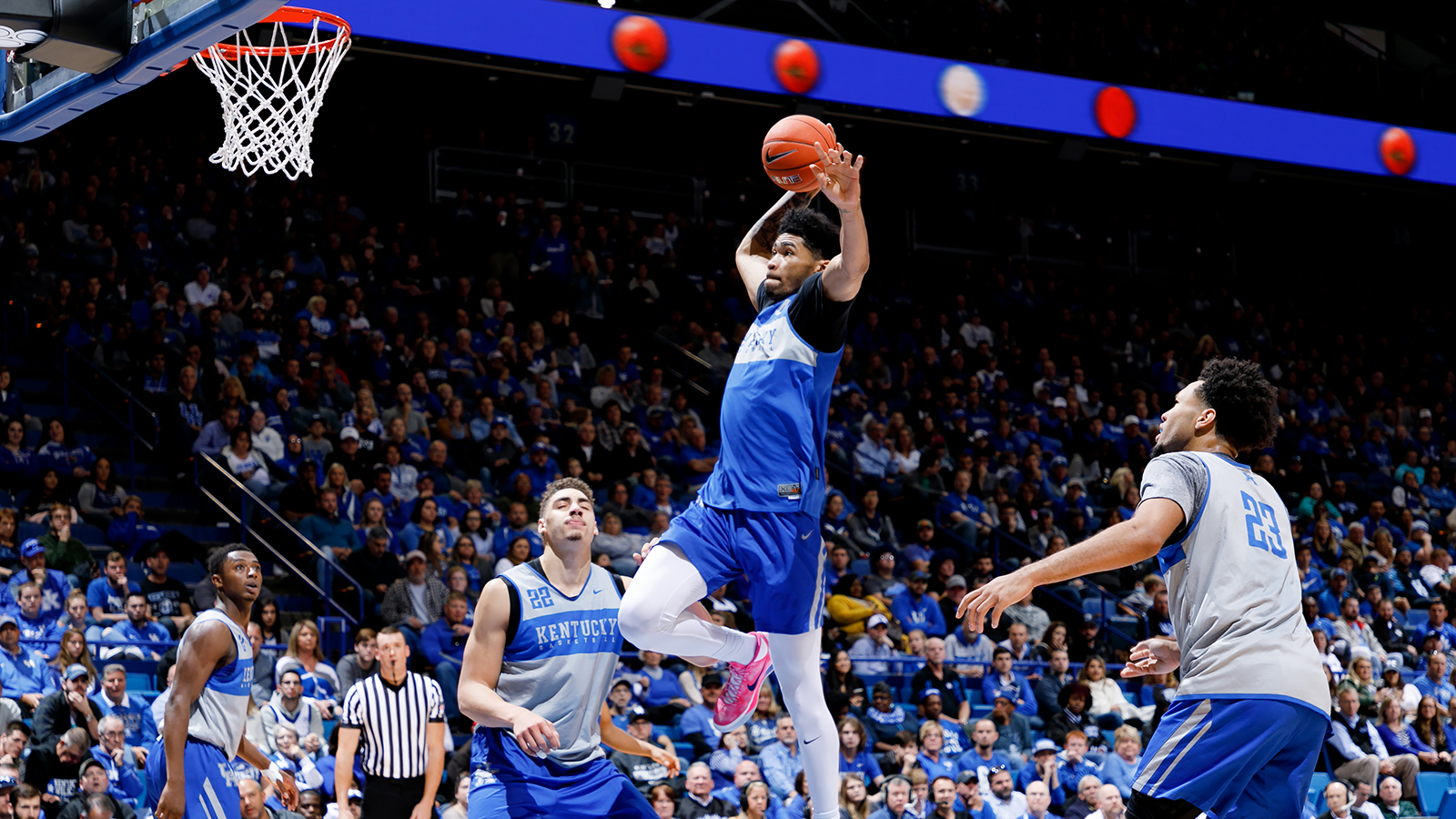 October 21, 2018 - 10:32 PM
Blue-White a First Step to Cal Figuring Cats Out
Tradition holds that Kentucky's first team wears Blue in practice, as well as the annual Blue-White Game that took place on Sunday night.
 
Anyone watching had to put aside thoughts of that tradition, because the Wildcats don't have first and second teams just yet.
 
"It appears as though we got 10 guys that can play, but there are going to be guys that separate themselves into playing more," Calipari said.
 
On the Blue team, veterans PJ Washington, Quade Green and Nick Richards were flanked by Keldon Johnson and Immanuel Quickley to start the game. They were opposed on white by Ashton Hagans, Jemarl Baker, Tyler Herro, Reid Travis and EJ Montgomery.
 
The two squads could not have been much more evenly matched, with White taking a 52-51 lead into halftime. In the second half, Coach Cal switched the squads up and matched the freshmen against the veterans. That matchup wasn't quite so even, as the veterans – in spite of a furious late rally by the youngsters – won the second half by a score of 53-44 to send Blue to a 104-96 victory.
 
All 10 starters scored at least 12 points, led by Herro's 34 points. The silky smooth freshman made 12 of his 16 field-goal tries and four of his six 3-pointers, continuing his run of play on the Big Blue Bahamas Tour that has already made him a fan favorite.
 
"I got shots up before, this morning and before the game," Herro said. "I just continue to get my reps in and it felt good to get out there and make some shots."
 
A pair of Wildcats posted double-doubles, with Travis already showing progress toward building the more versatile game he set out to build when he came to UK as a graduate transfer. Travis made plenty of the kinds of plays that made him a two-time All-Pac 12 performer at Stanford, but also hit a 3-pointer and a couple jumpers in a 27-point, 13-rebound effort.
 
Travis was matched up with Washington in the first half, causing problems for the sophomore. Washington had four points and zero rebounds at the break, but thrived afterward as the three in a massive frontcourt alongside Travis and Richards to finish with 23 points and four rebounds.
 
"Part of it is PJ going against Reid is hard," Calipari said. "It's hard to get a basket, it's hard to move, it's hard to–he found the gaps and then he got confident and made a couple shots and all of a sudden he looks different. It's hard going against him. It's hard going against each other every day."
 
That's true up and down UK's roster, and certainly true of Montgomery and Richards, the other player who posted a double-double with 16 points and 16 rebounds to go with five blocks. Montgomery might have had 21 points and eight rebounds of his own, but Richards gave as good as he got, looking a much improved player from his freshman season.
 
"It's slowed down for me a lot," Richards said. "I can see things that are going to happen before it even happens, like guys driving into the lane. I'm getting ready to go over there and contest the shot or block the shot."
 
Richards contested plenty of shots, with Hagans and Johnson frequent victims. Hagans still managed 15 points and six assists while Johnson scored 20 points, further proving the competitiveness that has become an early hallmark of this group. That will leave Calipari with a challenge, as 10 players seem to be deserving of playing time.
 
"I had them ask the question, I went around the room and I said, I said to PJ, do you want to give up any of your minutes?" Calipari said. "He said, absolutely not. How about one minute? Nope. Reid, do you want to give up? No. Hmm. So Quade, do you like Jemarl? Yes. Will you give him minutes? Nope. Please, someone give my minutes, some minutes to my son. And they all said nope.
 
"So you got to take somebody's minutes here. And if someone's better, they're going to play more. Just how it is. It's not communism."
 
That might not be an easy process, but it's one Calipari has certainly worked through before.
 
"Cal, he's always had a lot of good players on the team," Herro said. "You look back at 2014(-15), he's going to find a way to get us all—whoever deserves minutes, he's going to make sure we all get minutes. I think we'll be fine."
 
So does Calipari.
 
"So this team is a post-up team, it's got some length, I think we can pressure, looks like we can shoot it pretty good," Calipari said. "Now we're just going to have to figure out and really put some groups of guys out there and get some sort of rotation where everybody's comfortable playing."
 
A pair of freshmen win tuition
 
Continuing an annual tradition, Coach Cal offered to pay spring semester tuition for two UK students attending the Blue-White Game. The winners of the random drawing were freshmen Kyle Brubaker and Leann Calhoun.
 
Brubaker is a Richmond, Kentucky, native majoring in clinical leadership and management. Calhoun, a Grayson, Kentucky native, is majoring in neuroscience/pre-med.