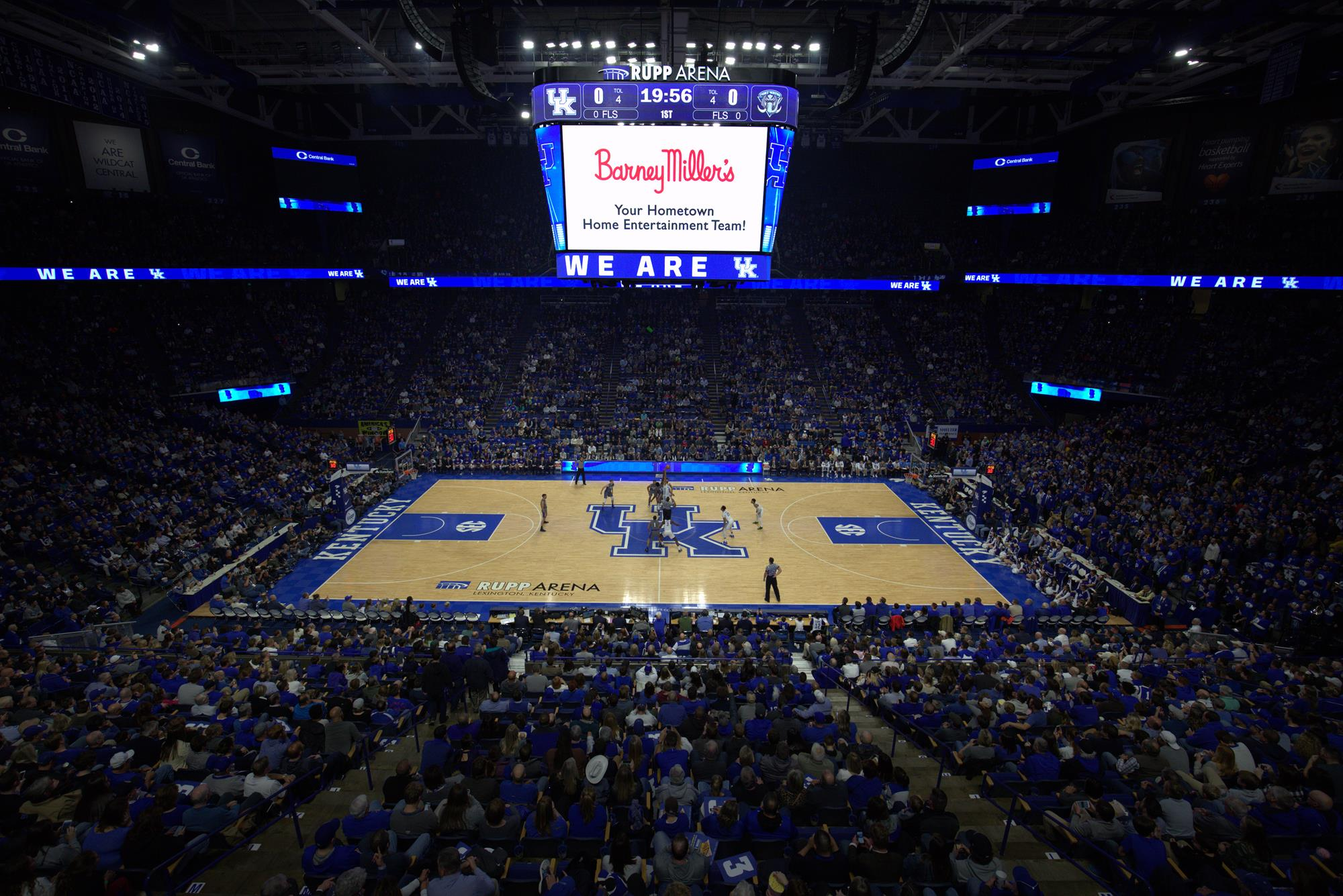 October 10, 2018 - 03:10 PM
Rupp Arena to Undergo Game-Day Changes during Renovations
LEXINGTON, Ky. – Rupp Arena will undergo significant game-day changes during the next phase of renovations, which were originally announced when Kentucky agreed to a new lease in December 2016.
 
Construction is currently underway for new club areas that are coming to Rupp Arena starting with the 2019-20 season. Upper-level chair-back seating will be installed in sections 211-217 and 228-234 through a project that will be completed next summer. This project is being undertaken in response to years of feedback from fans asking for more comfortable seating in the upper level. Season ticket locations will not be affected this season. A new seat selection process for all upper-level season ticket holders will occur prior to the 2019-2020 season. Additional information about the selection process will be communicated beginning in November.
 
The ongoing construction will impact parking and entryways into Rupp Arena this season. Fans are highly encouraged to review changes closely and arrive early to future games. Fans can review and monitor all game-day changes at UKathletics.com/GameDay.
 
Among the changes that will affect fans is to the Manchester parking lot. Construction along the back of Rupp Arena, near the Jefferson Street bridge, will eliminate a majority of parking in the Manchester Street lot. This will cause a number of spaces in the High Street lot and the Langley Garage to now be utilized for game-day operations.
 
Due to reduced parking in the High Street lots, fans are encouraged to use alternative game-day parking options that are listed below. UK Athletics will continue to work diligently with Rupp Arena and Lexington parking officials to maximize the parking areas that are available on game day.
 
The Transit Center Parking Garage (150 E. Vine St.), the Helix Parking Garage (15-160 W. Main St.) and Courthouse Garage (105 Barr St.) have been made available for the 2018-19 season in addition to the Victorian Square Parking Garage (350 W. Short St.) from prior seasons. Other Lexington parking garages will be an option for fans. Attached is a map that details additional parking space for fans for the 2018-19 season.
 
Entry into Rupp Arena will also be impacted as the student and media entrances will be relocated to the High Street entrance for the 2018-19 season. As a result, fans are encouraged to consider entering on the north side of Rupp Arena, facing the Lexington Center Shops and Triangle Park. Fans are also encouraged to arrive as early as possible and allow extra time for parking and entry, particularly for early season games as everyone adjusts to changes for this year.
 
Effective Oct. 1, Rupp Arena is now a tobacco-free facility. Designated smoking areas outside of the arena will no longer exist as those areas will be affected by the ongoing construction. Patrons who wish to use tobacco products will be asked to do so off of the Rupp Arena grounds.
 
To ensure fan safety, previous game-day operation changes will remain in effect, including the continued use of walkthrough metal detectors. UK and Rupp Arena will continue to implement a bag policy that requires that bags do not exceed 12 inches by 6 inches x 12 inches. Prohibited bags include, but are not limited to backpacks or any bag larger than the permissible size. An exception will be made for medically necessary items after proper inspection at a gate designated for this purpose.
 
UK Athletics and Rupp Arena are encouraging patrons to travel light for quicker entry. Express lanes for guests with no bags will be provided to assist in expediting the security process.
 
Fan can watch a video at rupparena.com/guest-services/uk-game-day-operations to review the security measures that will be taken upon entry into the arena.
 
Doors will continue to open at Rupp Arena 90 minutes prior to tip-off. In addition, Rupp Arena security will not permit the following items inside the arena:
All illegal substances
Artificial noisemakers and irritants
Backpacks
Banners
Beach balls
Cameras with detachable lenses
Firearms
Fireworks
Frisbees
Flasks
Glass and aluminum containers
Helium balloons
Laser pointers/pens
Mace
Outside food and beverages
Selfie sticks
Signs larger than 24 inches by 24 inches
Stadium seats in excess of 18 inches wide or stadium seats with hard plastic or metal parts
Video or audio recorders
All bags and jackets are subject to inspection at all Rupp Arena entrances. The following items are welcome inside Rupp Arena:
Bags – one per person, not to exceed 12 inches by 6 inches by 12 inches; all bags are subject to inspection
Camera lenses – maximum length six inches; no detachable lenses
Service animals – as defined by the Americans with Disabilities Act
Personal chairbacks – maximum width 18 inches and cannot have any hard plastic or metal parts
Strollers – small collapsible style
UK Athletics and Rupp Arena are committed to creating a safe and fan-friendly environment.
 
For the latest on the Kentucky men's basketball team, follow @KentuckyMBB on Twitter, Facebook, and Instagram, and on the web at UKathletics.com.