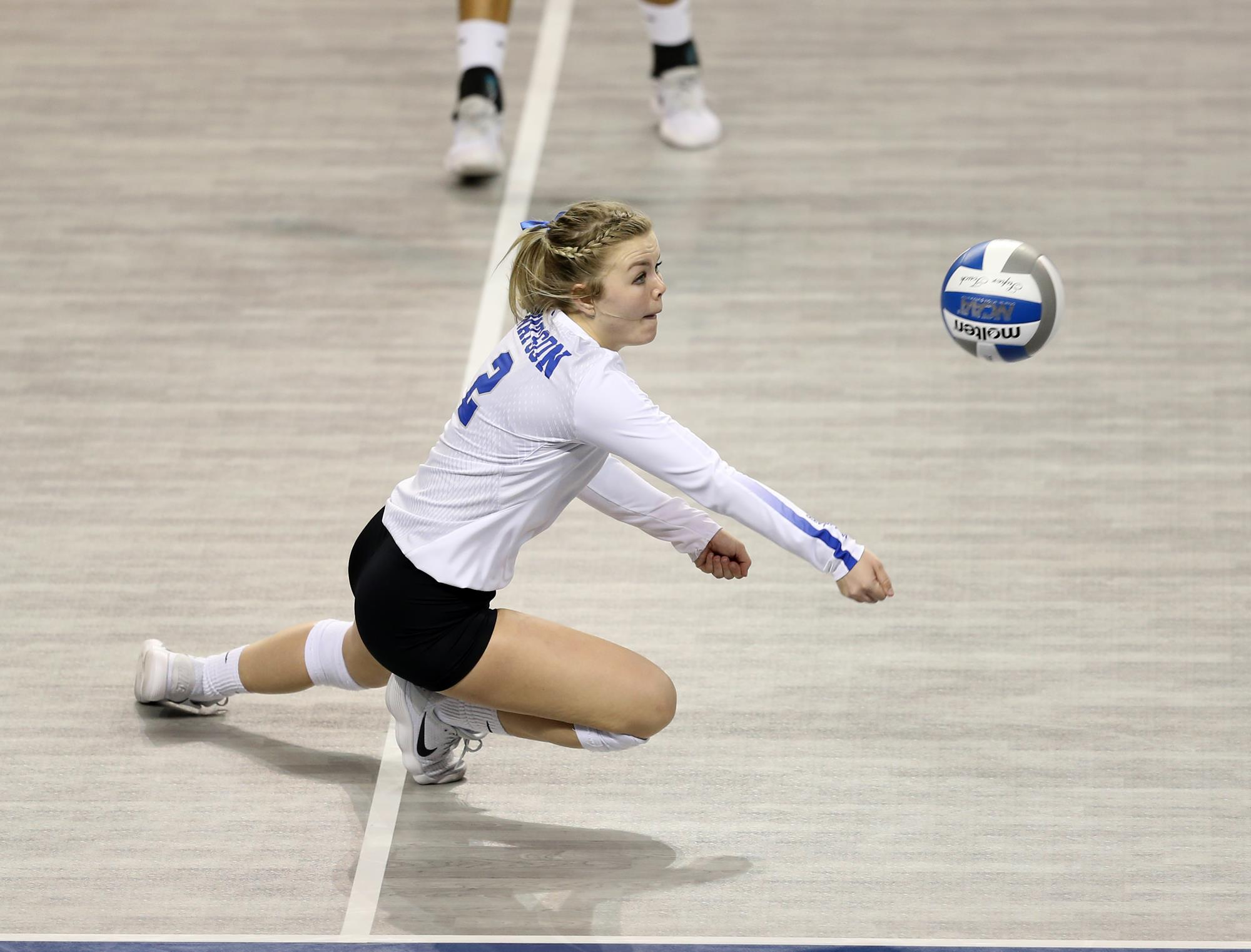 August 25, 2018 - 11:51 PM
No. 5 UK Drops Five-Setter to Northern Iowa
LOS ANGELES – The fifth-ranked Kentucky volleyball team fought hard against Northern Iowa, but ultimately dropped a heartbreaking five-setter (23-25, 25-20, 11-25, 25-17, 15-8), concluding its first weekend of action at the Trojan Invitational inside the Galen Center in Los Angeles on Saturday.
 
Junior Leah Edmond led the team in kills with 17 and added six digs, two block solos and an assist, while freshman Alli Stumler came up just short of two-consecutive double-doubles with 14 kills, nine digs, two assists and one block. Sophomore Gabby Curry set a new career-high mark in digs with 21 and added five assists.
 
Sophomore setter Madison Lilley accumulated 45 assists to go along with nine digs, five kills, and two blocks. Senior Brooke Morgan provided some crucial points off her 11 kills on a .381 hitting percentage.
 
Sophomore Kendyl Paris made her presence felt, totaling nine kills, five blocks, and two digs.
 
The Wildcats drop to 0-3 on the season, while UNI improves to 2-1. Kentucky returns to action with three matches in the friendly confines of Memorial Coliseum beginning on Friday. UK is set to take on the College of Charleston at Noon ET on Friday. The Wildcats will also play Dayton (8:30 p.m. on Friday) and Kansas (7 p.m. on Saturday) to open their home schedule.
 
SET RECAPS
 
Set 1
Lilley and Paris combined for a block on the right side to knot things back up to three. Paris got a 3-0 run started for the Wildcats to get back to within one point before a rocket from Morgan evened things up at six. Stumler gave UK an 8-7 lead with a kill of her own. The Wildcats jumped out to a 14-11 lead, forcing UNI into a timeout. UNI was able to draw even at 15 following a reversed call, but then gave up a point on a service error. With the set tied at 16, Lilley faked the set for a kill. The Panthers later gave up another point on a setting error, but things were knotted back up at 17 following a UK service error. The Panthers took the lead off a 3-0 run, which made the score 20-19, and sent the Wildcats into a huddle. Out of the timeout, it was Lilley with another dump for a kill. On the next play, UK outhustled the Panthers with great digs from Curry and Avery Skinner, and Edmond ended it with a brutal block to give UK a one-point advantage. UNI responded with two kills to retake the lead, but another Edmond kill and a block from Paris and Stumler made UNI call for time. The Wildcats gave up a point on a service error, but battled hard on the next point on an extended rally that ultimately ended with a UNI error. Stumler ended the set with a kill that bounced off two Panthers as UK claimed the opening frame by a 25-23 margin.
 
Set 2
UNI started the set with a kill before Morgan placed a ball deep in the opposite corner. Edmond powered a ball to the left and it came back over the net to her for a kill in a gap in the middle of the floor. UNI took a 5-3 lead on a mishandled ball and error from the Wildcats. A few plays later, Curry kept the rally alive again with a stellar dig, which set up a kill for junior Caitlyn Cooper, which tied the set at five. The Panthers went on a 5-1 run, forcing UK to call the first timeout of the set at 10-6. Morgan posted a kill out of the huddle before the teams traded points on a kill and a net violation. UNI extended its lead to 15-10. The Wildcats tried to get things going with kills from Morgan, Stumler, Cooper, and Paris, but it wasn't enough as the Panthers took the set 25-20.
 
Set 3
UK jumped out to an early 5-0 lead with a kill from Morgan, a block from Edmond, and three UNI errors. The Panthers responded with a kill, but the Wildcats took the next five points on a service error, kills from Stumler, Lilley, Paris and two Panther errors. UNI was able to salvage a point, but a service error ultimately led to two-consecutive kills from Edmond, which made the score 12-2. UK went on an 8-2 run that featured two-consecutive blocks from the pair of Cooper and Paris, and kills from Cooper, Morgan and Stumler. Morgan sent another ball to the back for a kill to give the Wildcats a 22-6 advantage. A well-placed shot to the opposite left line from Paris extended the lead to 16 before she claimed the set, 25-11, with a power shot to the middle of the floor.
 
Set 4
Stumler and Edmond fired two balls to the middle of the floor to tie things at two. The teams went back-and-forth to six. Stumler picked up her 12th kill of the match on the next play. The Panthers claimed the next four points off a service error, two-consecutive blocks, and a kill, forcing UK to ask for time. The Wildcats closed the gap to two at 11-9 after a tip from Stumler and a Panther net violation. UNI added two more kills on the following plays, but Morgan responded with a kill down the right side. Curry's hustle showed again on the next rally and led to an Edmond kill to remain within two. Back-to-back kills from the Panthers pushed their lead back to four at 15-11. The Panthers went on a 4-1 run before Edmond grabbed her 14th kill, got the score to 20-14. UNI finished off the set with an ace and two kills, 25-17.
 
Set 5
UNI claimed the first two points of the set before Edmond capitalized on a ball that came back over the net. The Panthers went on a 6-1 run to the interchange before it was halted by a kill from Edmond to make it 9-3. Skinner entered two plays later to try and give UK life with a kill, but UNI added two more points to make it 12-5. Skinner responded with her second kill of the set, which was followed by a hard-fought rally that ended with a hammer from Morgan, but ultimately the Wildcats came up short by a score of 15-8.