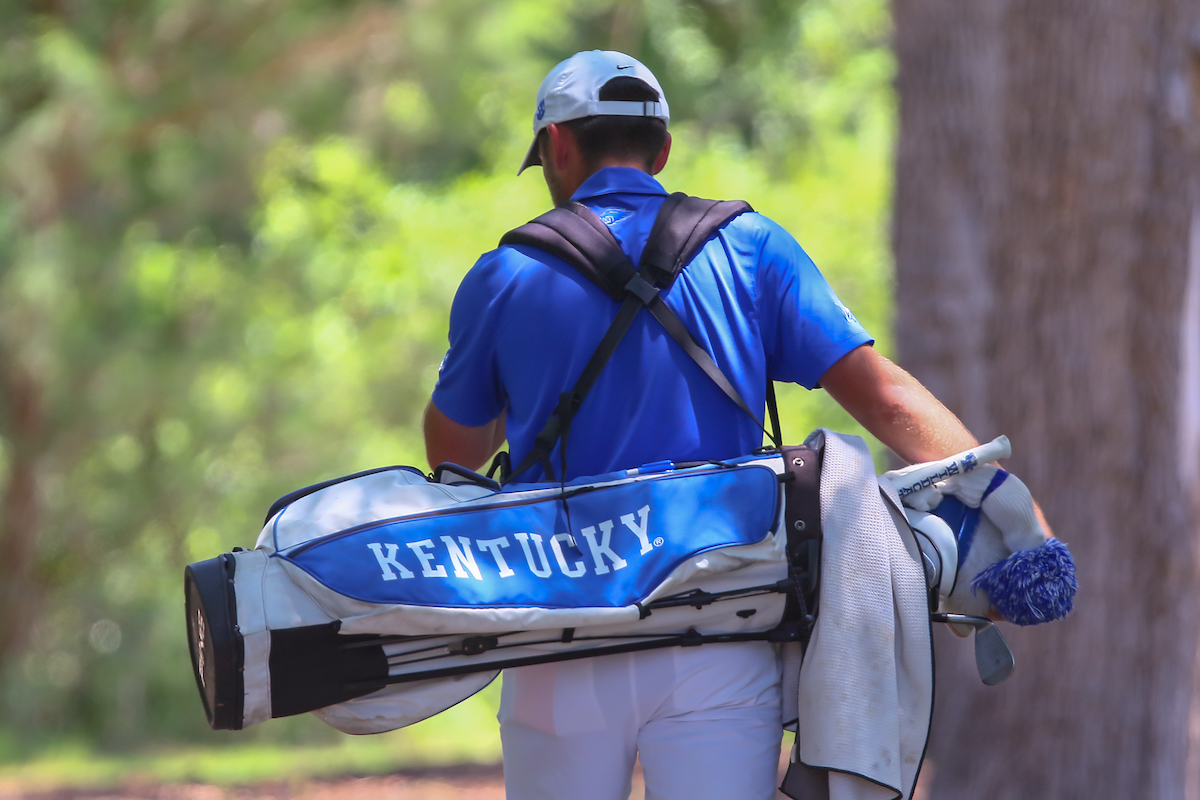 McDaniel, Musselman Make Pro Debuts Thursday at Barbasol
Musselman Taps Long-Time Friend as Caddy: Louisville Courier Journal | Pair of Recent UK Stars Make PGA Debuts: Lexington Herald Leader | Wildcats Make Pro Debuts: UK Now
 
LEXINGTON, Ky. – For the first time in decades a PGA Tour event will take place in the state of Kentucky. It's only fitting that as an event of this magnitude returns to the Bluegrass, two of Kentucky's best young players are among the field.
 
Cooper Musselman, a native of Louisville, Kentucky, and Chip McDaniel, who hails from Manchester, Kentucky, were stars for the Kentucky men's golf team for the last four seasons. They helped lead the Wildcats to two NCAA Championship appearances and were All-Region performers during their time in the Blue and White.
 
Beginning on Thursday, they'll make their professional debuts in their home state on a course they're both familiar with.
 
McDaniel and Musselman were two players who received exemptions to this week's Barbasol Championship at Keene Trace. The tournament will carry a purse of $3.5 million and award 300 FedEx Cup points to the champion. The field includes notable PGA Tour winners: Stuart Appleby, Chad Campbell, Harris English, Billy Horschel, Davis Love III and Hunter Mahan.
 
McDaniel will begin his tournament off the No. 1 at 9:59 a.m. on Thursday. He'll be paired with Cameron Beckman and Andrew Yun. Musselman will play off the No. 10 tee beginning at 10:10 a.m. and join Jonathan Kaye and Ben Silverman.
 
Keene Trace is no stranger to hosting major tournaments. Designed by world-renowned golf architect Arthur Hills, it has hosted the USGA Senior Amateur, the NCAA Championship, the men's and women's Southeastern Conference Championship, the Women's Western Open, the Kentucky Open and the state amateur.
 
McDaniel and Musselman helped lead the Wildcats to an NCAA Championship appearance twice during their tenure, including a Regional appearance in each of the last three seasons. They combined for nearly 100 career starts, 130 par-or-better rounds, 25 top-10 finishes and 45 top-20 finishes.
 
McDaniel played 133 collegiate rounds with a 72.00 stroke average. His senior season was highlighted by a victory at the Bearcat Invitational where he fired a career-low 54-hole total of 201. That marked the second-lowest score in the Brian Craig era. He matched that total at the Gary Koch Invitational where he helped UK win its fourth event of the season in a runner-up individual finish.
 
Musselman shot a career average of 72.91 over 129 rounds. He led the Wildcats his senior season in stroke average (72.08), par-or-better rounds (21) and top-10 finishes (4). An individual win at the Crooked Stick Intercollegiate marked a season high for Musselman. He also carded career-low rounds (67) and 54-hole tournament scores (207).
 
For the latest on the Kentucky men's golf team, follow @UKMensGolf on Twitter and on the web at UKathletics.com.