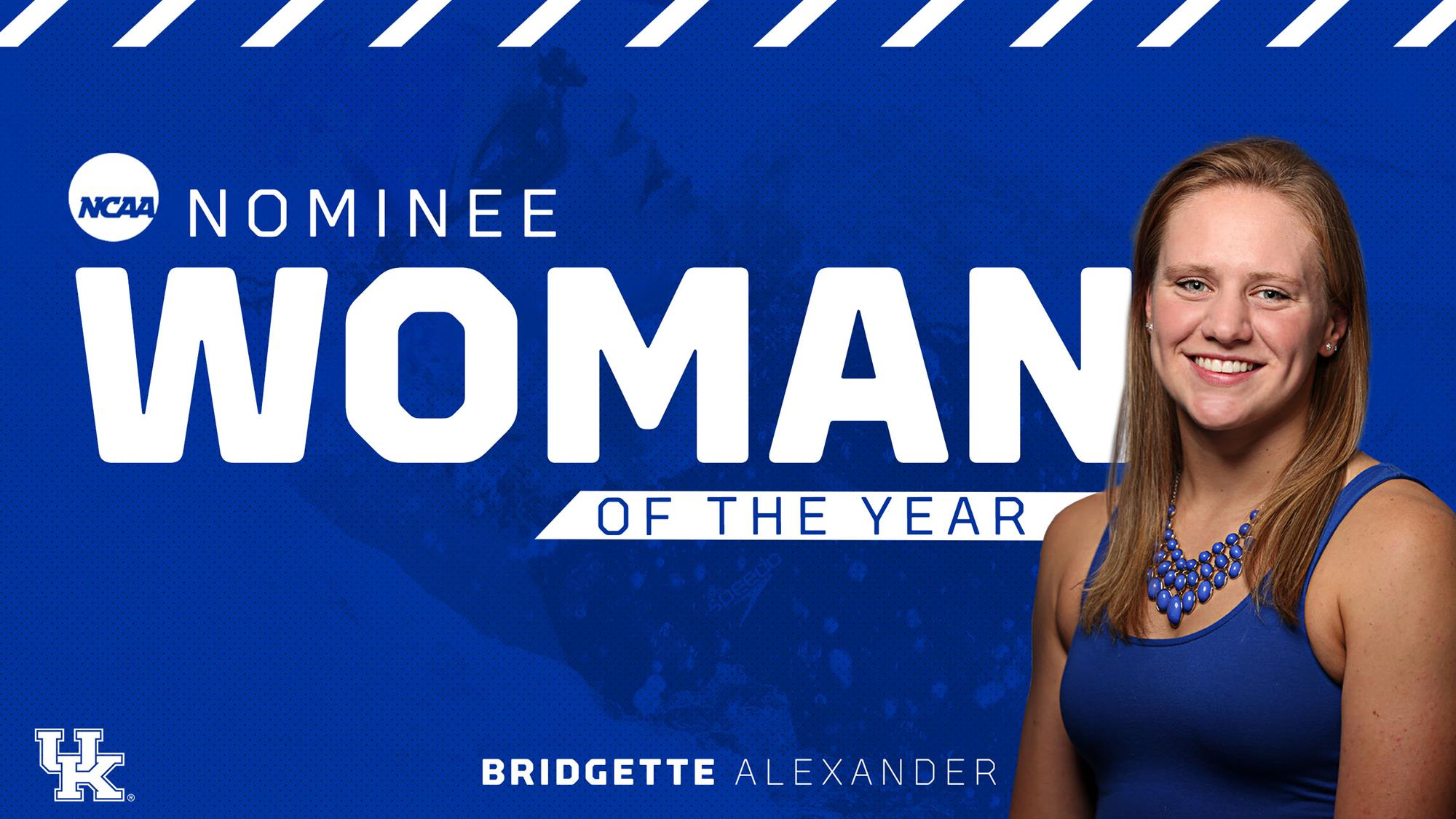 Bridgette Alexander Named NCAA Woman of the Year Nominee
INDIANAPOLIS – Kentucky swimmer Bridgette Alexander has been selected as a nominee for the 2018 NCAA Woman of the Year award, the organization announced.
 
The NCAA Woman of the Year award honors graduating female college athletes who have distinguished themselves throughout their collegiate careers in academics, athletics, service and leadership.
 
"Bridgette is an amazing student-athlete and I could not be more proud of her being nominated for this prestigious award," said Kentucky head coach Lars Jorgensen. "To have both Bridgette and Danielle (Galyer) nominated in back-to-back years is a testament that our program is developing people of high character and accomplishments."
 
Alexander was a four-year qualifier to the NCAA Championships for the Wildcats, combining for four All-America honors with three of those coming in the 200-yard backstroke. A native of Milton, Wisconsin, she was named to the 2017-18 U.S. National Team after winning bronze in the 200-meter backstroke for Team USA at the World University Games in Taipei. Alexander was also a finalist in the event at the 2016 U.S. Olympic Trials.
 
Outside of the pool, Alexander graduated with her bachelor's in kinesiology and health promotion in May 2017, following the completion of her junior season. In her final year of eligibility, she worked towards her master's degree in sports leadership. She plans to continue working towards her master's and training in Lexington over the next year after turning pro.
 
"I am very honored to be nominated for this award," said Alexander. "Coming to swim and study at the University of Kentucky has given me so many opportunities to be a successful woman both in and out of the pool. I'm glad some of my hard work is being shown for my coaches, team and family."
 
Next, each conference will select up to two conference nominees each from the pool of school nominees. The Woman of the Year selection committee, made up of representatives from the NCAA membership, will then choose the top 30 honorees — 10 from each division.
 
From the top 30, the selection committee determines the top three honorees from each division and announces the nine finalists in September. The NCAA Committee on Women's Athletics then chooses the 2018 NCAA Woman of the Year from those nine.
 
The top 30 honorees will be recognized and the 2018 NCAA Woman of the Year will be announced at the annual award ceremony Oct. 28 in Indianapolis.
 
More information on the NCAA Woman of the Year award and the official release from the NCAA can be found here.
 
For the latest on the Kentucky swimming and diving program, follow @UKSwimDive on Twitter, on Facebook at Facebook.com/UKSwimDive, and on the web at UKathletics.com.