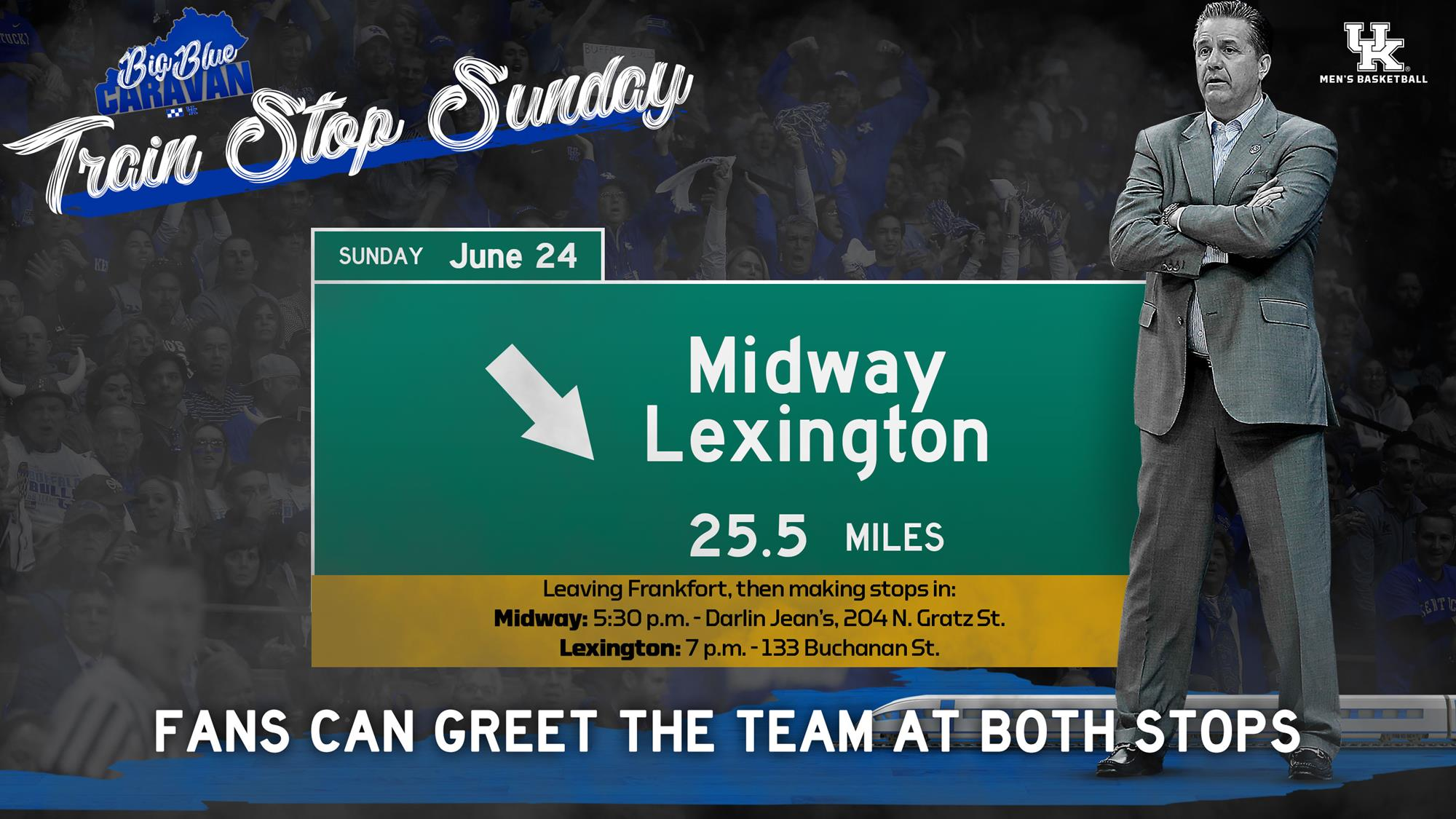 UK MBB Invites Fans to Meet 2018-19 Team on Train Stop Sunday
LEXINGTON, Ky. – With the Kentucky men's basketball roster fully intact for the 2018-19 season, head coach John Calipari is inviting the Big Blue Nation to meet the entire team during a train stop – an extension of the UK Athletics Big Blue Caravan – following Sunday's Satellite Camp at Franklin High School in Frankfort, Kentucky.
 
The Wildcats, who will be aboard an R. J. Corman train, will make a stop in Midway (Darlin Jean's, 2014 N. Gratz St.) on the return from Frankfort to greet fans at approximately 5:30 p.m. Fans in Lexington will also have the opportunity to meet the team when it arrives back at the Central Kentucky Line outside of Rupp Arena (133 Buchanan St.) at approximately 7 p.m.
 
The team will greet fans, sign autographs and take pictures at both spots. Complimentary posters will also be available to fans while supplies last.
 
"These Satellite Camps have been a blast for both us and the Big Blue Nation because our fans have had the opportunity to get up close with our players," Calipari said. "The only problem is, until now, we haven't had our full team. With Ashton Hagans and Reid Travis here, I wanted to give our fans an opportunity on the way back from camp to meet these guys. It's a special group that I think our fans are really going to love. I hope BBN can come out, meet our players and take a few pictures. Everyone is welcome."
 
Once the Satellite Camp at Franklin High School ends, the team will board a train in Frankfort at approximately 4:30 p.m. and head to Midway. The Wildcats are expected to spend 30-45 minutes at both the Midway and Lexington stops.
 
The Satellite Camp, which will take place from 1 to 4 p.m. at Franklin High School, is still open for registration. Fans can sign up by visiting ukathletics.com/camps.
 
Sunday's camp is open to both boys and girls, grades kindergarten through 12th grade. Spots are available for all camps and are based on a first-come, first-served basis, with online registration recommended as the fastest and most efficient form of registering campers.
 
The cost for the camp is $90 per camper and includes a camp T-shirt, three hours of instruction with Coach Calipari and the Kentucky basketball staff and available players, competitions, autograph sessions, along with question and answer sessions with Coach Cal. Registration will begin one hour prior to the camp.
 
Once a camper's registration is complete, the camper will receive a confirmation email with details of necessary paperwork needed (physical, insurance), along with a list of items campers will need to bring for camp. Any camp-related questions can be called into the men's basketball camp line at 859-257-9457 or 859-257-1916 or by email at ukmbbcamps@uky.edu.
 
For more information on the Satellite Camp, visit https://ukathletics.com/news/2018/5/3/uk-mens-basketball-announces-satellite-camp-schedule.aspx.
 
The University of Kentucky's camps and clinics are open to any and all entrants (limited only by number, age, grade level and/or gender).
 
NCAA rules prohibit payment of camp expenses (camp tuition, transportation, spending money, etc.) for prospects (seventh grade and above) by University of Kentucky boosters. For men's basketball, a prospect is an individual who has started classes for the seventh grade. NCAA rules also prohibit free or reduced camp admissions for prospects. If you have any questions, notify camp officials prior to attending camp.
 
For the latest on the Kentucky men's basketball team, follow @KentuckyMBB on Twitter, Facebook, Instagram and Snapchat, and on the web at UKathletics.com.